Buying the right toenail clippers for seniors is essential. As people age, they suffer from several health conditions like fungal infections, ingrown nails, and arthritic hands that can make handling regular nail clippers difficult. Learning about what to look for when buying toenail clippers for older adults can lead to improved ease of use and better safety.
How Do Nails Change As We Age?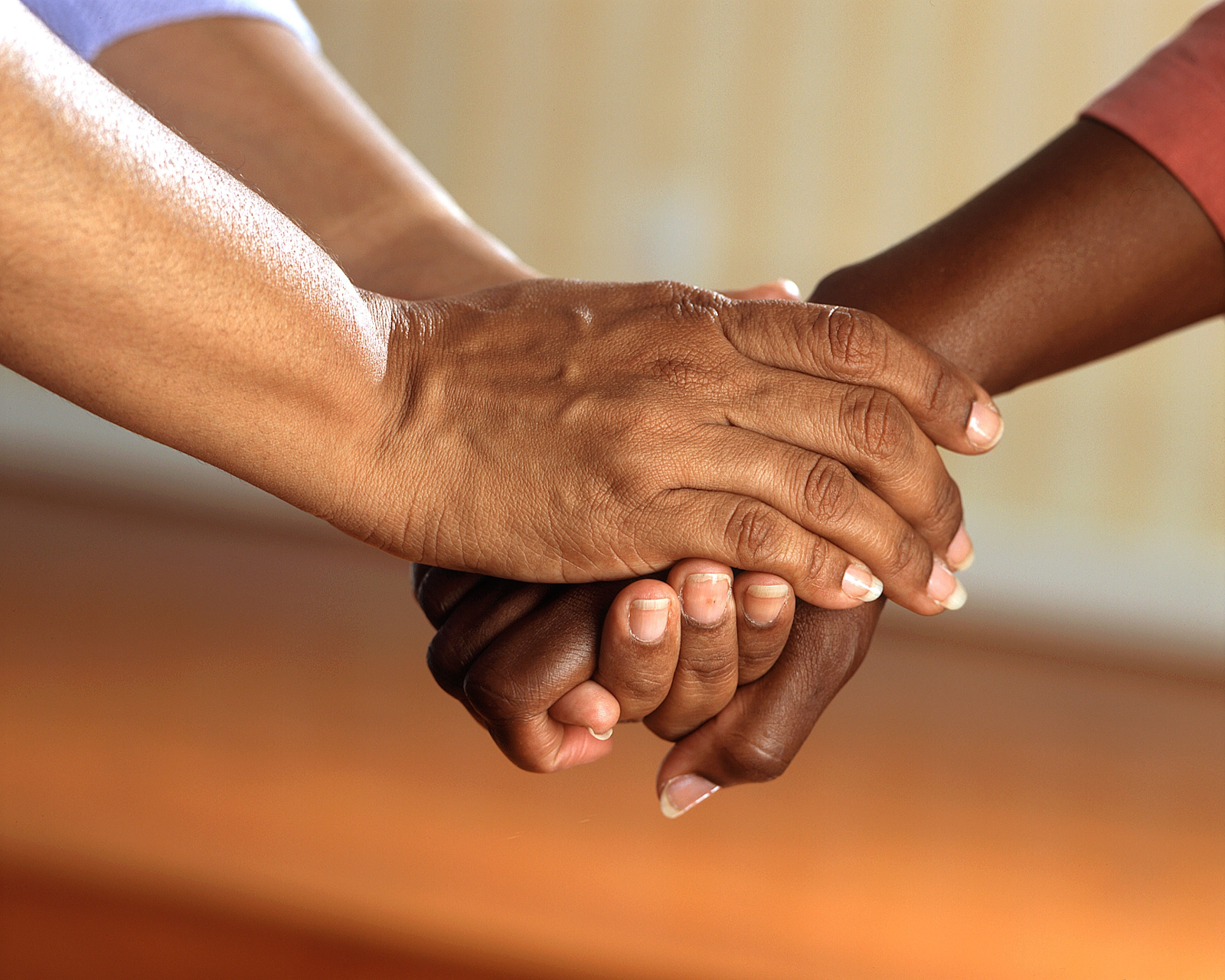 Some nail problems caused by aging include the following:
Color – Color can change to yellow and opaque instead of translucent
Shape – Curling or clubbing can occur as nail bed tissue deforms, leading to ingrown toenails
Thickness – Thick nails can occur due to skin conditions like psoriasis and eczema
Brittleness – Brittle nails can occur leading to ridges on fingernails and dullness
Why Are Elderly People More Prone To Nail Issues?
Older people suffer from limited dexterity, nutritional deficiencies, long-term exposure to chemicals, internal aging processes, and more that can lead to ingrown toenails and other issues. These include:
Fungal Infections – The cracks in nails can allow bacteria to enter, causing fungal infection which can be more serious since nails take longer to grow and repair for seniors
Impaired Circulation – Raynaud's phenomenon, which is caused by poor circulation to the fingers, toes, and nose leading to brittle and discolored nails that are more fragile
Trauma – Injury to nails can cause longer-lasting effects since they can take longer to grow back due to their brittle nature
In addition, the elderly can encounter additional challenges in terms of nail care due to health problems, like:
Arthritis – Rheumatoid arthritis can lead to chronic pain, making it hard to get a comfortable grip on nail clippers
Hand Tremors – Trembling can be caused by prescription drugs, Parkinson's disease, or old age, making it dangerous to cut safely with a super sharp nail clipper
Lack Of Flexibility – Increased joint stiffness and loss of elasticity as we age can make it hard to handle tough toenails due to difficulty bending down
Poor Eyesight – Approximately 12 million people 40 years and over in the United States have vision impairment, making it harder to cut nails safely without injury
Tips For Choosing A Good Nail Clipper For Seniors
Toenail clippers come in many shapes and sizes, which can be confusing. To help you narrow it down, here are some things you should look for:
Ergonomic Handle
A broad or rubber-covered handle can make it easier to grip the toenail clipper as you cut. This is especially useful if you suffer from ingrown and thick nails that require extra effort.
Width
An extra-wide jaw can assist in nail clipping thick toenails and ingrown nails. A toenail clipper is usually much larger than a nail clipper in order to accommodate the unique shape of toenails.
Angled Head
Angled toe clippers can give you better control and easy handling with adjustable angles, especially for those with toe deformities and ingrown toenails.
Type Of Blade
Curved blades can help tackle the thickest nails and any rough edges. A sharper blade can also cut nails more efficiently than a dull, overused one.
Durability
Heavy-duty stainless steel can help you handle ingrown nails easily and last longer, giving you better value for money. Toenail clippers need to be more durable than your everyday nail clipper.
Best Nail Clippers For Seniors In 2022
Here are some of the best toenail clippers for seniors to promote easy cutting for thick toenails, brittle nails, and other issues.
Cost: $11.99
Type Of Blade: Stainless steel
Width: 1.5 inches
Handle: Non slip ABS handle
Extra Safety Features: Double spring promotes greater elasticity
This toenail clipper set comes with a nail file and nail clippers with a 25-degree arc to trim ingrown nails with and cut toenails with high precision. The handle is lightweight and suitable for seniors.
| | |
| --- | --- |
| Pros | Cons |
| Medical grade stainless steel improves strength and durability | Super sharp blades may lead to injury |
| Wider jaw and large opening can handle thicker nails | Some models are defective according to customer reviews |
| Easy grip benefits those with shaky hands | Plastic grip may not be super sturdy |
Cost: $9.99
Type Of Blade: Stainless Steel
Width: 1 inch
Handle: Lightweight rubberized plastic
Extra Safety Features: 360-degree swivel action
Unlike straight cut nail clippers, this curved blade cuts thick nails with ease and can be easily adjusted to any angle to help those with ingrown nails.
| | |
| --- | --- |
| Pros | Cons |
| Ergonomic design results in better grip | Some users claim they are not suitable for toenails |
| Angles allow seniors to deal with ingrown nails | Some users claim it breaks easily |
| Affordable price for heavy-duty clippers | May be difficult to get the hang of |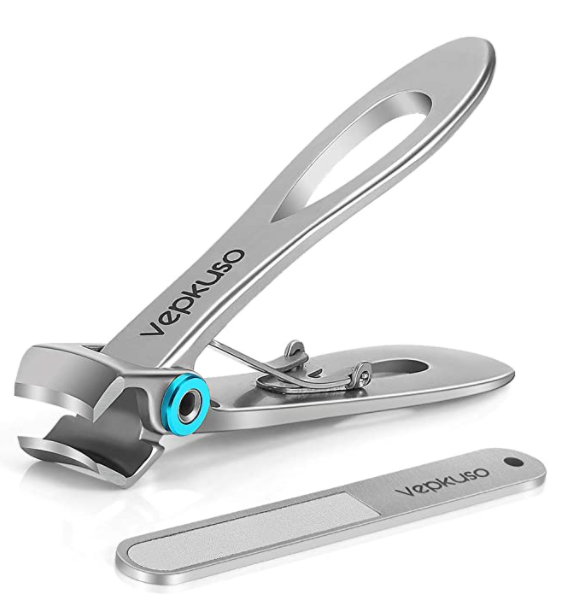 Cost: $12.45
Type Of Blade: Stainless steel curved blade
Width: 0.5 inches
Handle: Vacuum titanium plated stainless steel
Extra Safety Features: 3.54-inch lever makes it easier to tackle tough nails
These large toenail clippers come with a 180-degree 15mm wide jaw and can tackle thick nails with ease due to the comfortable grip. Also, it comes with a black bag, a separate nail file, and a tin box. Some customer reviews claim it is super sharp.
| | |
| --- | --- |
| Pros | Cons |
| High-quality toenail clipper | No built-in nail file |
| Good packaging for gift giving | Users may accidentally injure themselves on its blades |
| Comes with nail file | Width may be narrow for those with wide toenails |
Cost: $48.99
Type Of Blade: Surgical grade steel blades
Width: 3mm wide jaws
Handle: Heavy-duty zinc alloy
Extra Safety Features: 180-degree adjustable head
Designed by orthopedic surgeons, these specialized nail clippers can cut thick nails with safety and precision. The swivel head makes nail clipping easy with the Double Action Force Multiplier mechanism which reduces pressure on hands.
| | |
| --- | --- |
| Pros | Cons |
| Comes in a straight and curved blades option | More expensive than other toenail clippers |
| Very easy to use | Some users complain about the lack of easy-grip |
| Can handle thicker toenails | The thick blades may cut off nail pieces that are too large |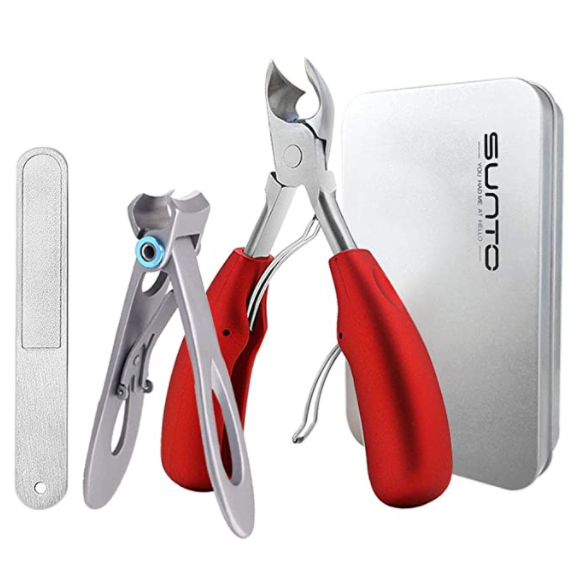 Cost: $17.99
Type Of Blade: Surgical grade stainless steel
Width: 10mm and 15mm
Handle: Anti-slip handle
Extra Safety Features: 25-degree curved blade avoids injury
This set comes with a pair of podiatrist toenail clippers, a pair of wide-jaw heavy-duty nail clippers, and a nail polish file. It provides instructions on how to use each product, making it a good gift for older adults looking for a complete nail clipper set. The wide jaw of the clippers makes it ideal for thick nails.
| | |
| --- | --- |
| Pros | Cons |
| Comes in a gift box set | Some users find the clippers too big and bulky |
| Surgical grade stainless steel prevents rust | Some users complain about the build quality of the clippers |
| Double spring mechanism makes cutting toenails easier | Some users complain about the quality of customer service |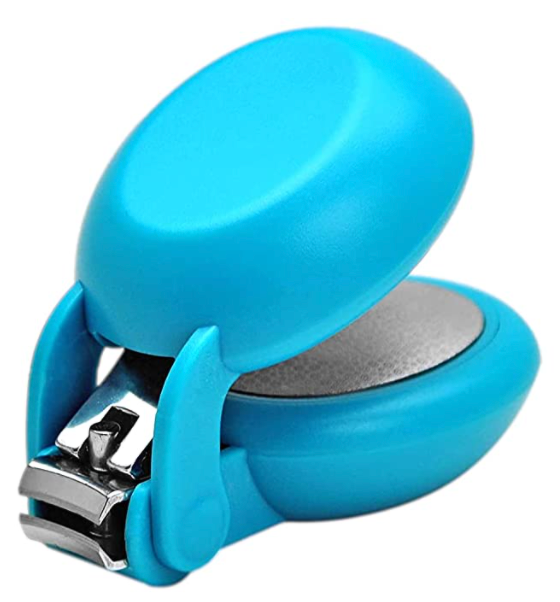 Cost: $19.98
Type Of Blade: Heavy-duty stainless steel
Size: 2.91×1.45×1.77 inches
Handle: Large spherical handle
Extra Safety Features: 25-degree curved blade avoids injury
Coming in five different colors, the HARAC nail clipper is designed for those with disabilities, the elderly, and children. It can be placed on a table and pressed down by a palm or elbow, or gripped in the hand. The heavy-duty blade is manufactured by Japanese craftsmen in Seki City.
| | |
| --- | --- |
| Pros | Cons |
| Has a built-in nail file to polish nails | Some users find that it is not suitable for thicker nails |
| Stable handle can be used by those with weaker hands | The width of the jaw could be wider |
| Design makes it versatile to use | Some users claim that the blade lacks sharpness |
Frequently Asked Questions
If you have some questions about buying toenail clippers for seniors, this section should provide some guidance.
How do you cut thick elderly toenails?
Before cutting toenails, soak your feet in warm water for about 10 minutes to soften your nails. Have a good grip on the clippers and make small cuts to avoid splintering the toenail. Also, cut straight across to avoid ingrown nails.
How do you get rid of dry toenails?
If the toenails look dry and cracked, try applying vitamin E oil or lotion to the nail and massage gently into the nail and cuticle on a daily basis. This can help strengthen nails, making them easier to cut.
What do podiatrists use to soften toenails?
Podiatrists soak hard toenails in warm water with Epsom salts. After this, they are patted dry and layered with VapoRub or tea tree oil to soften toe nails further.

Purchasing toenail clippers for seniors can be a challenge, however, the best toenail clippers are typically the most well-reviewed by customers and have features such as an ergonomic handle, a heavy-duty stainless steel build, and curved blades for optimal cutting. Prioritizing care of toenails and nails is also essential to prevent health issues from occurring.
Read on to learn more about other useful senior care products on Senior Strong today!