Staying connected to your loved ones is essential for every person — moreso for senior citizens. However, with the current market focused on smartphones with high-tech features, how can older generations keep up?
Introduced in 2005, the Jitterbug was marketed for its supposed simplicity. Fastforward 17 years later, they're marketed primarily for senior use. Jitterbug phones highlight functionality and ease of use, making them the best phones for the elderly.
What Are The 2 Types Of Jitterbug Phones For Seniors To Avail?
A Jitterbug phone is one of the best ways to introduce technology to senior adults. If you are planning to buy a Jitterbug phone for your senior loved one, you may select one of two types. The Jitterbug Flip Phone and the Jitterbug Smart3 Phone offer ease and practicality for seniors, making them the best choice.
The Flip Phone offers basic functions— receive calls and send text messages. As opposed to the Smart3 Phone, which provides more features— cameras, video chat, voice typing, to name a few.
Here are the best features of each model to help you find the perfect match.
| | |
| --- | --- |
| Jitterbug Flip Phone | Jitterbug Smart3 Phone |
| Easy to use with its large screen and buttons with a simple list-based menuGet help right away with a dedicated urgent response button 24/7100% U.S.-based customer serviceConnect with Amazon Alexa for easier usagePowerful speaker with hearing aid compatibility | 6.22 inches touch screen with large font for easier accessPowered by Android 10.0 Connect to your family better with video chat optionsConnect to healthcare professionals with Lively Health and Safety Services and Lively Urgent Response TeamConvenient long-lasting battery |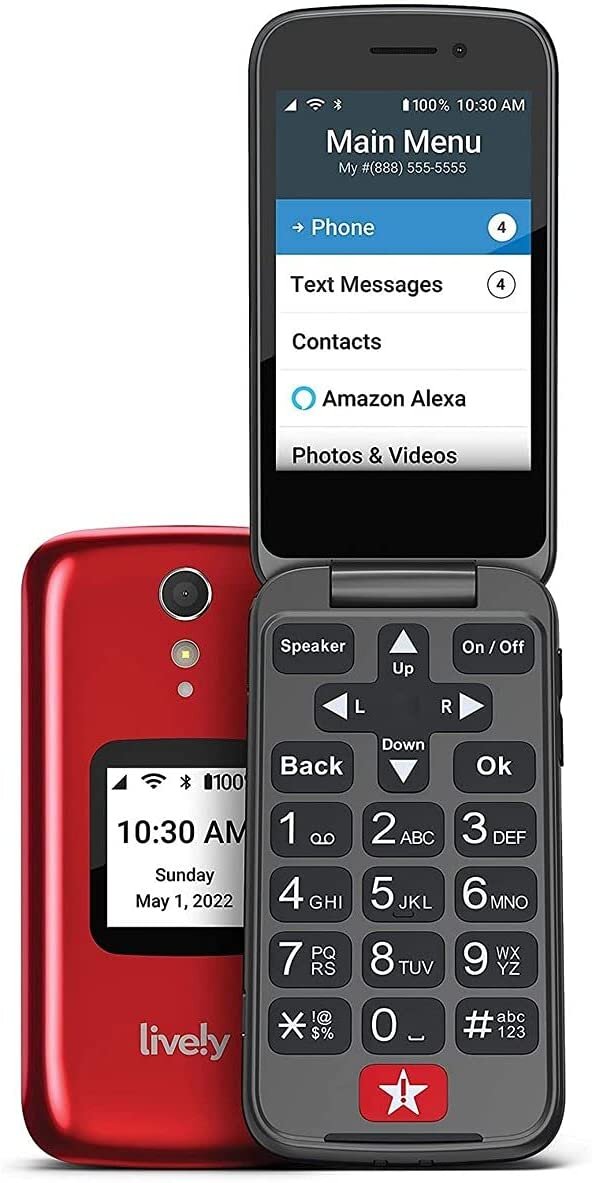 The Jitterbug Flip Phone delivers a sense of nostalgia with its classic design. This simplistic model from Lively is an ideal pick for senior citizens because it delivers on basic modes of communication, with features that aren't overwhelming for seniors.
The Flip Phone offers simplicity in its menus. You won't have to worry about fussing over apps because they are too small. With extra large, legible buttons, texting and navigating is faster, even for users with vision impairments. It has a sleek, clamshell exterior, available in red and graphite colors.
For easier access by people with vision or dexterity concerns, the Flip is equipped with access to Amazon Alexa. By using voice commands, users can access calls, texts, weather information, or set reminders.
Though no one wants emergencies, this phone is equipped with a star-shaped SOS button for the user to press for Urgent Response. With this service, a senior will be connected to a trained operator who can assess and manage the situation.
| | |
| --- | --- |
| Pros | Cons |
| Simple keypad with large buttonsLoud speaker with healing aid compatibilityLarge print text aided with a magnifying tool | No voice-to-text featurePoor battery life than the Smart3Does not have an advanced camera |
If your loved one can handle a little more advancement, the Jitterbug Smart3 Phone is a better choice. It looks like your traditional smartphone with features and apps for customization, but instead of confusing users with complex features, it puts simplicity and safety at the forefront.
Senior users with visual problems will appreciate the responsive touch screen with larger fonts. The menu is very straightforward to avoid confusion and encourage quick navigation. For those with visual impairments, this smartphone has a voice-typing feature that simplifies the messaging function.
Aside from being a communication tool, the Jitterbug Smart3 is a safety device for seniors. Users are a phone call away from board-certified doctors and nurses. Plus, seniors may also use the Health and Safety Packages offered by Lively to make it a medical alert device, sending help at the press of an emergency button.
| | |
| --- | --- |
| Pros | Cons |
| Large backlit screen with large, readable fontsTalk-to-text feature and video chattingSimple and accessible touch-screen menu | Weaker audio than the Jitterbug FlipTouch screen may be hard to navigate for seniors with dexterity issuesSlower internet processing speeds than other phones |
What To Consider When Buying Jitterbug Phones
When shopping for a phone for seniors, it's important to look for a device that will be able to meet their specific needs, while ensuring that the cost is within your budget. Moreover, seniors may not be able to adapt to high-tech devices, especially if you consider their physical limitations like failing eyesight and hearing.
Comparing two Jitterbug phones is all it takes. Though both offer similar solutions, they still have their own distinctions. So, before you decide on going for a Jitterbug Flip or a Jitterbug Smart3, here are some factors you should look at.
Screen
When choosing a smartphone for seniors, you should ensure you get one with a large screen that shows everything clearly. Many older adults have trouble seeing well, so the screen size, font size, and brightness of the screen all play into how easily they can use it.
Most seniors that purchase smartphones would rather have a more prominent display, especially with the touch-screen feature. They would need a 5.5-inch screen at the very least, so they will be able to clearly see the menu, as well as comfortably touch the buttons on the screen.
Even if they opt for basic flip phones, they also need a screen with enough space to feature large icons and vivid, high-contrast colors for easier readability.
Internet Access
With everything being accessible via the internet, it's no surprise if your senior loved one would also want to have access at the touch of your fingertips.
As a carer, you have to conclude whether your senior needs internet access on their phone or not. Some seniors might get overwhelmed with all the accessibility a smartphone provides. However, some senior adults see internet access as a necessity, especially in these cases:
They utilize social media to reach out to their friends and family members.
They love going out and you want them to utilize the GPS system to have map access or share their location with you in case they get lost.
They love using video chat features to get in touch with the people in their lives.
They cannot go out a lot and need means to shop for their needs.
They need to watch out for their health, as well as have means to request for urgent assistance.
Health Monitoring
Most smartphones possess the capacity to sync with various programs that may help monitor and track an individual's health condition. Health monitoring apps make aging easier for seniors, family caregivers, and medical professionals. It is an important feature to consider, especially if you want to keep your senior loved one safe and healthy.
Health monitoring apps can help in tracking nutrition, sleep patterns, and medicine schedules. Some also have features that help in monitoring their heart disease, diabetes, mental health, and more.
Image Storage
Seniors like to shoot and show off images of loved ones or the areas they've seen. Suppose a loved one utilizes the phone for a camera. A smartphone with good quality cameras and sufficient storage might be a good choice in that case.
If photography is something they enjoy doing and sharing with their loved ones, you should ensure that their phone features a camera. Though the Filp has a camera, it is limited to a 2-megapixel camera. It can take photos, but not as clear as the Smart3.
With the Smart3, you get a 13-megapixel camera, definitely a huge jump, and is at par with regular smartphones on the market today.
Special Features
It is the added touches that make Jitterbug phones one of the best options for seniors, apart from the standard features. They come with health and safety features that ensure senior's connection to their loved ones and emergency response services:
Urgent Care - Jitterbug offers their customers a connection to medical professionals without having to go to the hospital. At the simple press of a button, seniors can consult doctors and nurses to help them stay connected during a potential home emergency.
Urgent Response Service - Jitterbug also offers emergency monitoring services, seemingly turning a basic phone into a medical alert device. Jitterbug phones feature a red-star button. Simply press the red star and get connected to operators that will send first responders to your location and help you.
Brain Games - Jitterbug phones also feature brain games, an option to keep your brain sharp and give a source of entertainment. These fun activities enhance memory and spatial skills, helping the mind stay active and moving.
Personal Operator - Jitterbug phones also connect its users to personal operators who can help seniors find important information like phone numbers and physical addresses.
Benefits Of Owning A Jitterbug Phone
While older adults may not exactly be tech-savvy, the Jitterbug Smart2 is marketed as a device for seniors. Older adults and users may not have been exposed to these cell phones or gadgets in their heyday, but it is never too late to start.
Moreover, the best part about Jitterbug phones is that they were designed with seniors' needs and preferences in mind. At their very core, these phones are simple, straightforward, and easy to use. Even the clumsiest elderly person can handle using them!
Here are the key benefits seniors can enjoy from using Jitterbug phones.
Keeps Seniors Engaged And Mentally Active
Jitterbug phones come with numerous features that can help in engaging the mind. First, the Lively Health and Safety Packages come with brain games. These are digital puzzles that may mitigate memory loss, improve attention, and keep seniors mentally active.
Additionally, seniors can still reap the benefits of a traditional smartphone and take pictures of certain moments and memories with a 13MP camera. They can keep in touch with their loved ones as the Jitterbug Smart2 has a 5MP camera for video chat.
Also, they will have internet access and can stay up-to-date on the latest news and information with some guidance. Though these things may be simple, they keep the brain awake and active.
By stimulating the mind, memory, and critical thinking, seniors will have the opportunity to improve memory retention, cognition, and other brain functions in a subtle, not strictly educational way.
Quick Responses For Emergencies
Having a medical alert system allows users to signal for help during emergencies with a simple click of a button. Its Urgent Care lets users get in touch with an on-call medical professional, nurse, doctor, or NAED-certified agent immediately, whether to refill a prescription or to seek medical advice even without an appointment.
Through the 5Star service, people contacted can track the user's location if needed. Caregivers can help users download the GreatCall Link app to stay updated on their patient's whereabouts and needs. They will also be notified when the 5Star button is used and then dial 911 if necessary.
During emergencies, even dialing 911 can be taxing for seniors. The 5Star button offers convenience and accessibility that reduces the effort in seeking for help into one single press of a button. In cases where a person suffered from deep injuries or situations where every single second curtains, these quick response features can be a lifesaver.
Senior-friendly Features
It has features that are precisely senior-friendly and thus, easy to use. Its loudspeakers are ideal for adults who have hearing aids. In fact, it comes with the highest rated hearing aid compatibility of M4/T4 to minimize static altogether. Users can dial and text by voice as well.
The cell phone has particularly large buttons with backlights to make dialing easier. Similarly, its large display screen and font are ideal for those who are visually impaired, especially with its simplified list-like menu. One of its pre-loaded apps is the Medication Reminder for those who need specific alerts.
For seniors who have the dexterity or visual problems, the Jitterbug Flip2 is equipped with the Amazon Alexa feature. Users can use their voice connected to the smart home system and access their phones. They can use Alexa to make calls, send texts, set reminders, and check the weather. All they have to do is call on Alexa and the phone's listening ability will be activated.
Senior Phone Plans To Check Out In 2022
Once you're ready to shop for a Jitterbug phone, the next step is to choose the mobile plan that would best fit your senior loved one's lifestyle.
Both the Flip and Smart3 phones run under Lively, a reliable wireless network. However, you get the option to purchase a Lively Talk and Text Only Plan, or you can go the next level with signing up for a Lively Health and Safety Package.
Understand these options better by checking out these tables:
Flip Phone Plans
If you are excited about Jitterbug's basic phone, you can choose among two mobile plans starting at $14.99 per month. Both of these plans are powered by Verizon's GreatCall, one of the most reliable mobile networks.
Both of these plans are straightforward talk and text plans. They are flexible and affordable — there are no-long term contracts, so when things change, you can switch up every time.
Go for the Value Talk & Text Plan if you won't spend too much time using your phone. It can help you keep your bill low with a 300-minute call allowance. Should there be a need to text, it can cost you 10 cents for every message you send.
On the other hand, if talking and texting is something you love doing throughout the day, the Unlimited Talk & Plan is the best option for you. At $19.99 per month, you can call and text your heart out and spend valuable time with your family and friends.
| | | |
| --- | --- | --- |
| Type of Plan | Value Talk & Text Plan | Unlimited Talk & Text Plan |
| Network | GreatCall | GreatCall |
| Calls | 300 minutes | Unlimited minutes |
| Text Messages | 10 cents per text message | Unlimited text messages |
| Additional Minute Charge | 35 cents per minute | Not applicable |
| Cost per month | $ 14.99 per month | $ 19.99 per month |
Smart Phone Plans
The Jitterbug Smart3 phone is one of the most affordable smartphones for seniors, even with the mobile plans they offer. You can go for the basic plans which are also offered for the Jitterbug Flip Phones, but you won't be able to get data access.
If you want to go for the lowest plan because you don't call and text a lot, you can still have some data to use for surfing the internet. Add-ons are available for data access — 100 MB at $2.49 per month, 500 MB at $5 per month, 3 GB per $10 per month, and 5 GB per $15 per month.
However, if you love surfing the internet and you are looking for the best deal, the Unlimited Talk, Text, and Data Plan offers great value for money at $49.99 per month. You can text all you want, call all you want, and use the internet — watch videos, use social media, do video calls, or play as many games as you want.
| | | | |
| --- | --- | --- | --- |
| Type of Plan | Value Talk & Text Plan | Unlimited Talk & Text Plan | Unlimited Talk, Text, and Data Plan |
| Network | GreatCall | GreatCall | GreatCall |
| Calls | 300 minutes | Unlimited minutes | Unlimited minutes |
| Data | 10 cents per text message | Unlimited text messages | Unlimited text messages |
| Additional SMS Charge | 35 cents per minute | Not applicable | Not applicable |
| Additional Data Charge | 100 MB - $2.49 per month500 MB - $5 per month3 GB - $10 per month5 GB - $15 per month | 100 MB - $2.49 per month500 MB - $5 per month3 GB - $10 per month5 GB - $15 per month | Not applicable - Unlimited data access |
| Cost per month | $ 14.99 per month | $ 19.99 per month | $ 49.99 per month |
Lively Health and Safety Packages
For a few added dollars, you can enhance your Jitterbug Flip and Smart Phones by adding on Lively Health and Safety Packages. These plans can expand the functionality of your device and turn them into medical alert devices. In addition, loved ones will feel more secure leaving seniors alone at home with this add-on.
There are four main features of Lively's Health and Safety Packages. Here is an overview of each of them:
When you enable the 5 Star Service, seniors will have access to IAED-certified agent. The agents will be able to track the phone holder's location, assess the emergency situation, and get seniors the help that they need. They can call for family members, emergency services, or simply assist seniors who may be lost on their way somewhere.
With Lively's Urgent Care service, available for Preferred and Ultimate package holders, senior adults can get access to a registered nurse or board-certified doctor. They can provide on-the-spot medical advice without having to book for appointments. Medications that seniors have run out of can also be filled by these pharmacists.
Lively Link is an app that seniors and their caregivers can download to their smartphones. Through this app, carers and family members can get updates on their senior loved one from their phones. They will get notifications when the 5 Star button is pressed. Plus, they can also check the status of their loved one's phone as well as their current location.
Finally, Ultimate plan holders have access to their own personal operator. Here, there will be no need for them to look up phone numbers. The feature offers unlimited access to a friendly operator for looking up physical addresses and calling any number from the U.S. or Canada.
| | | | |
| --- | --- | --- | --- |
| Type of Package | Basic | Preferred | Ultimate |
| Cost per month | $19.99 | $24.99 | $34.99 |
| 5Star Service | Yes | Yes | Yes |
| Urgent Care | No | Yes | Yes |
| Lively Link | No | Yes | Yes |
| Personal Operator | No | No | Yes |
Purchasing A Jitterbug Phone for Seniors
Have you decided on the best Jitterbug phone for you? It's time to make a purchase. Here is the process on getting a Jitterbug Flip2 or Smart3.
Sign Up and Select Your Phone
First, sign up at the Lively website and choose your desired Jitterbug phone. Don't worry — there is no need to sign long-term contracts. On the contrary, you are free to enjoy the phone during a 30-day trial so you can test out the device. If it is not up to your standards, you will be charged a $10 restocking fee and you can pick out a different one.
Choose Your Phone Plan
The next step is to pick your phone plan. As discussed, Jitterbug phones have their specific plans, some with talk and text features, while others with added data. These phone plans come with Caller ID, Call Waiting, Long Distance, and Roaming options, with additional charges.
You should also consider checking out the Lively Health and Safety Packages to help you elevate your regular phone to a medical alert device.
Install and Set Up
To use a Jitterbug phone, you have to prepare a $35 activation fee. Once that is settled, you can wait for the phone to arrive. You will be directed to the Lively website with instructions on phone activation, as there are no physical stores where you can do these activities.
You will be asked for your zip code, and will be prompted to provide the following information:
Name of the device holder
Carer or caregiver information
Serial number of the device
Email address
Password for your Lively account
If you want a former number to be ported to your Jitterbug phone, you have to reach out to the activation team at 866-397-9291 to check if this is possible.
Reach Out To Customer Service
Should you encounter trouble during the installation or setup process, Jitterbug has an exemplary customer service team. Customer support offers help in troubleshooting the issues you have with the device, setting up calls, or even booking transport rides for you.
Moreover, you can avail the add-on services from Lively to have other support services accessible to you.
Frequently Asked Questions
Jitterbug phones offer numerous benefits to seniors who need a communication device. Learn more about using Jitterbug phones as we answer the most asked questions about them.
Can you download apps on the Jitterbug smartphone?
Yes, absolutely. We've mentioned that the Jitterbug today is a highly modified product to make function easier for seniors. At its core, it is still an Android-based device that you can load various apps from your Google Play Store.
Since it is an android device, it is subject to the same limitations as other similar android-based software. So, apps that are exclusive to the Apple play store will not yet be applicable."
Are there any tutorials that can help me figure out how to use the Jitterbug Smart2?
"Yes. Jitterbug's MVN (Mobile Network provider) GreatCall has a Jitterbug smartphone tutorial ready and prepared. You can find it on their website.
They mostly take the form of informative how-to-cards that cover the different aspects of your Smart2's features."
Do Jitterbug smartphones have GPS?
Yes. Both the Jitterbug Flip Phone and the Jitterbug smartphone have GPS tracking. It is an essential tool provided as part of the Lively Healthy and Safety Package.
The feature is accessible via the GreatCall Link function. There you can even designate family members to keep track of your status and whereabouts.
This includes alerts made to your family members whenever you call 5Star as well as other functions."
Both types of Jitterbug phones have many similar and synonymous features. As we've already covered, the two were designed with simplifying their respective interfaces for senior use.
Collective downsides for both flip phone and smart phone include:
Low battery life span
Lack of shared Jitterbug phone plans
No more than two phone choices
In terms of individual strengths, the Smart2's access to the internet and applications hold up as well as any other android device. The voice-typing function and simple list-based menu make it easy to navigate without complications.
Overall, they provide good value for money if you're willing to overlook some of the flaws. If you're wondering whether the Jitterbug Smart2 is for you or the elderly loved one in your life, but can't quite decide, contact us at Senior Strong today!
Was this article helpful?