According to the Worldwide Population Aging report released by the United Nations, there were 703 million people aged 65 years old and up in 2019. They project that by 2050, that number will reach 1.5 billion.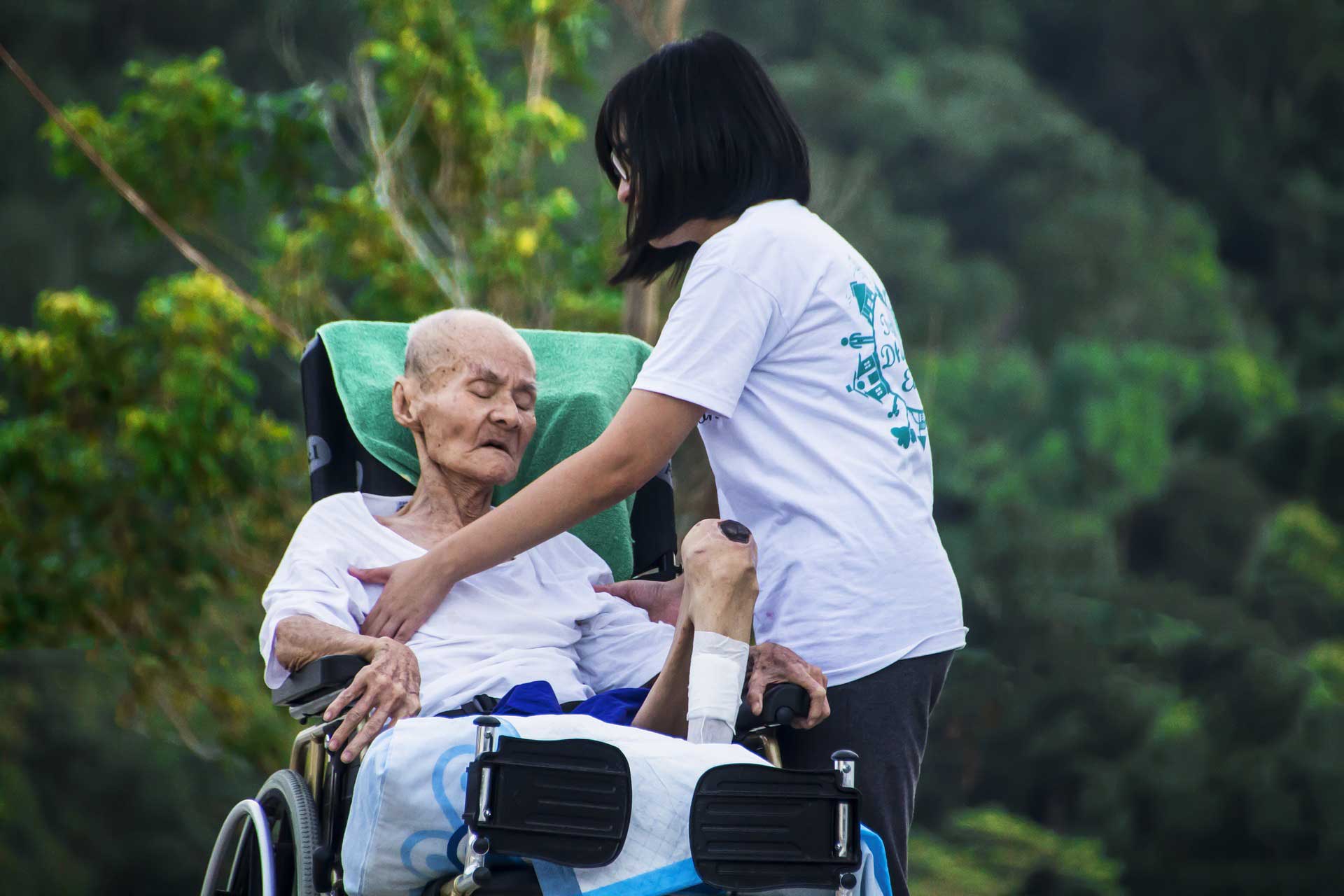 To care for this huge chunk of the population, it is estimated that there are 41.8 million caregivers in the United States alone in 2020. Reports also add that 24% of these caregivers care for more than two patients at a time.
These numbers alone showcase how essential caregiving is and how the need for them keeps on rising year after year.
But what is caregiving, really? Is it enough to have someone in the family take on the job as a caregiver? Is it necessary to hire a professional to focus on senior care?
What Is Caregiving?
Caregiving is the act of attending to all the needs of a dependent, may they be children or adults. It often involves assisting seniors with their physical, emotional, spiritual, and practical needs while helping them go about their lives, as the caregiver manages their own at the same time.
The act of caregiving usually involves helping seniors eat their meals regularly, assisting them in their personal care habits, and getting them from one place to another. For those with health problems, the responsibilities also involve assisting in their treatment sessions and administering their medical procedures.
Who Can Be Considered As A Caregiver?
Typically, caregivers are family members, but the options are not limited to a child or a spouse. This can extend to nieces, cousins, siblings, or even really close friends. There are times that a loved one might require more than one caregiver, depending on the circumstances.
A person's caregiving team might include family members, professionals from a home care agency, and community support teams from their church or neighborhood.
What Is The Importance Of Proper Caregiving?
As older adults live the last years of their lives, a decline in their physical and mental vitality will be highly noticeable. Most of the time, seniors will feel alone, and they might give up on life entirely if they don't have someone to help them.
That said, proper caregiving goes beyond just meeting physical needs—it also satisfies emotional and mental needs. Aside from ensuring that seniors avoid accidents and injuries, they'll also have a companion. This role can help them have some semblance of normalcy in their life, and allow them to accomplish their day-to-day routine with ease.
Activities of Daily Living (ADLs)
ADLs are the essential parts of an adult's life and is a huge part of a caregiver's responsibility. By ensuring that this is done, seniors get to keep their dignity intact and maintain their physical and emotional well-being.
The basic ADLs include the following:
Getting out of bed
Moving around the house, sitting up, walking
Wakling
Feeding oneself
Showering or bathing
Dressing up
Grooming assistance like shaving or brushing hair
Going to the toilet, cleaning after oneself, getting up from the toilet
Instrumental Activities of Daily Living (IADLs)
There are things that are not involved in a person's daily routine but are still vital for them to perform their ADLs. For long term care, a caregiver must also provide help for the following needs:
Running errands
Cooking and preparing meals
Cleaning the house
Shopping for needs
Money management and paying bills
Making or answering calls
Taking medication on schedule
Going to medical appointments
Providing Emotional Support
Caregiving is not limited to providing the physical care needs. Seniors also need human contact, emotional management, and respect. The simple, everyday things that humans experience can make a great impact on their mental stability.
Giving Them Privacy
Sometimes, seniors feel out of control given all the changes that may occur around them. A caregiver must learn how to set limitations and refrain from hovering all the time, especially if their loved ones are not in extreme health conditions.
Helping Them Make Decisions
When seniors feel overwhelmed by the terms of their healthcare and other issues in their life, a caregiver can help them make their decisions. It is as simple as taking time to discuss, preparing lists for them, and making them see what the results of their decision might mean.
Encouraging A Senior Or Senior Loved Ones
A caregiver must be able to find a balance on doing things for their senior patient and allowing them some independence. For some tasks, caregivers should be around to help and provide assistance. However, they must also give seniors the power to accomplish something so that they feel valuable and in control.
Seeking Professional Assistance: When Should You Do It?
Do you feel like your services as a family caregiver is no longer enough? Are you contemplating the need to hire a professional caregiver with significant experience partnering with elder patients and their families?
Here are some signs that it's time to hire a professional care services provider for an older adult in your family.
When Elderly Needs Are Changing
As parents or loved ones grow older, they start to require extra help for them to address their health problems and the usual signs of old age. Some of these signs involve losing the ability to do their normal routine, becoming more forgetful, and feeling depressed. They might also have communication troubles and fail to care for themselves.
Once you notice these signs, don't take a risk by ignoring it. Instead, make a list of the things they are having problems of doing and hire external care services for assistance.
When They Need More Care Than Usual
If you have been providing care for parents or senior adults and you start noticing that the task takes your entire day from you, it is time to hire senior health care professional services. Time commitment is not a thing that all people can provide—and that's not your fault.
For instance, dealing with a family members who has dementia or signs of it can be physically, mentally, and emotionally taxing. The effects of the disease can hurt a familial bond, and that can be too much to handle for a family caregiver. A professional would allow them some time to breathe and brace themselves for a loved one's mental deterioration.
If you feel like your professional and personal life is taking a toll as you play a home caregiver role, allow a skilled caregiver to take over for you. Families can also opt to design a caregiving plan to ensure that expert care will be provided and your loved one can get an improved life.
When They Require Special Skills
When you feel like a situation is beyond your knowledge, which admittedly, can happen at any point in your care journey, it's time to call for someone who has experience to help. Sometimes, this will come from your doctor's advice, but in many cases, you will notice the need for something more.
For any advancing health concern, professional caregivers can provide help as they have received significant health service training to handle tasks.
If you also feel like the emotional support required from you can be damaging to your mental health, you can ease the burden of your shoulders and divvy up the task with someone else.
When They Need Extra Social Interaction
Every person needs social interaction and communication, but seniors need it more than most people. As they are confined in their own home due to needing more assistance, they may feel more bored and need a friend to talk to.
Without the presence of spouses, children, or siblings as often as they would like, caregivers can provide company. Many times, that's all that a person can ask for. Additionally, professional caregivers allow a senior adult to gain a companion outside of the family. It gives them someone new to talk to and tell their stories.
Depending on the senior's situation, a caregiver can also help an elder visit other parts of the community. This will help them interact with groups, especially with other seniors. Constant communication with these friends will lift their spirits up and help them avoid distress.
Frequently Asked Questions
Who qualifies as a caregiver under Medicare rules?
Normally, Medicare does not pay for long term and in house caregivers. However, in times where they do approve caregivers, Medicare only recognizes a person as a caregiver if they are a licensed nurse, therapist, or a similar health service professional.
Can a loved one get paid for taking care of an elderly family member?
For Medicaid recipients, there is a possibility pay family members as caregivers, depending on the state where you are in. Some states allow a family member to provide care, usually excluding the spouse and a legal guardian. In other states, they will only get paid if they live in a different house than the senior patient.
Can Medicare pay for a caregiver?
There are cases when Medicare pays for a caregiver, but it does not happen all the time. A senior adult may have chances of home health care approval only if they meet specific criteria. Firstly, they must have health concerns that have them under a doctor's care. Next, the doctor's advice dictates the patient must stay at home at all times. Lastly, the terms must be short and reviewed regularly.
What makes a good caregiver for the elderly?
Elderly people can be hard to care for, which is why it is important to get caregivers that are really passionate about what they do. Whether they are family, friend, or professional, they must treat the person in need as their own.
Interested in learning more about the elderly's needs and how to meet them? Check out Senior Strong's resources on senior housing and care today!