Purchasing new sheets and beddings for elderly loved ones in your life is always a treat. You might already be aware that their linen needs are slightly different given incontinence issues that occur with age. However, this is nothing to be ashamed of.
According to the World Health Organization, incontinence, or the involuntary loss of urine, is a very common condition in elderly adults aged sixty and above. Whether caused by chronic diseases or environmental factors, you can help dispel the shame that an elderly loved one might feel about their incontinence by purchasing high-quality products that can combat this.
This way, seniors may feel more comfortable and go to sleep knowing that they will be fine. With the addition of other accessories such as memory foam mattresses and pillows, as well as bed rails to prevent injuries, seniors can look forward to their best quality of sleep in years.
Quick Statistics On Bedwetting Among Seniors In The US
The entire population, and older persons in particular, frequently have urinary incontinence, which lowers the quality of life for the aging population. Here are some figures to think about:
75% to 80% of the 25 million adult Americans who experience urine incontinence are female.
A Reuters report states that nearly 51% of seniors 65 and older reside at home.
25% of males and 50% of women reported having bladder incontinence, respectively.
About 23% of women over 60 struggle with incontinence.
45% of patients receiving home health care reported having trouble controlling their bowels and/or bladder.
What Causes Incontinence In Seniors?
While nighttime bladder control loss is frequently connected with young children, seniors might also have this problem for a variety of reasons.
Diabetes, Urinary Tract Infections (UTI), pharmaceutical side effects, neurological conditions, anatomical anomalies, hyperactive bladders, prostate enlargement or prostate cancer, bladder cancer, and obstructive sleep apnea are among the causes of nighttime incontinence in the elderly. Extremely rarely, adult bedwetting may be brought on by extreme anxiety or an emotional problem.
Physical examinations, urine testing, urologic tests, neurological assessment, and other procedures are conducted to identify the causes of adult bedwetting.
Best Sheets And Bedding For Senior Comfort
There are tons of brands and products for seniors' bedding products, whether it's a mattress cover, mattress pad, waterproof mattress protector, or even flat sheets, which can be overwhelming when looking for the right one. Here are the top bedsheets for elderly folks you should consider buying for the seniors in your home:
This two-piece set by QuickZip assures that the fitted sheet remains firmly attached to the bed, thanks to its signature SuperGrip Corners. This product is convenient for caregivers who often find themselves changing bed sheets, as all it requires is unzipping the top part of the sheet to wash it. Afterward, this layer can be zipped back onto its base.
The zipper does not cause any discomfort and is not an eyesore, as there is a subtle fabric flap to conceal it. This product is available in seven different finishes and colors and can fit up to King-sized mattresses.
PeachSkinSheets Night Sweats is a crowd favorite among comfort seekers, boasting numerous positive customer reviews. These sheets do not change hormonal levels or body chemistry if you perspire often, but they manage wetness. This also makes them excellent bed wetting sheets.
They have moisture-wicking and airflow properties and dry quickly as well. Made from athletic grade poly microfiber, these 1500 thread count sheets are said to become even softer with every wash. They come in several colors too. Seniors who sweat easily or have incontinence problems may sleep better knowing that their bed sheets wick away moisture just like that.
AmazonBasic's queen sheet set is inclusive of a flat sheet, fitted sheet, and two pillowcases to ensure that your pillows are also protected. It fits snugly on most mattresses up to 16-inches in depth.
It is made from polyester microfiber material, making it soft and durable enough to withstand multiple washes for ultimate comfort. There are 45 different colors and patterns available, and the sheets will fit mattresses of Twin, Twin XL, Full, Queen, King, and California King sizes.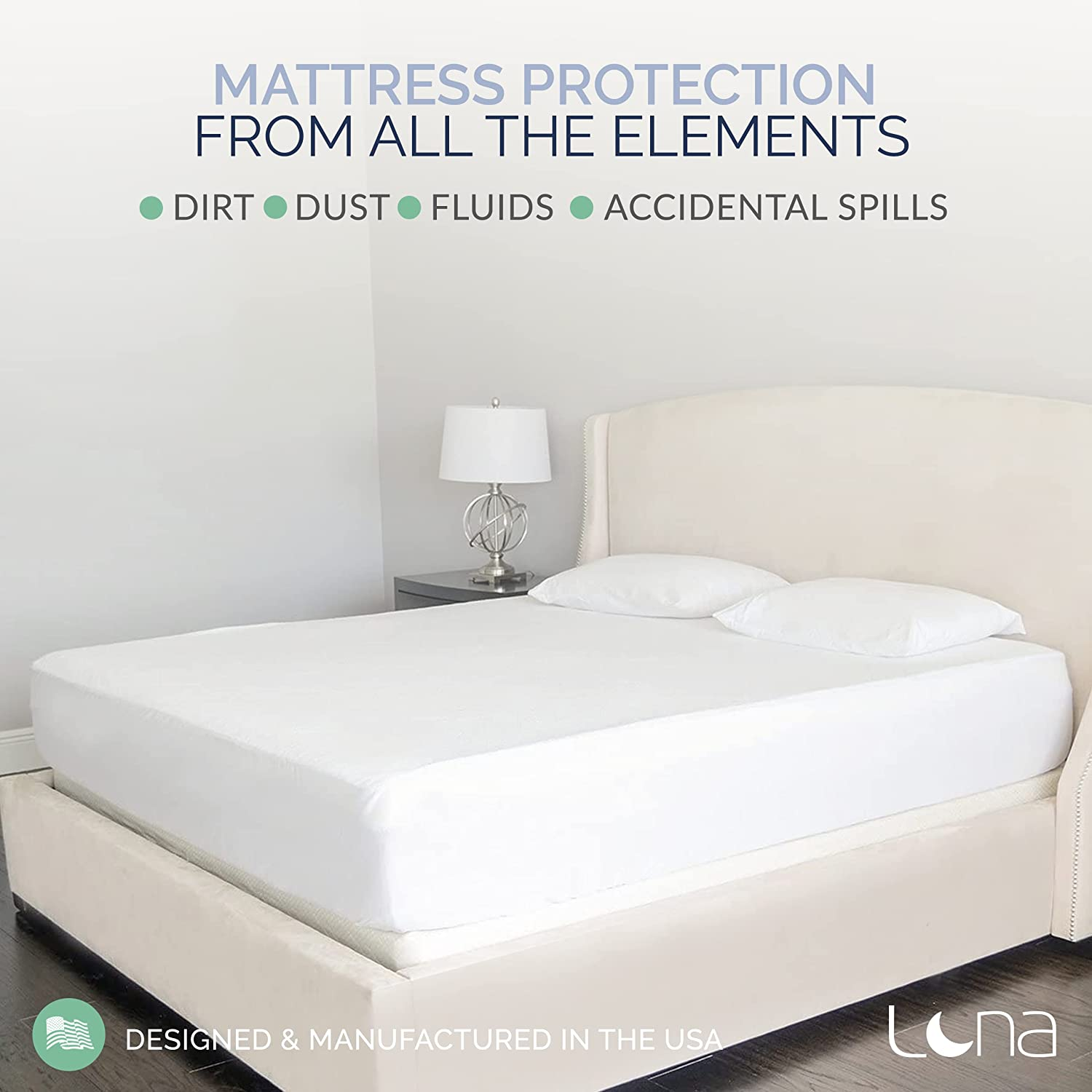 This vinyl-free, fitted sheet type of mattress protector people can opt for if they need something more hypoallergenic. With an average of 4.5-star reviews from people who have tried this on their own beds, you can trust that this is a good choice.
It features a 100% waterproof membrane, and its Luna Airflow Technology facilitates the superb circulation of airflow. You will still enjoy maximum comfort as its cotton terry material does not alter your mattress' texture, and its surface is also noiseless.
What Do The Best Bedsheets And Bedding For Seniors Look Like?
Aesthetically, the best bedsheets for seniors do not look any different compared to other bedding products out in the market but make use of absorbent, moisture wicking, or waterproof/resistant materials to ensure that the bed remains protected and that the senior is comfortable throughout the night.
Who Are Sheets And Bedding Best For?
Aside from older adults who prefer maximum comfort when sleeping, some top-notch sheets and beddings are ideal for certain people who:
Frequently suffer from incontinence or bed wetting
Have sensitive skin
Are hosting guests in their home
Have sleep apnea or another sleep disorder
Popular Types Of Sheets And Bedding
Bedding needs differ with age due to changes in the body. The best types of sheets and bedding should balance comfort and safety. The following are the best types for senior care.
Mattress covers: These go directly on top of the mattress and are usually made of vinyl to protect against dust, oil, stains, allergens, and incontinence.
Mattress pads: This variationcan add an extra layer of support and comfort for better sleep. For seniors, these may be made of absorbent material.
Fitted sheets: These are snugly pulled over a mattress to protect it. A flat sheet is usually placed on top of the fitted sheets, but below blankets and duvets.
Bed pads: Theseare removable square or rectangular pads for seniors to lie directly on top of to ensure safety from accidents during the night. These are either disposable or washable with every use.
Choosing Bedsheets For Elderly Folks
Bedsheets are typically composed primarily of cotton, cotton/polyester blends, or polyester/microfiber. In addition, a number of lifestyle choices and habits might affect how frequently you should wash and change your bedding.
For maximum comfort, picking the right bed sheets for your senior loved ones is essential. Here are some factors to consider when choosing a set for bed:
Material
The material should be soft enough to ensure a good night's rest – ideally, it should also distribute moisture away from the body so that the individual stays dry and cool.
Water Absorbent
Water-absorbent sheets often have a polyurethane waterproof covering, unlike vinyl mattress covers. This means that the heat generated by your body as you sleep will pass through the cover rather than being reflected back at you. The user is able to lose sight of the waterproof sheet underneath her thanks to this feature.
Anti-slip
Mattress protectors or pads may make a lot of noise when they are not securely in place. Read the labels to check if these are noiseless, anti-slip, or non slip sheets with appropriate backing so that sleep is not disrupted for elderly folks at night.
Durable
High-quality bed sheets should be sturdy and be able to withstand frequent washes. Because they are more resistant to factors like shrinkage and pilling, polyester fib4ers are generally more durable than cotton. However, many of the cotton sheets we tested received outstanding ratings for durability, while a few of the polyester sheets received below-average ratings.
Easy To Clean
Bedsheets for elderly folks should be easy to remove and clean, considering the number of times you will be changing beds. When it comes to cleaning, sheets always require far more care than other types of bedding, such as blankets, comforters, quilts, or mattress pads.
Frequently Asked Questions About Bedsheets For Seniors
Do you have any questions so far? Check out some of our FAQs below to see if your query has been answered!
1. How do you handle incontinence in elderly age?
Your lifestyle could change if you have bladder issues. Some bladder issues can be alleviated by losing weight, quitting smoking, saying "no" to alcohol, drinking less alcohol before bed, and sticking to water. Incontinence may also be managed by avoiding constipation and carrying heavy objects.
2. What kind of incontinence affects older people the most frequently?
The most prevalent type of incontinence in people in their late middle to advanced years is urinary urge incontinence (detrusor hyperactivity, spastic bladder).
3. Can incontinence in older people be cured?
Correct identification of the nature and cause of incontinence is essential for the successful treatment of UI and overactive bladder in older patients. UI in older people can be either short-term or persistent. Simple interventions like hydration restriction or alterations in daily hygiene routine can effectively treat many UI situations.
4. Is there medicine to prevent nighttime urination?
Noctiva (desmopressin acetate) nasal spray has been approved by the U.S. Food and Drug Administration for adults who experience nocturnal polyuria, a condition that causes them to wake up at least twice per night to urinate (overproduction of urine during the night). The first medication for this illness to receive FDA approval is Noctiva.
5. Which dietary supplement is ideal for frequent urination in seniors?
Research indicates that pumpkin seed extract is helpful for both midnight urination and OAB. Magnesium hydroxide: One small trial found that taking these supplements helped more than 50% of the female participants' symptoms of nocturia and urine incontinence.
Getting the right bedsheet can do wonders for any senior citizen who has trouble sleeping. Aside from battling incontinence, it also lets them get comfortable to sleep—but it can go beyond that. The best bedsheets for elderly parents and loved ones boast instant comfort and reliable quality for long-term use.
To get the best positioning pillows and tools for long-term palliative or in-home care, check out our reviews on senior care products at Senior Strong.