In our society, technology is often associated with active and young people. But in reality, it is created for everyone, even for senior citizens who needed it more to improve their quality of life.
In fact, according to recent national data, approximately 70% of Americans who are connected to the internet are between middle-aged and older adults. This means that baby boomers are using technological devices in their daily lives to access information, connect with their family and friends, help caregivers monitor their health, do shopping, travel, etc.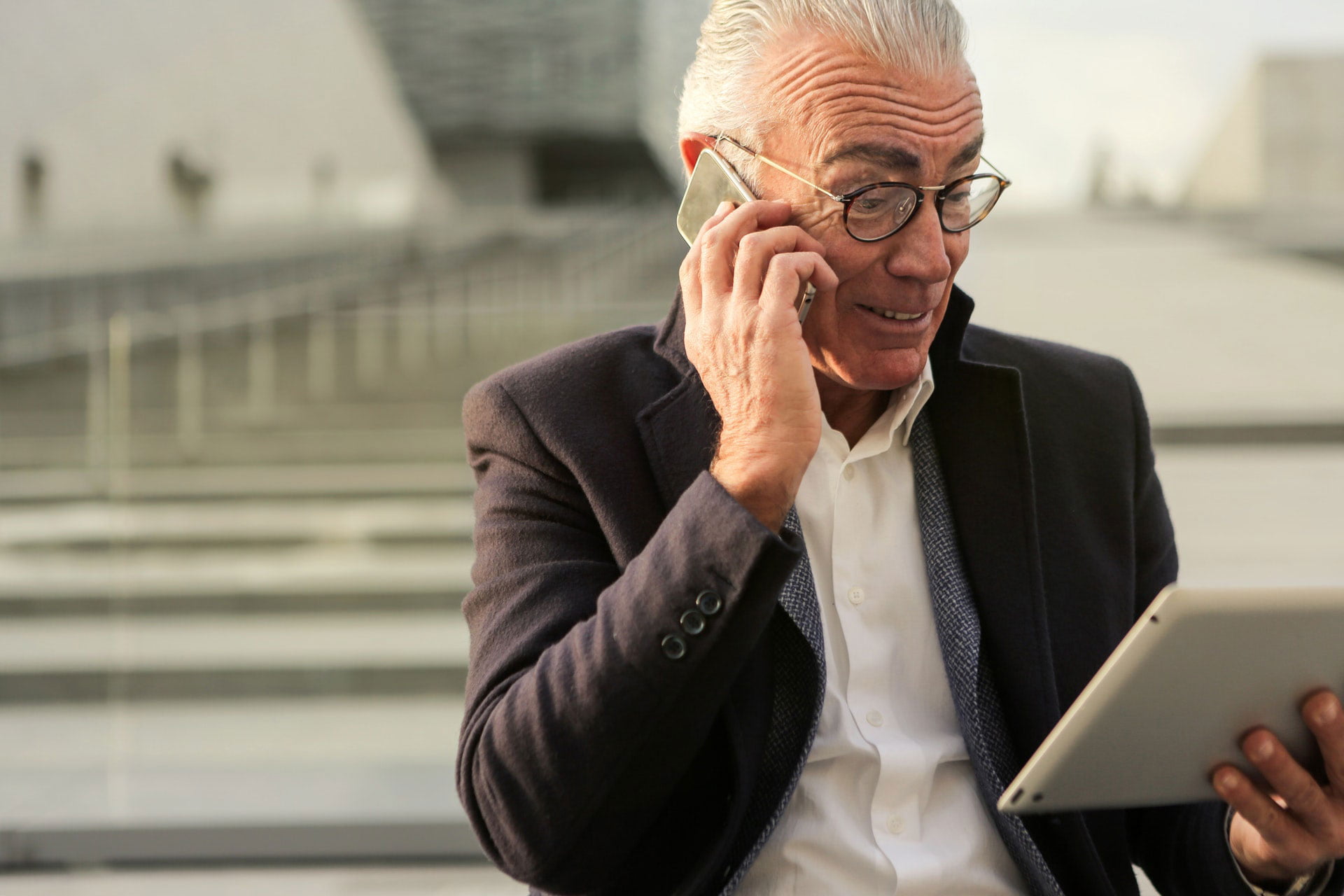 Another study from Pew also shows that 42% of seniors are using smartphones and 67% have access to the internet. This means that even though the advancement of technology is a bit overwhelming for the seniors, they are still embracing and adapting it to their daily lives.
With this positive reception from seniors, what would be the best technology for them that they can benefit from? We've compiled a list of all the best and easy-to-use technology that seniors can use in 2022.
The Best Technology for Older Adults in 2022
From smartphones, watches, tablets, to even home security, there are a lot of best technological devices that help seniors improve their quality of life. Here are some of them together with their benefits.
This latest version of the Apple iPad is one of the best technologies for seniors as it has 10 hours of battery life with a bright and high-resolution, 9.7-inch screen.
This means seniors can surf the internet, play video games, take photos and videos of their loved ones, or even video chat with their families and friends for long hours. Moreover, it has an A10 Fusion chip processor that makes it faster and easier to use giving the seniors a really good user experience.
The Apple Watch SE is the perfect device for seniors who wants to stay in touch with their family as well as their caregivers but are not comfortable using smartphones.
Moreover, this smartwatch has features like heart rate monitoring, fall detection, emergency SOS, international emergency calling, hearing protection using the Noice app, etc., to help families or care giver monitor your health and safety.
It also has a family setup feature which allows one of your family members to set up the device to make sure everything is ready to go for you.
The Amazon Echo Dot is a voice-activated device that is screenless and is one of the best on the market. This device is very well suited for adults especially for those with memory loss or dementia.
Simply put it in your living room and it can help seniors quickly check the weather, get the date and time, create and keep track of shopping and other to-do lists, set medication, prescription drugs or pills schedule, listen to audiobooks, play music, hear the latest news, and even alert loved ones and caregivers when you need help.
Leaving your older loved ones alone can be a bit concerning. That is why a nanny cam like the Arlo Pro 3 is the best wireless security camera for the seniors in the market today.
It does not need a power cord to work, plus it is compatible with the best smart homes in the industry like Amazon Alexa and Google Assistant.
It is also easy to set up, has multiple cameras, and outstanding video quality to fully monitor your seniors at home or while with their caregivers, in real-time.
Seniors tend to have bad hearing. That is why watching TV can really be a pain.
TV Ears is one of the best senior care devices that help seniors with hearing loss to clearly hear the television without turning up the volume on the TV itself.
Benefits of Technology for the Elderly
There are a lot of good things that seniors can get from using tech. Here are some of them.
1. Socialization with other people
Technology has made communication a lot easier. Now, even in the comforts of your home, you can stay connected with your family members and friends using social media and other communication tools and apps.
This is one of the major reasons why most seniors are loving it. With tablets, smartphones, and even smartwatches, seniors can easily talk to other people with minimal effort using different video chat services.
Being able to talk and socialize with each other, any time and anywhere helps seniors fight the feelings of depression, loneliness, and isolation. Furthermore, you can easily get updated with what's happening outside by just surfing the internet.
2. Track and monitor health and safety
One of the biggest benefits of advancement in tech is being able to easily track and monitor the health and safety of seniors.
With the help of senior care monitoring devices like smartwatches, you can easily monitor their location via GPS, sleep, health, pills or medication schedule, and overall care patterns, as well as their contact information for easy responding.
Smart homes like Alexa has great home care services that remind a person to take their medication on schedule.
There is also a Personal Emergency Response System or PERS device with GPS satellite location that allows a person to call for help during emergencies.
3. Provide entertainment
Seniors tend to spend a lot of time in their homes (sometimes with their caregivers) with nothing to do.
But with tech, they can play numerous video games, surf the internet for information, watch high-quality movies and TV series, read books, listen to audiobooks or their favorite music using smartphones or tablets.
They can do a lot of things that will keep them entertained for the whole day and provide the best home care for them.
4. Keep mind and body moving
Aside from entertainment, one of the benefits of tech is that it can also help seniors to boost their mind and body.
For example, Nintendo's Wii sports games are fun opportunities for senior adults to engage in light physical activity from the comforts of their home. Moreover, there are also games that are best for mental exercise that they can do using their tablets and phones.
5. Make everything convenient
With tech, seniors don't need to travel outside or walk long miles just to get food or search for the best food menu, medication or pill boxes, or shop.
They don't need to go out and make an appointment with their doctor or insurance companies. They can simply use their smartphones or tablets to order whatever they want or shop online for their needs and it will be delivered straight to their doorsteps.
They can schedule their medication or appointments with their doctor easily without the help of caregivers. Making everything more convenient for them and makes their life a lot easier.
How To Make Technology Easier for the Elderly
Learning how to use a technological device can be a bit overwhelming and frustrating for older adults. In fact, according to a study from Pew Research, 77% of older adults need assistance when it comes to learning how to use tech.
So here are some form of solutions to help seniors use it easily and without stress.
1. Avoid using smaller font sizes
Seniors tend to have vision problems. Moreover, color vision can also be affected by old age. As a form of a solution, avoid using smaller font sizes.
Adjusts font with the size that seniors are most comfortable with. Furthermore, to avoid problems with colors, avoid using blue color for important interface elements.
2. Provide subtitles
Seniors also have hearing problems. As one of the solutions to this, it is best to have subtitles on any video or audio content to provide a better user experience for them.
3. Create shortcuts to most used apps or items
One of the solutions that seniors can easily use tech is by providing them shortcuts to what they always use. This way, they won't get lost in searching or remembering what they need to do.
4. Avoid tech jargons and use easy simple language
Learning how to use tech can really be frustrating especially if you are not familiar with most of the terms. That is why, for seniors to be better understand, speak to them using the terms and language they can easily grasp. Be always mindful of the words you are using. Additionally, ask them what they know about it and use analogies that they're already familiar with.
5. Take it easy and slowly
Don't overload seniors with too much information. This will just overwhelm them and give up easily on learning. The best strategy is to start small and have multiple learning sessions so they can familiarize themselves easily with the bits and pieces.
6. Let them write it down
Some seniors write down things they want to remember, this is one of their ways to remember. So allow them to write and refer to their notes.
7. Celebrate small wins
Learn to appreciate their progress by celebrating their small victories. This will give them enough confidence to continue.
8. Be more patient
Seniors will have a lot of questions, which is good. Because this means they are interested in learning. So be more patient in entertaining their questions and providing ways to keep them more engaged and interested to learn.
Frequently Asked Questions about Technology for Seniors
How is technology changing life for homebound seniors?
Homebound seniors are prone to feelings of depression, loneliness, and isolation. But with the help of tech, seniors are able to combat the depressing feeling of aging in place.

It can help them socialize by simply using their smartphones or tablets in texting, emailing or even video calling family members and friends. Moreover, they can also use it to read books, access the internet, watch movies, listen to music, and play games.

It can also help them and their caregiver with safety and health tracking and monitoring. There are so many things that seniors can do to keep them busy and entertained will at the comforts of their home.
What is the best method to learn about computers and technology for seniors?
Learning computers for seniors can be overwhelming. But with the right strategies and solutions, seniors can easily adapt and learn.

Using what they already know about computers and the internet, while mixing it with simple words and analogies can help them understand better. Moreover, providing step by step lessons can help them absorb things easily.

Patience is also key as they will have a lot of questions to better understand stuff.
How can seniors utilize technology for their health and well-being?
With the help of technology, it is now easy for senior adults, as well as the members of their family and care givers, to track and monitor their health.

Senior care monitoring devices like smartwatches can help seniors and their caregivers track their motion, sleep, health, fitness, location via GPS, and care patterns. It can also help them to remember their medication or prescription drugs on time.

Moreover, with just a press of a button, they can easily call help to emergency response services or to their caregiver.

Some technologies also help them boost their well-being by promoting socialization with others, play games that engage in light physical activity and mental exercise, as well as be entertained with their favorite music, movies, and TV shows, among others.

It can also alert families and family caregivers for any home care needs or health issues of our old loved one.
How is technology creating jobs for seniors?
Manual and physical labor is impossible for seniors. But with the help of tech, some of these manual and physical labor tasks can be automated, which means, seniors can now work without putting their health and safety at risk. 

Moreover, job-matching and training services assisted by innovative tech can bring great potential for work opportunities for seniors. With innovative, customized, and interactive training, seniors can easily build up new skills that they can use to perform certain jobs.
How to make technology friendly for seniors?
Seniors suffer from different health problems like vision, hearing, and motor. These factors can affect them in having a better experience with different kinds of technologies.

That is why, to make it friendly among seniors, avoid using smaller fonts as it can hamper their vision. Avoid also using blue for important interface elements as it can cause issues to those suffering from color vision problems. 

Another best practice is to provide subtitles to all video and audio content to help those with hearing loss issues. And lastly, create shortcuts to the most used items, apps, or links so seniors won't have a hard time searching and remembering what they need to do.
Additional Resources
AARP is a nonprofit, nonpartisan company that services and helps senior citizens and the retirement community. Their senior center provides webinars on a regular basis on topics like senior care and online safety, social media, tablets, and phones, among others.
Oasis is a nonprofit company located in St. Louis, Missouri area, and is focused on providing services among adults ages 50 and over. They provide continuing education programs and senior care for older adults.
OATS is a nonprofit company in Colorado, Maryland, and the New York area. They have a program called Senior Planet which offers free computer classes and tech information to help adults over age 60.
SeniorNet is a nonprofit organization with over 30 learning centers across the different area in the United States that provides internet and computer education and information to adults over age 55.
If you need more information about this, contact us at Senior Strong today!