For many individuals, hearing loss is a normal side effect of aging. Around 40-50% of seniors have measurable hearing loss. Though it's minor for some, it greatly impacts their life. Hearing loss results in poor communication, embarrassing moments, and a feeling of isolation.
To remedy this, a hearing aid can help seniors hear louder and clearer. Surprisingly, 70% of seniors who needs hearing aids haven't even tried one. For some, hearing loss develops gradually, and they don't realize they need hearing devices for the elderly. Some seniors fear they'd be treated differently for wearing senior hearing aids or are misguided that the best hearing devices for elderlies are expensive.
With all the different brands and models available on the market, choosing the right hearing aid can be confusing. To simplify this process, we've compiled a list of the best hearing aids for 2022.
Statistics from the National Institute on Deafness and Other Communication Disorders claim that age-related hearing loss impacts approximately 25% of adults aged 65-74 and 50% of those aged 75 and above.
In addition, hearing loss targets the male population in particular, with some estimates suggesting that one out of three men may need hearing aids by age 65.
For those on the fence about choosing a hearing aid, some things to consider include comfort, ease of use, and cost. Those on a budget may be interested in exploring some of the best cheap hearing aids at their price point, along with options for the best hearing aid under $100.
How Hearing Aids Work
All hearing aids have three main parts: microphones, amplifiers, and receivers.
Microphones pick up sounds around you
Amplifiers make the sounds louder
Receivers send the amplified sounds to the ear
Modern hearing aids may have more parts and features, but these three are essential to how they work. Hearing aids today are now digital and can be programmed to a person's specific hearing needs.
Senior hearing aids have feedback suppression, and the best hearing aid for seniors has background noise reduction.
Where To Buy Hearing Aids
The most common way to purchase the best hearing aids for elderly is through audiology practices and hearing aid dispensing chains.
Audiology Practices
Audiologists have a license and a graduate degree and can be independent practitioners or connected with ENT doctors. They serve all ages and can perform diagnostic hearing evaluations to find the best hearing devices for elderly use.
Audiologists are best approached for complex hearing needs such as sudden hearing loss.
Hearing Aid Dispensers
Dispensing chains are owned by hearing aid companies and are sometimes part of large retail stores. Only a high school diploma is required for hearing aid dispensers, but they must also pass a licensure exam.
They can only perform a hearing test for the sole purpose of finding the best hearing aids for seniors. However, most audiologists also work in dispensing chains and can provide further care.
Best Hearing Aids In 2022
Selecting the best hearing aids for seniors depends on a number of factors. You should take into account the severity of your hearing loss, lifestyle, and budget. Ear placement can affect your overall comfort and optimum size, so seeking the aid of a reputable audiologist can help you find the best fit for your particular condition.
For general use, here are some of the best hearing aid options that you can buy:
The Pure Charge&Go Nx is arguably one of the best rechargeable hearing aids due to its wireless charging feature. All you need to do is place the pair of hearing aids on their inductive charger without the fuss of tangled wires.
Another bonus is its relatively discreet appearance and Own Voice Processing (OVP) feature. Many first-time users typically complain that their own voice can sound loud and unnatural when they put on their hearing aid.
However, OVP provides the user with a natural-sounding voice by reducing the amplification of high frequency sounds. In fact, a clinical trial led by Signia found that 86% of hearing aid participants in the study showed satisfaction toward their own voice.
Depending on your retailer, the Signia Pure Charge&Go Nx starts at around $1,200.
| | |
| --- | --- |
| Pros | Cons |
| Rechargeable with wireless chargingDiscreet appearanceOVP feature | Own voice can sound too loudFeels unnaturalExpensive |
For those searching for a comfortable and almost invisible hearing aid, the Eargo Neo HiFi is their newest model. It's designed to provide a clear listening experience with effective noise reduction and feedback cancellation.
Another notable feature is their broad selection of earbuds that provide a personalized fit. Their Flexi TetraPalm design is made from medical-grade silicone that adjusts to your ear canal.
Lastly, the Eargo case also functions as a charger, which can charge your hearing aids for up to an entire week. The fast charging feature gives you a few hours of high-quality sound in just 30 minutes.
It currently retails for approximately $2,950, with flexible financing options.
| | |
| --- | --- |
| Pros | Cons |
| Comfortable & invisibleHas noise reduction & feedback cancellationFast charging | Expensive |
One of the best inexpensive hearing aids in the market is MDHearingAid's The Volt+, which provides around 24-30 hours of power from a single charge. It also has water-resistant technology that lets it withstand a depth of 3 feet for 30 minutes, perfect for those who have an active lifestyle.
Its Comfort Tips provide inner ear comfort and fits 80% of individuals even without aid from an audiologist.
For those who value simplicity, it has simple controls that allow you to adjust the volume on the hearing aid through four different sound settings.
A single device retails for $599.99, with a pair being sold at $1,199.99.
MDHearing created Volt to address the prevailing barrier for purchasing senior hearing aids — cost. By creating a simple design with basic functions, the founder was able to create one of the best inexpensive hearing aids for seniors.
| | |
| --- | --- |
| Pros | Cons |
| Water-resistantLasts for up to 30 hours on a single chargeBudget-friendly | Only nearly invisibleMight still be expensive for some people |
Best Hearing Aids For Tinnitus
Tinnitus is a common problem that affects 15 to 20% of the population. If you hear a ringing roaring, clicking, hissing, or buzzing sound in your ear, this can be a symptom of an underlying disorder.
The good news is that wearing a hearing aid can help mask these annoying sounds, especially when it comes to certain models that have specialized apps that can provide much-needed relief.
The Miracle-Ear is one of the best hearing aids for tinnitus sufferers. For many of its models, it has three options that are programmed into the hearing aid. With sounds such as static noise, ocean waves and Notch Therapy, these can help block out tinnitus.
In particular, Notch Therapy works through inaudible noise. It uses state-of-the-art technology to strengthen incoming sound and block out the specific frequency of your tinnitus. Over time, it reduces your perception of it and can potentially eliminate it altogether.
Miracle-Ear hearing aids are priced from between $1,000 to $5,000.
Miracle-Ear is available in more than 1,500 locations nationwide. They produce the best-in-class products using leading digital technology and provide lifetime aftercare without any charges.
| | |
| --- | --- |
| Pros | Cons |
| RechargeableComes with a lot of models to choose from | Expensive depending on the model |
Beltone's line of hearing aids come with a "Tinnitus Calmer" app. The app contains a range of calming sounds that can distract you from ringing sounds. Some sound options include rain, the beach, and underwater.
In addition, you can even create a personalized plan to provide you with guided meditation and design your own unique soundscapes. You can also make remote adjustments using their mobile app.
Beltone hearing aids are relatively expensive, ranging from $2,800 to $7,000 for a pair, but this cost includes lifetime support from a licensed specialist.
Beltone has helped people hear better for over 80 years. They design products that make life easier by using the latest technology on their devices, apps, and accessories.
| | |
| --- | --- |
| Pros | Cons |
| Comes with an appOffers personalized plan to design unique soundscapesComes with lifetime support | Can be costly |
Widex offers the Zen tinnitus management app, which provides therapy to those who experience symptoms. It has special tones that are not repetitive in nature, which prevents your brain from getting used to the sounds.
They recommend that users listen to your chosen sound for at least 2 to 4 hours a day, at a low volume. It also promotes meditation and relaxation, as tinnitus can cause stress and irritability on a daily basis.
Widex is known for their great customer support and advanced app controls, and they currently have three models on the market ranging from $1,200 to $2,400.
| | |
| --- | --- |
| Pros | Cons |
| Comes with wellness counselingAll models can use the appPersonalized therapy | Expensive App only available in selected countries |
Best Hearing Aids For Seniors With Dementia
Research conducted by Professor Frank Lin his colleagues from Johns Hopkins School of
Medicine found that age-related hearing loss increases the risk of dementia.
Their findings show that those who experience mild symptoms of hearing loss are twice as likely to develop dementia compared to those who have healthy hearing. In comparison, those with severe hearing loss are five times as susceptible to developing dementia.
Because Alzheimer is the most common cause of dementia, a hearing aid can help prevent lower the risk of developing this condition.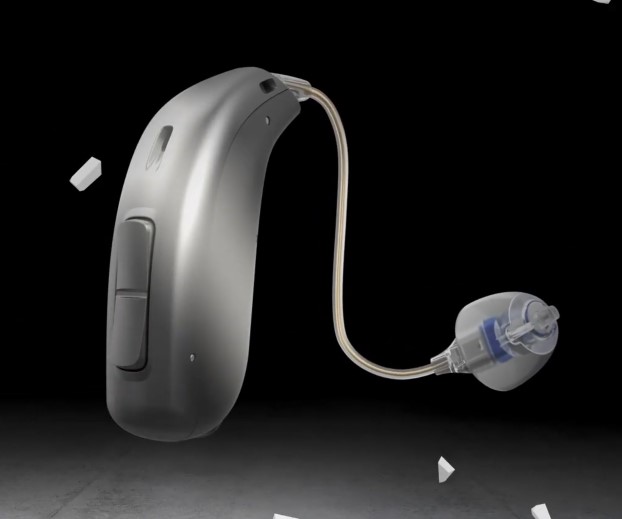 Oticon's Opn S is one of the best hearing aids for Alzheimer patients. It has an advanced feature called BrainHearing that enables you to scan your 360° environment, promoting omnidirectional hearing.
Many hearing aids on the market only take in the sound of what you're looking at or where your head is turned, which can make external sounds seem unnatural.
In addition, their ConnectClip feature is an attachment that can convert your hearing aid into a headset. It's great for listening to music or making phone calls, and can even help you hear speeches that take place from a distance.
It is currently priced around $1,400+, making it a great option for audiophiles.
Oticon is known for creating the best hearing aids for dementia patients because of its commitment to cutting-edge technology.
| | |
| --- | --- |
| Pros | Cons |
| Scans the entire environment for soundConverts to a headsetWireless connectivity | Expensive Not invisible |
For those who are seeking an unobtrusive hearing aid solution, the Phonak Lyric may be the best fit. Instead of being worn on the outside of the ear, it is inserted and implanted into the ear canal where it remains 100% invisible.
It's a low-maintenance option that provides 24/7 hearing. It can be worn for up to months at a time and lasts through activities like exercising and showering, remaining out of sight and out of mind. Its position means that it also offers natural and vibrant sound quality.
This is fantastic for independent users, but the battery can only be changed by a professional so you need to be in contact with a qualified specialist.
However, one major drawback is its high price tag. The Phonak Lyric retails for approximately $2,129.
Phonak is passionate about creating hearing aid solutions to help those who suffer from hearing loss regain their connection to society. They've been developing the best hearing devices for elderlies for over 70 years.
| | |
| --- | --- |
| Pros | Cons |
| Completely invisibleLow-maintenanceProvides 24/7 hearing | Expensive Requires a professional to change the battery |
Best Hearing Aids For Severe Hearing Loss
Individuals that suffer from severe hearing loss may need more powerful models that are on the larger end of the spectrum.
The WHO claims that those who can only hear sounds in their better ear ranging between 60-80 decibels suffer from severe hearing loss. In contrast, those who can only hear sounds at 80 decibels and louder suffer from profound hearing loss. For scale, ordinary conversations take place at roughly 60 decibels.
The best hearing aids for severe hearing loss should offer high power and good feedback control.
Well suited for those with severe to profound hearing loss, ReSound's ENZO line of devices has SmartHearing technology that allows users to wirelessly connect their smartphone or other electronic devices for phone calls and music.
Through the smartphone app, it lets you make easy sound enhancements by adjusting levels like volume, treble and bass, so you can achieve the best listening experience for your needs.
It's also designed for those who are on the go, with a long-lasting battery life and a nanotech coating that protects the hearing aid from grime and dust. The ReSound ENZO variants are available in 10 different colors, so you're sure to find the right fit in terms of visuals.
Depending on your chosen model, it can cost anywhere between $1,100 to $2,200.
ReSound creates innovative hearing aid products by using a holistic approach to product development. Its mission is to make life easier for those suffering from severe hearing loss.
| | |
| --- | --- |
| Pros | Cons |
| Wireless connection to smartphoneLong-lasting batteryComes with various colors | Expensive depending on the model Not invisible |
The Naida M power hearing aids are a fantastic choice for individuals who suffer from severe to profound hearing loss. It gives you the support you need in loud environments through the Roger FM system.
It also offers connectivity to other devices such as smartphones and TVs. The hands-free feature levels the playing field when it comes to its impressive connectivity, including the Roger Direct & myCall-to-Text elements that transcribe words in real time.
In case of troubleshooting it also comes with real-time remote video support with your chosen provider, which can be highly beneficial.
The Phonak Naida Marvel 90 retails for approximately $2,220.
| | |
| --- | --- |
| Pros | Cons |
| Hands-free featuresComes with real-time remote video supportWorks well in loud environments | Expensive Not invisible |
Best Affordable Hearing Aids
If you're looking for the best hearing aid under $100, you should know that you're typically sacrificing quality at this price bracket. Extremely cheap hearing aids may even cause additional hearing loss through bad feedback.
That being said, you can find relatively affordable models priced at around $1000 that are of a high quality.
Often, the process of buying a hearing aid usually comes with a hearing test, consultation, personalized fitting, and any adjustments. To reduce costs, some online stores may offer consultations that take place entirely online or may offer less after-sales support.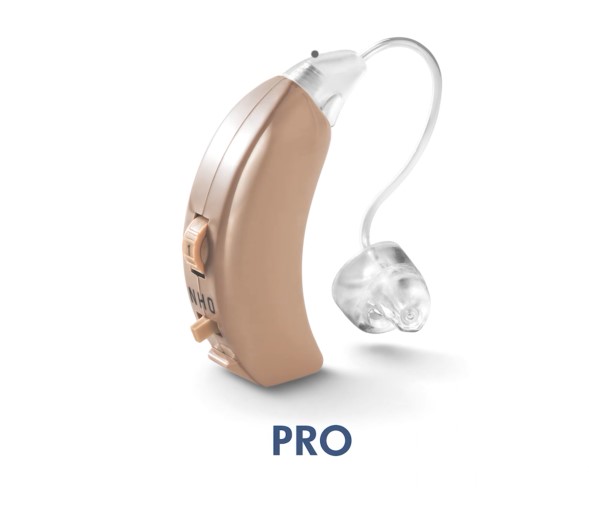 The Pro offering from MDHearing is an affordable choice that fits behind-the-ear. However, it can't automatically self-adjust when it comes to environments and lacks directional microphones.
On a positive note it does have two channels that you can program as well as noise reduction technology. It can block out minor noises, which is suited for those who have one-on-one conversations or need to watch TV at home. On the other hand, those who frequently visit noisy environments may need a more advanced model.
It's one of the cheapest options on the market, retailing at only $200 per ear. Battery life also lasts around 40 days, with physical switches allowing for easy adjustments.
| | |
| --- | --- |
| Pros | Cons |
| AffordableHas noise reductionBattery lasts for 40 days | No self-adjustmentRequires battery replacementNot suitable for noisy environments |
ListenClear's Pro is the most affordable hearing digital aid that the company sells, being advertised as lightweight and highly customizable. It doesn't require a fitting appointment and can be used straight from the box with some aid from the quick start guide.
Volume is adjustable with the small button on the hearing aid, making it a great choice for mild to moderately severe hearing loss. It comes with 4 ear tips and a two-month supply of batteries.
One concern is that it isn't water resistant and may need additional care.
It is priced at roughly $1,199 for one ear and $1,919 for both ears.
ListenClear creates some of the best affordable hearing aids for seniors. Their products work immediately straight out of the box. They're a direct-to-consumer brand priding themselves in the clearcut process of helping customers transition to better hearing.
| | |
| --- | --- |
| Pros | Cons |
| LightweightEasy-to-useAdjustable volumes | Not water resistantCan still be expensiveRequires additional care |
An affordable yet discreet option is The Aura by Audicus. It promises to provide all day comfort in a small package, targeted towards those who have mild to moderately-severe hearing loss.
It also comes with a 45-day risk-free trial, which can help you decide whether it's the correct fit.
Battery life lasts up to about a week, and it also comes with wax guards that protect your device from earwax and help boost sound quality and performance. They need to be replaced every 2 weeks to promote hearing clarity.
It costs roughly $699 per ear, with the company also offering online options for submitting and taking hearing tests.
Audicus believes no one should be limited by the lack of hearing. Their commitment is to create easily accessible hearing aids through a seamless online channel.
| | |
| --- | --- |
| Pros | Cons |
| AffordableInvisible Comes with a risk-free trial | Short battery lifeNot rechargeable |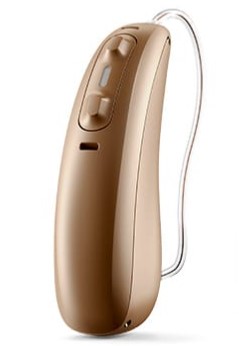 Manufactured by Sonova, the Kirkland Signature 9.0 Premium Digital Hearing Aid is sold at Costco and offers connectivity with most Bluetooth compatible devices. Its hands-free feature lets you press the button on the hearing aid to answer a call, which is very convenient
In addition, you can choose from a variety of volume levels, programs and options with your smartphone using their Easy Line Remote, which can help optimize your listening experience.
However, there is no rechargeable option currently available. Despite this, it is quite reasonably priced at $1499.99 per pair.
| | |
| --- | --- |
| Pros | Cons |
| Sold at CostcoHas Bluetooth connectivityWith various volume levels | Not rechargeable |
Understanding Hearing Aid Products
If you're unsure about where to start when purchasing a hearing aid, learning more about what options are available to you, what to look for when buying a hearing aid, and how to adjust to using it might ease some of your concerns.
Hearing Aid Styles
According to a guide from the Mayo Clinic, these styles of hearing aids are the most common on the market. They are listed from the smallest and least visible to the largest.
While new technology has resulted in more powerful yet compact models, smaller hearing aids still have more limitations compared to larger ones.
Completely In The Canal (CIC) Or Mini CIC
A completely-in-the-canal hearing aid is adjusted to fit inside your ear canal. It is geared towards those who have mild to moderate hearing loss, due to its small and barely visible nature.
It is less likely to pick up wind noise because of its position, but is also susceptible to earwax buildup unless it is cleaned regularly. Additionally, it has small batteries — which limits its capacity and can be difficult to insert for those who lack dexterity.
In The Canal (ITC) Hearing Aid
An ITC or in-the-canal hearing aid is custom designed to fit perfectly in the ear canal and can address mild to moderate hearing loss in seniors.
It is relatively less visible in the ear compared to larger styles but can be difficult to maneuver due to its size. Like a CIC hearing aid, it is also susceptible to earwax clogging the speaker system.
In The Ear (ITE) Hearing Aid
An in-the-ear device has two different styles. The full shell fills most of the bowl-shaped portion of the outer ear while a half shell fills only the lower half. Directional microphones come in handy for these models, especially for those with mild to severe hearing loss.
An ITE may come with volume control that doesn't fit on smaller styles and can be easier to put on and take off. Some may also have rechargeable batteries but pick up more wind noise. It is also more visible in the ear for those who are concerned with aesthetics.
Behind The Ear (BTE) Hearing Aid
A behind-the-ear (BTE) hearing aid is positioned over the top of the ear with a hook, resting behind the ear. A tube connects the hearing aid to an ear mold that fits inside the ear canal.
A BTE is well suited to individuals of all ages who suffer almost any type of hearing difficulty. It is traditionally a larger type of hearing aid, though there are smaller and more streamlined models on the market.
Due to its size, it is more powerful than smaller models but at the same time it can amplify wind noise.
Receiver-In-Canal (RIC) Or Receiver-In-The-Ear Hearing Aid
Instead of tubing, the receiver-in-canal (RIC) and receiver-in-the-ear (RITE) styles have a tiny wire that connects the earpiece to the speaker or receiver in the canal. It typically comes equipped with manual control options and a less visible portion that rests behind the ear.
Open Fit Hearing Aid
True to its name, an open fit model comes equipped with an open dome in the ear. This enables low-frequency sounds to be heard by the wearer and for high-frequency sounds to be increased through the hearing aid.
This makes the style a popular variation for people with better low-frequency hearing and mild to moderate high-frequency hearing loss.
A major benefit is that it doesn't plug the ear, making your voice sound more natural. However, it is often clearly visible and may be more difficult to insert due to its non-custom dome.
How To Choose The Correct Hearing Aid
Here's how you can choose the best hearing aid for elderly:
Schedule A Checkup
To make sure that you need to invest in a hearing aid to begin with, it's best to schedule an appointment with your doctor. Sometimes, an ear infection or earwax buildup can cause temporary hearing loss.
In addition, having your hearing tested by a reputable hearing specialist, also known as an audiologist will help you assess your hearing.
They can help you choose the most appropriate device to address your personal needs and also calibrate the device to maximize its potential.
Evaluate Your Budget
One of the critical factors that prevent individuals from wearing a hearing aid is the price. Typically, hearing aids can cost an average of $2,691 per pair. In fact, name-brand hearing aid stores charge around $4,107 per pair, with around $3,909 for a pair at freestanding audiology offices, and an average $3,517 at hospitals and clinics.
However, it's not impossible to find the best hearing aid for under $1000. To bring down this figure, it helps to figure out which features are essential and which you might not actually need. In addition, you can also ask for a discount while you're shopping.
Some organizations also offer financial assistance. Take a look at your health care plan to see if audiology, hearing care, and other medically necessary services are covered.
Consider A Trial Period
With such a steep price tag, it's worthwhile to check whether your hearing aid comes with a trial period. Often, retailers will let you get used to the device and decide whether it's the right fit.
Check whether your provider includes this cost in the final bill and whether it is refundable if you're unsatisfied with your current model.
Prioritize Longevity
Even if you're choosing among a selection of the best cheap hearing aids, you should always avoid compromising on quality and longevity. Check whether your chosen hearing aid can be increased in power so that you can adjust to changes in your hearing.
On average, hearing aids have a shelf life of between three and seven years. If you take good care of your hearing aid and invest in a model that's recognized as one of the best hearing aids, you may not have to replace or repair it every often.
It's also important to note that the longevity varies by type and model in-ear hearing aids tend to last up to five years, while behind-the-air types usually last between five and six years.
In addition, to make the most out of the best inexpensive hearing aids, you should take into account proper storage and care. Many hearing aids have a protective coating to make them water and dust resistant, but there are no completely waterproof and shock-proof editions currently available on the market.
Establish The Features You Need
Depending on your individual needs, you'll require specific features that can vary depending on your price range, brand, and model. For instance, the best hearing aids of 2022 tend to come equipped with advanced options like smartphone connectivity and rechargeable batteries.
In a Consumer Reports survey, 53% of respondents claimed that rechargeable batteries are one of the key features they're looking for. Furthermore, tinnitus masking and smartphone options are prioritized by 43%, and 42% also chose automatic noise level adjustment was the most important.
Remote Controls
For some individuals, using a different device to adjust and fine tune the features of your hearing aid is more convenient. A smartphone app can give you more control over your listening experience if it is available.
However, some lower-end hearing aids are limited to physical controls.
Variable Programming
Some hearing aids can contain various pre-programmed settings that are suited to specific listening needs and environments. Having an automatic selection option can be convenient for some users.
Synchronization
For an individual that wears two hearing aids, the different devices can be programmed to work together so that any changes made to a hearing aid on one ear such as volume will also be made on the other side.
Wireless Connectivity
These days many advanced models can be paired with Bluetooth-compatible devices such as mobile phones, computers, and TVs. Streaming via Bluetooth can turn your hearing aid into a music player for wireless earbuds.
You can typically use different devices and switch between a movie on TV and phone call for instance.
Check out our article about the best bluetooth hearing aids for seniors to learn more.
Artificial Intelligence
Some hearing aids come equipped with a feature that allows them to "learn" about your preferences. Artificial intelligence takes note of your chosen volume control settings and program preferences for specific sound environments.
Over time, the hearing aid can begin to automatically choose these settings when it detects a similar environment, reducing the need for manual adjustments.
Rechargeable Batteries
For those who have issues with mobility, rechargeable batteries are useful because it makes charging a lot easier. They typically have a long shelf life of around five years. On the other hand, it makes you dependent on a charging unit and the battery typically needs to be replaced by a professional once they're worn out.
Popular Hearing Aid Brands
Some of the most popular hearing aid brands on the market include Beltone, NuEar, ReSound, Signia, Oticon, Phonak, and Widex. Costco's in-house brand Kirkland rates high for value, while Starkey Hearing Technologies are known for their host of assistive features.
FAQs
Who makes the best hearing aids? 
The best hearing aids on the market are widely considered to be Oticon, Phonak, Resound, Signia, Widex, and Starkey. 
Which hearing aid is best for profound loss?
The best high-end hearing aid for profound loss is ReSound's ENZO Q that has multiple connectivity options, including in-app personalization and streaming capabilities.

A great value option is the Oticon Xceed 3, which can also connect with Android for app use and iPhones for direct call streaming.  
What are the best hearing aid batteries?
Depending on your needs, a removable or rechargeable option is best for your lifestyle. Rechargeable options are typically well-suited for those who have mobility issues, but may be more costly to replace if they break. 

If you've chosen to go with a removable battery, Power One Hearing Aid Batteries have excellent value, along with Duracell Hearing Aid Batteries that have a long shelf life and long battery life. 
Is Miracle Ear the best hearing aid?
Miracle Ear is one of the most established hearing aid manufacturers in the industry, providing hearing aids priced between $1,000 to $5,000. With lifetime customer service and sophisticated GENIUS noise reduction and speech recognition, it's safe to say that they offer one of the best selections of hearing aids on the market. 
What are the best rechargeable hearing aids?
Depending on your budget, the best rechargeable hearing aids for seniors can provide added convenience and lasting battery life. Eargo provides budget picks at a reasonable price, while Phonak is known for their fast charging speeds. Starkey is the brand to choose if you want your battery to last as long as possible, while Signia provides low profile options. 
What are the best Bluetooth hearing aids?
The best Bluetooth technology lets hearing aid users listen to media on their smartphone, TV, radio and the ike. Miracle-Ear's products work with a range of devices, not just Apple or Android's gadgets. The Eargo Neo HiFi also has an in-ear canal model that has a Bluetooth receiver in the charging case. 
What cell phone works best with hearing aids? 
The best hearing aid for iPhone users includes the Philips Hearlink range, Oticon Opn S range, Signia Styletto Connect range, and Oticon Siya range. 

Because most modern hearing aids are designed to work with the Apple ecosystem, finding the best iPhone hearing aid isn't too much of a struggle. Check this list of models on the Apple website to find the best hearing aid that's compatible with your mobile phone.

However, Android users will need to choose brands like Phonak. The latest models from Resound and Starkey are designed to work with Pixel 3 and 4 series and Samsung S9 and S10.  
Does Medicare or Medicaid cover hearing aids?
Unfortunately, Medicare doesn't cover the purchase of hearing aids or the costs of hearing tests aimed at purchasing hearing aids. However, if you're under a Medicare Advantage plan, some of the costs might be covered.

On the other hand, Medicaid might cover the costs of hearing aids depending on the state where you live. They do cover hearing aids for children and hearing tests for hearing-related health conditions. 
Can You Get Free Hearing Aids?
If you're a military veteran, you can get free premium-level hearing aids even if the hearing loss wasn't due to military service. Other ways to get free hearing aids are through rehabilitation programs and local civic organizations like Hearing Loss Association of America. 
Conclusion
Before choosing easiest hearing aids to use for elderly, it's best to conduct detailed research so you can choose the option that fits you best and enriches your life.
There are plenty of factors that you should consider before making this worthwhile investment. For instance, you'll need to choose between daily-wear options that need to be removed before bed, or extended-wear options that can need to be replaced around every two months.
Other aspects including price, features, battery options, smartphone compatibility, and more can also help you narrow down your options.
Knowing what you struggle with on a daily basis, whether it's tinnitus or severe hearing loss can help your audiologist suggest which option might be the best hearing aid for you.
At the end of the day, hearing aids are not a one-size-fits-all device. The best hearing aids should come with customized fit options, extensive post-sales support, a long trial period, and good sound quality.
Looking for other hearing amplifiers for your loved one? Visit our article about the best hearing amplifier for seniors to learn more.
If you need help figuring out your options for the best hearing aids and other senior care products, contact Senior Strong today!