When it comes to clothing for seniors, people often think their choices will be limited. In the past, that may have been true. These days though, people's understanding of clothing design and the restrictions that seniors and disabled people face have improved the choices considerably.
Where before caretakers were required for pretty much everything a senior citizen might need, adaptive clothing lines have made it much easier for individuals to go about their daily lives.
By 2026, the global market for adaptive clothing is projected to be valued at almost $400 billion, according to research from Coherent Market Insights. Adaptive clothing for seniors started trending in the 1980s when families and health care professionals recognized the need to create easy-to-wear garments.
As a result, manufacturers started to design particular types of outfits adapted to the needs of those with limited mobility. With features like velcro closures, strategic zippers, and well-placed seams, these clothes make it easier for a loved one to get dressed on their own. It can increase one's sense of dignity and independence while reducing reliance on caretakers.
More recently, the focus has shifted to creating more fashion-forward clothing that makes dressing easier for older men and women. With a wide range of affordable and attractive senior clothing styles available in the market, shopping for your older family members can be a challenge.
What Are Adaptive Clothing Solutions?
Simply put, adaptive dressing solutions are clothing apparel that considers the different disabilities and restrictions that plague much of our society.
For example, typical shirts with a straight line of buttons are not the easiest to wear for those unable to move both arms effectively. Instead of buttons, some manufacturers will use Velcro straps to make dressing easier.
It may seem like a simple solution, but the fact is that the choices have been limited in the past. Thankfully, we've gone past that phase as we are now seeing more and more brands take on the challenge of creating accessible daily wear for people with disabilities, senior citizens with caregivers, and the like.
Benefits of Using Adaptive Clothing for Seniors
Clothing and fashion can significantly enhance an individual's mental and physical well-being. The same remains true for seniors. When they wear specialized clothes for seniors, they feel a great sense of independence that reminds them of who they were in their younger years.
Moreover, adaptive clothing for seniors holds the following benefits:
Help seniors stay independent
Reduce stress
Reduce the risk of falls
Offer pain relief for seniors that experience painful joint movements
Keep seniors warm in winter and cool in summer
Help seniors retain their fashion sense since adaptive clothing for seniors comes in a variety of styles
Restore self-confidence
Reduce the time and effort of caregivers
What Are the Different Types of Adaptive Clothing?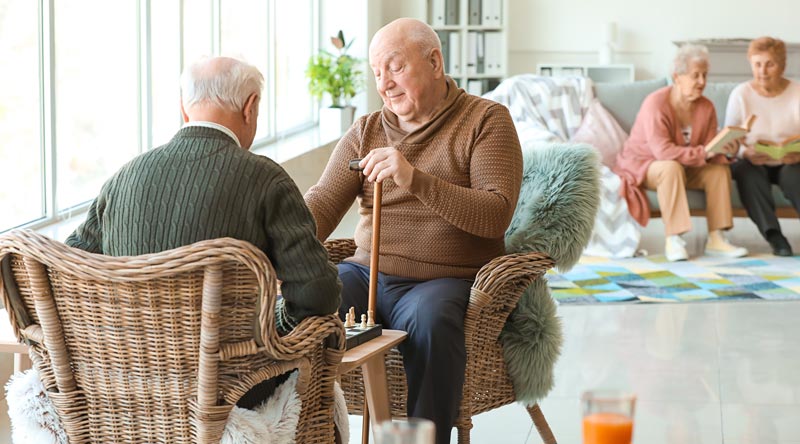 To make the dressing processes more simple for people with mobility issues, adaptive clothing for elderly styles cater to particular needs. For instance, button styling can make those with arthritis, quadriplegia, or Parkinson's disease struggle to wear a button-down on their own. Alternatively, shirts with magnetic features and other fashions require less dexterity.
For people with trouble with incontinence, there are special details like scent-resistant adult briefs that are anti-microbial and maximize comfort. Taking into account a loved one's needs when shopping for adaptive clothing for seniors can help narrow down multiple options for apparel and footwear.
Clothes with Velcro Type Closures
Velcro-type clothing options are often associated with younger children who have difficulty tying shoes and sneakers. However, easy-to-put-on clothes for elderly addresses common issues that older people have, such as diminished hand strength. This may make manipulating snaps, buttons, and zippers exceedingly tricky during the dressing process.
To remedy this, velcro-type closures are a quick and easy way to make clothing items easy to put on and take off. Clothing for men with incontinence problems can also incorporate alternative fly openings. Closing and opening shoes with velcro fasteners can also account for any swelling or different foot sizes. Velcro shirts for elderly are some of the most common senior clothing sold in different styles.
Clothes with Magnetic Closures
A more subtle alternative to velcro is magnetic buttons, which can be found on many adaptive senior clothing. In particular, shoes without shoelaces and pants with magnetic closures suit autistic adults because they consider those with sensory processing difficulties. Magnetic shirts for elderly can also aid in the self-dressing of a loved one without the help of caregivers.
Clothes with Side Zippers
Instead of back zippers in conventional styles, side zippers on shirts, pants, and dresses can make dressing easier for a loved one. It can help those who have trouble with toileting, personal care, and difficulty putting on clothing without the aid of caregivers. This type of adaptive clothing for elderly is ideal if the senior has no difficulty with mobility and their fingers can easily grasp the side zippers.
Clothes with Elastic Options
Adaptive clothing for the elderly should be easy to move in and put on for seniors who use wheelchairs and others who need help. Many adaptive clothing companies sell items that don't have fastenings and have elastic waistbands that are easier to manage. Elastic options are perfect as clothing for seniors with limited mobility.
Open Back Clothes
Disabled adults and those with arthritis should consider open-back outfits. They eliminate the struggle of raising arms above the head or getting the elbow in line with the shoulder while preventing any uncomfortable pressure points in the back. Open-back clothes are some of the options for easy-to-put-on clothes for elderly.
Easy Wear Shoes
Shoes can be one of the trickiest to wear for seniors. Look for slip-on styles without any closures for easier use. If they need sturdier shoes, some types use velcro or zipper clasps, with some even designed to look like regular lace-up shoes while hiding the adaptive closure.
Open Sweaters and Pull-Over Shirts
Elderlies are sensitive to temperature changes and must stay warm under layers of clothing. Pull-over shirts are great because they don't require closures and can be worn effortlessly as one piece. They come in different styles like shirts, dresses, and long sleeves. However, seniors must have upper flexibility to manage pull-over garments.
Another alternative is open-front sweaters with wide sleeves that can be worn easily above clothes. It's easy to slip on and off, and the loose design ensures underlying clothes are not bunched up.
Easy Wear Bras
Bras are hard to wear, even for those without mobility problems. For seniors, the difficulty can be amplified. Look for options with front clasps, or better yet, go for wire-free pullover bra options.
Top Adaptive Clothing Brands for Seniors
One of the most popular brands with the most adaptive clothing for elderly options is arguably Buck & Buck. With a wide range of clothing for both men and women, they provide custom-tailored selections for seniors who may need help as they get dressed. Similar brands geared towards seniors include Silverts and Ovidis, which also stock high-quality adaptive clothing goods. On the other hand, IZ Adaptive and Tommy Hilfiger Adaptive stock more fashionable styles.
Many of the garments by Buck & Buck are made locally in the United States, addressing the needs of seniors with health issues like arthritis, fragile skin, incontinence, and more. With a money-back guarantee, free name labeling, and a free hemming service, it's one of the safest choices for those looking for quality senior clothing.
Like Buck & Buck, Silverts products are also primarily geared towards adults and seniors who might need to take extra care with how they dress. A major plus is their website is intuitive, with the "shop by need" feature handy to narrow down specific clothing designs. For those who need help navigating online stores, Silverts makes this task much more manageable with its simple user interface. Silverts has produced some of the best clothes for elderly since 1930.
A Canada-based retailer, Ovidis is another great adaptive clothing retailer. Their designs promote the ease of caregiver-assisted dressing through an easy three-step process. In addition, they ensure that all their styles are machine washable and dryable, with no ironing necessary. The majority of items also feature a 4-way stretch for maximum comfort. When it comes to stylish senior clothing, Ovidis is your go-to brand.
Adaptive clothing doesn't have to be unfashionable for seniors. IZ Adaptive embraces diversity with its non-gender line. The designer, Izzy Camilleri, has featured her adaptive clothing line in the Royal Ontario Museum and won many awards for her shapes and styles. They specialize in making clothes for wheelchair users, with their coats and pants being two of their standout products. If you're looking for the best adaptive clothing for the elderly, check out IZ Adaptive.
Another stylish option to make dressing easier for caregivers and patients is the Tommy Hilfiger Adaptive line, made for all ages. The Tommy Hilfiger adaptive clothing line is a product of their partnership with Runway Dreams, a nonprofit founded by Mindy Scheier.
First launched in 2018, the adaptive clothing series is now included in the most popular choices to make dressing much easier for those with disabilities.
They considered critical feedback from the disability community and constantly improved existing designs. Hilfiger updates his essential pieces with modifications like one-handed zippers and magnetic buttons for senior wearers. Tommy Adaptive is the company's effort to create an empowering fashion line that includes pieces including shirts, dresses, pants, shorts, and jackets. They produce some of the best clothes for elderly.
One of the pioneers in modern adaptive clothing, Ross Daniel is a well-established provider of adaptive clothing from designers aiming to ease the act of dressing up for those with disabilities. With that, they've developed a wide range catering to people of all sizes and mobility restrictions.
There is little to no restriction on who can buy their products. A particular group that has found an easier time getting dressed in Ross's clothes is young wheelchair users who've struggled in the past with generic clothing. Their apparel should be a serious consideration for anyone looking for clothing for seniors with limited mobility.
As a result of her husband's Parkinson's Disease, Maura Horton sought to create adaptive clothing for elderly men and women who have difficulty in self-dressing. Making the most out of magnetic closures, MagnaReady has become an excellent choice for apparel.
Despite not being as well known as other brand names, MagnaReady has become one of the go-to adaptive clothing choices for those with special needs and their caretakers.
Developed in partnership with Zappos, a shopping platform that aims to provide an inclusive shopping experience, Ugg's Universal Collection has swept people away with its adaptive clothing options. While the brand is known for its shoes, this clothing line extends that access to those with disabilities.
Doing away with clumsy shoestrings, side zippers are what you're likely to find on these boots. That should make dressing up fashionably much easier. They also create great, easy-to-put-on clothes for the elderly.
Instead of focusing on simple clothing and footwear, Abilitee produces specialized apparel and accessories, such as their best-selling Insulin Pump belt. This is the brainchild of Marta Cortez-Neavel and Dr. Julie Sanchez, who has then branched off to focus on her pediatric brand. For those looking for specialized senior clothing, Abilitee Adaptive Wear should be your go-to brand.
To improve accessibility, Kohl's has introduced adaptive clothing lines to 3 brands: Jumping Beans, Urban Pipeline, and SO. With that, they've developed Urban Pipeline as a favorite in adaptive clothing choices.
Perfect for individuals looking to stay hip, Urban Pipeline's clothing choices do away with finicky buttons and difficult-to-wear bottoms. You can expect an easier time for you and the person in charge of your care. It would also make any senior feel young with their hip clothing for seniors.
With the belief in "designing a world for everyone," FFORA has introduced itself well to people with disabilities and caregivers alike with its diverse choices of accessories designed to make daily life more accessible.
From small bags to fashionable drinks containers, you can be sure to have something that will ease your worries and that of your caretaker.
Frequently Asked Questions about Adaptive Clothing for Seniors
Who can benefit from adaptive clothing?
Wearers with painful joint movements can benefit from adaptive clothing that relieves pain. Dressing independently can make many individuals feel freer, especially for seniors and others who dislike being handled or touched.
What does adaptive clothing target?
Adaptive clothing targets individuals who use wheelchairs, have difficulty in motion (such as those with cerebral palsy) or otherwise have problems getting themselves dressed. This usually means things like buttons are replaced with more accessible items such as Velcro straps or the like.

The average person will most likely not need any of these options. The twist is that the range of motion becomes a little more restricted as we age. These options available to seniors make things easier for those in charge of hospice care.
What does 'accessible' mean in fashion?
Accessible fashion removes barriers that seniors and those with physical issues face daily. Think back to the days of skinny jeans. Do you think anyone can slip into one of those?

The advent of sensory-friendly clothing makes dressing easier for these individuals while giving them aesthetically pleasing clothing.

Hook and loop attachments, or Velcro, are just some of the many changes manufacturers and designers can make to improve accessibility. You can be sure that clothing designs in the future will take this into account
What kind of clothes should a 60-year-old woman wear?
A 60-year-old woman should consider wearing timeless clothing like straight-leg trousers, a smart coat or jacket, knitwear, and shirts that flatter the body. Comfort is always key when it comes to clothing.
How to dress like a senior citizen?
When getting dressed, older people should avoid ill-fitting trendy clothing in favor of loose-fitting and breathable fabrics. Cotton fabrics in subtle, complementary colors tend to flatter most skin tones and reduce friction on thin skin.
Where can I buy adaptive clothing for seniors?
There are tons of brands selling the best clothes for the elderly. Check out Buck & Buck for velcro shirts for the elderly and Silvert's for stylish snap-over styles. MagnaReady sells magnetic shirts for the elderly that suit casual, athletic, and sleepwear. 

If you need senior clothing that prevents disrobing by seniors with dementia, you can go to Ovidis and look for their anti-strip jumpsuits. Consider the elastic options from Able Label if you need clothing for seniors with limited mobility. 

Slick Chick also specializes in easy-to-put-on clothes for the elderly, like underwear for incontinence. 
What is the best adaptive clothing for seniors who are cold?
The best clothes for senior citizens who are frequently cold are layers of clothing that can keep them warm but are easy to put on. Consider pullover shirts and open-front sweaters. Make sure clothes are made from warm materials but are not too heavy to impede their movements.

For men, you can check out this Open Back Adaptive Soft Fleece Cardigan that delivers a layer of warmth in the evenings and throughout the day. For ladies, this Open Back Adaptive Warm Winter Weight Top with ¾ long sleeves gives style and warmth simultaneously. 
Additional Resources
This article provides a series of sewing adaptations for the elderly and the disabled, allowing individuals to modify existing garments and learn about what features to look for when shopping for clothing.
This comprehensive, adaptive clothing for elderly guide includes tools and accessories that make dressing easier and covers the different styles of clothing that seniors should wear according to their needs.
This online publication publishes articles on disabilities and issues that people might face as well as research and news covering the topic. The website focuses on providing relevant information in an easy-to-access package that should suit most tastes.
RetireWOW is an online content hub that provides relevant articles to seniors. Here you'll find news updates and information on anything happening in the world of senior citizens. Have a gander and find senior trends on their site.
Conclusion
While many people may think that the process of dressing is relatively simple, understanding the issues that elderly people face as they age is crucial when selecting the most appropriate senior clothing for them. From an aesthetic and technical viewpoint, caregivers and families should focus on finding clothes that can help boost their confidence while maximizing their comfort at the same time.
For more information on other items that may be useful for family caregivers and loved ones, feel free to read our article on the Best Medical Alert Systems for the Elderly at Senior Strong.