Regular exercise plays a crucial role in healthy living as you age. Staying active improves your balance, strength, and coordination, making you a physically and mentally healthier individual. However, seniors can't work out the same way they did when they were younger. Stiff joints, rigid muscles, and mobility impairment make it even harder for older adults to move properly.
To prevent injuries, invest in senior-friendly exercise equipment like a pedal exerciser. Low-impact pedal exercises work out the whole body with minimal risk of injury — especially if you pedal at a steady pace. Moreover, there are dozens of exercise pedals for elderly folks. Whether you need an exercise pedal for yourself or a loved one, you'll find one here that suits your needs.
What Is A Pedal Exerciser?
As its name suggests, a foot pedal exerciser is a small, knee-high piece of exercise equipment with bike pedals at the sides. Think of it as a mini exercise bike, minus the frame and handle. Place the exercise machine in front of you while sitting on a sturdy chair, plant your feet firmly on the pedals, adjust the pedal straps, then proceed to pedal.
Most models feature different resistance settings. Just don't expect to use your desk cycle for anything more than low-impact exercise. Sure, it can boost blood circulation and improve flexibility. However, it can't accommodate high-intensity exercises for losing weight or toning muscles.
Best Brands of Pedal Exercisers For Elderly People
Are you in the market for a high-quality pedal exerciser? We made a roundup of the most widely trusted models among seniors.
Length: 24"
Height: 10"
Weight capacity: 500 lbs.
Assembly: Easy to assemble
Price: $189.00
This pedal exerciser by DeskCycle stands among the best options. It features a high-quality magnetic resistance mechanism featuring eight different resistance levels, which you can easily adjust.
| | |
| --- | --- |
| Pros | Cons |
| Best value for money | No replacement parts |
| Portable | Poor customer service |
| Produces minimal noise | Doesn't suit people with large feet |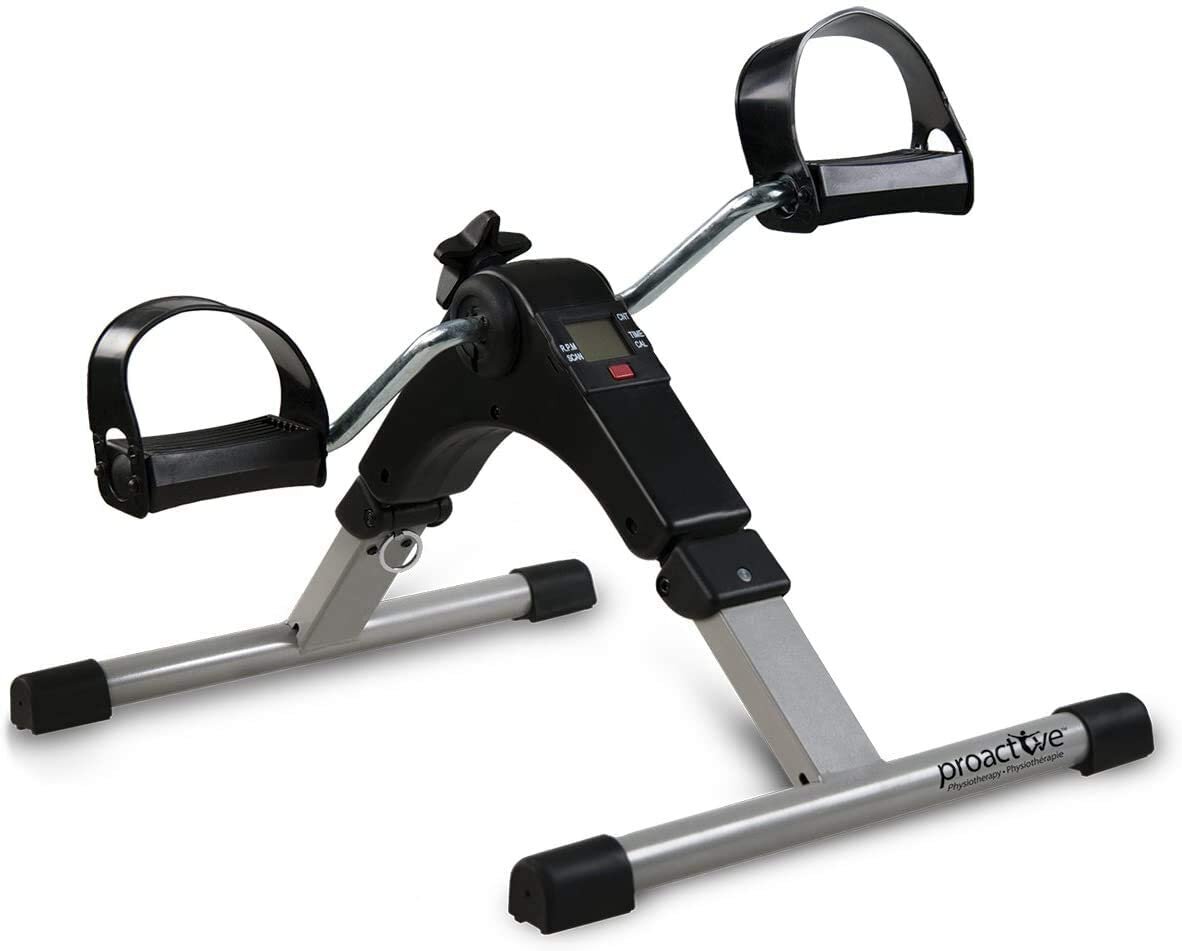 Length: 18.9"
Height: 9.65"
Weight capacity: 200 lbs.
Assembly: Comes assembled
Price: $38.95
If you find magnetic resistance pedal exercisers too pricey, opt for the ProActive Portable Folding Digital Pedal Exerciser. It ranks among the most affordable models in the market. Also, this portable pedal exerciser weighs only six pounds, so you can easily move it around the house.
| | |
| --- | --- |
| Pros | Cons |
| Affordable price | Needs maintenance |
| Super lightweight | Mechanical pedals don't rotate smoothly |
| No assembly needed | Heats up after a few minutes |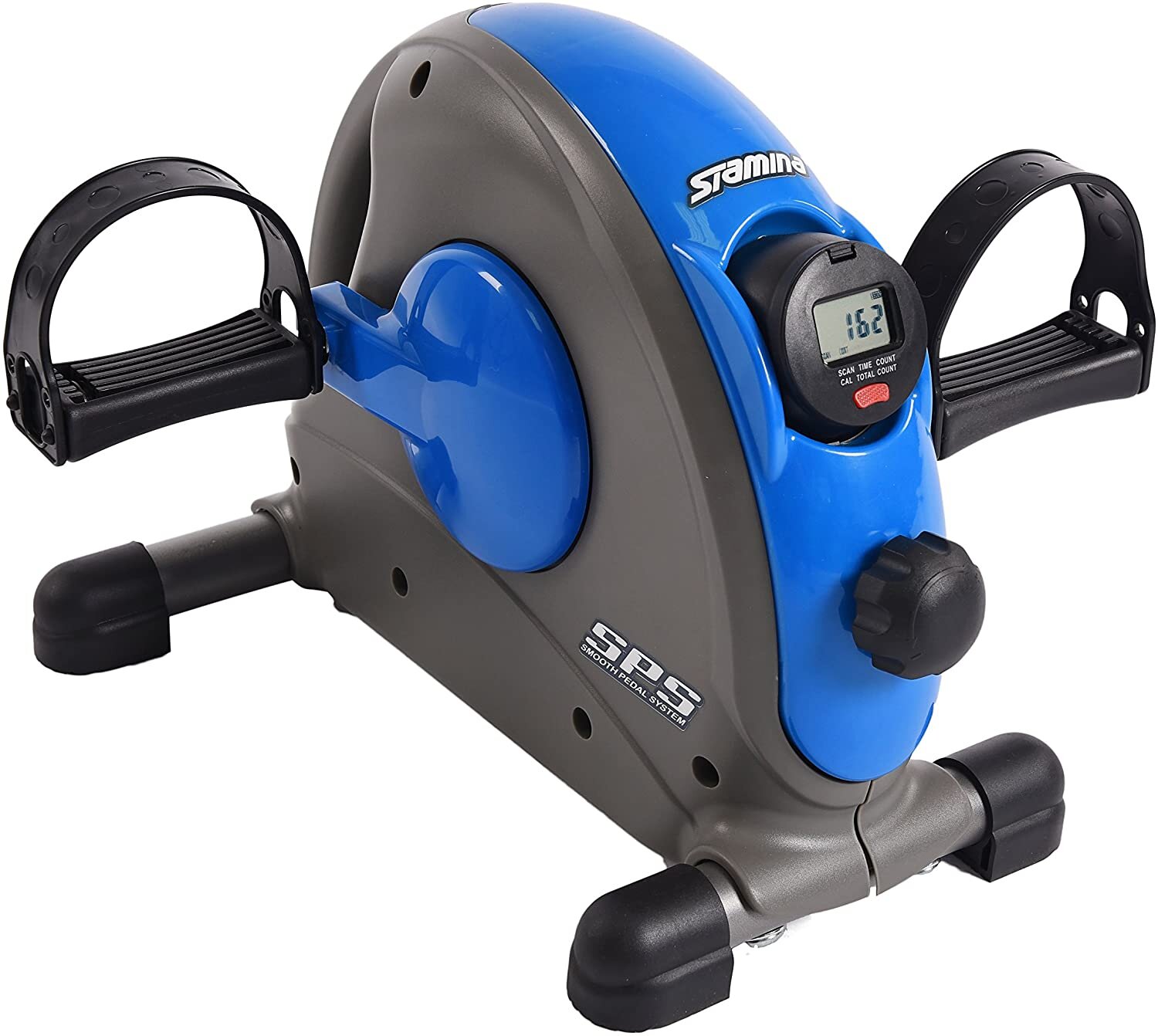 Length: 15"
Height: 12"
Weight capacity: 300 lbs.
Assembly: Comes with follow-along assembly video
Price: $89.99
This Mini Exercise Bike features an affordable yet quality adjustable magnetic resistance mechanism that pedals smoothly. You can use it as an arm pedal exercise.
| | |
| --- | --- |
| Pros | Cons |
| Easy to move around | Slips on smooth surfaces |
| Smooth pedal motion | Makes loud noises |
| Compact and space-saving | Requires sturdy, fixed seating |
Length: 22.6"
Height: 11.3"
Weight capacity: 220 lbs.
Assembly: Comes assembled
Price: $29.26
DMI Pedal Exerciser is one of the best affordable mini exercise bikes available. Despite the low price tag and simple mechanism, it still comes with an adjustable speed motor. Just twist the tension knob to adjust resistance.
| | |
| --- | --- |
| Pros | Cons |
| Super affordable price tag | Flimsy friction pedals |
| No assembly needed | Metal frame heats up |
| Adjustable resistance | Plastic leg stoppers smell bad |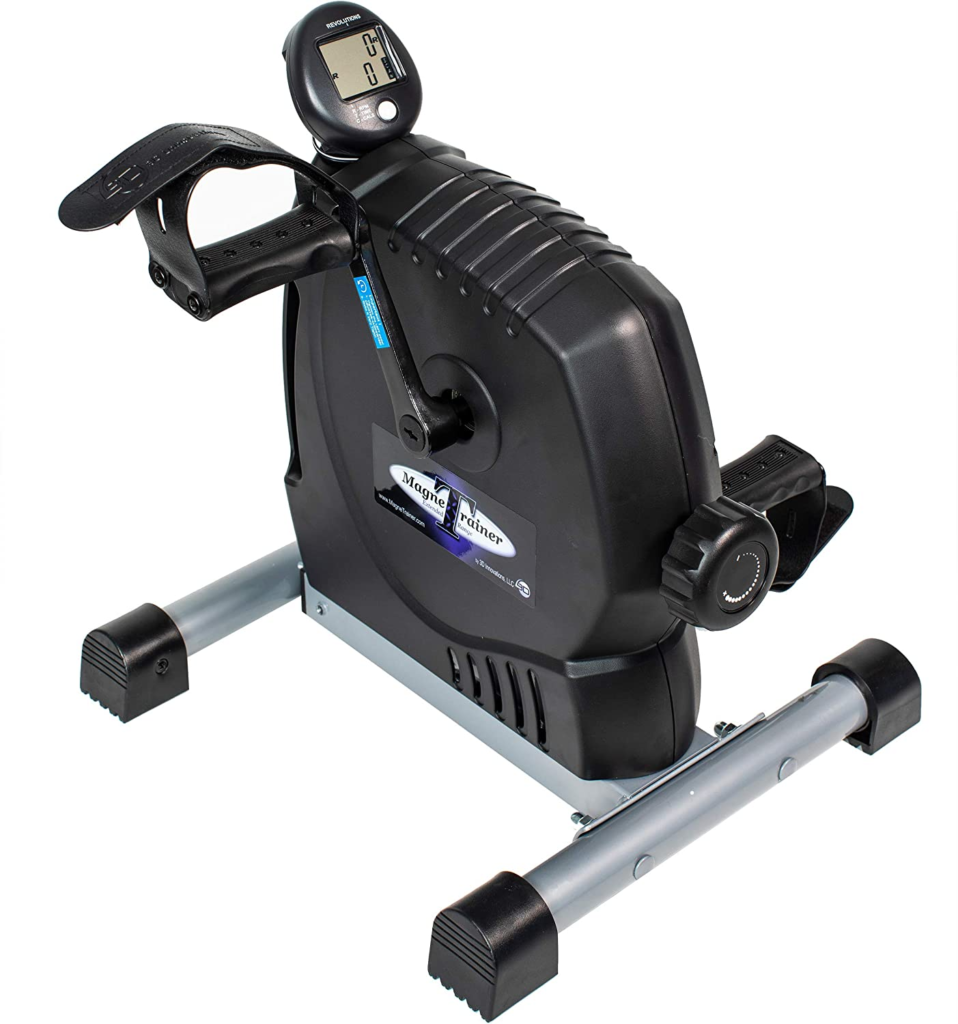 Length: 16"
Height: 16"
Weight capacity: 350 lbs.
Assembly: Easy to assemble
Price: $189.00
The MagneTrainer ER mini arguably has the best magnetic resistance system. It pedals smoothly and produces minimal noise so that you can use it even in quiet settings like an office.
| | |
| --- | --- |
| Pros | Cons |
| Has adjustable velcro straps | Larger pedals cost more |
| Also works out the upper body | No web support |
| Uses patented magnetic resistance system | Slips if you pedal hard |
Length: 14.5"
Height: 9.5"
Weight capacity: 250 lbs.
Assembly: Easy to assemble
Price: $44.22
This folding pedal exerciser from Carex is one of the best options. Its simple, straightforward setup allows users to carry it around their homes with ease.
| | |
| --- | --- |
| Pros | Cons |
| Suited for kneecap injuries | Flimsy parts and attachments |
| Easy to store | Can't handle fast pedaling |
| Affordable price tag | Pedals slip |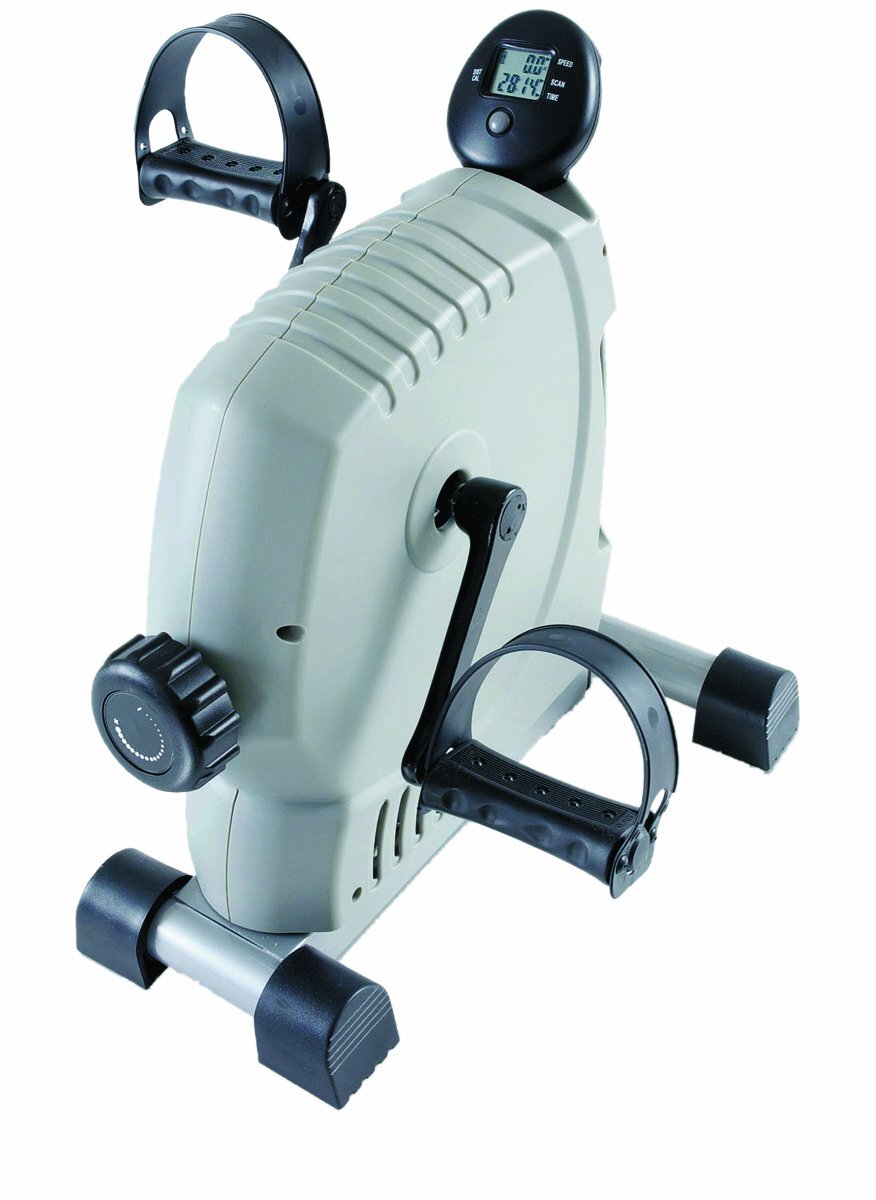 Length: 18"
Height: 16"
Weight capacity: 250 lbs.
Assembly: Easy to assemble
Price: $175.00
Older adults who want quiet, smooth pedals without going over $200 can opt for the CanDo 01-8030 Magneciser Pedal Exerciser. It has one of the magnetic mechanisms available.
| | |
| --- | --- |
| Pros | Cons |
| Pedals turn smoothly | Assembly tools are flimsy |
| Easy to set up | Limited replacement parts |
| Compact and space-saving | Needs maintenance |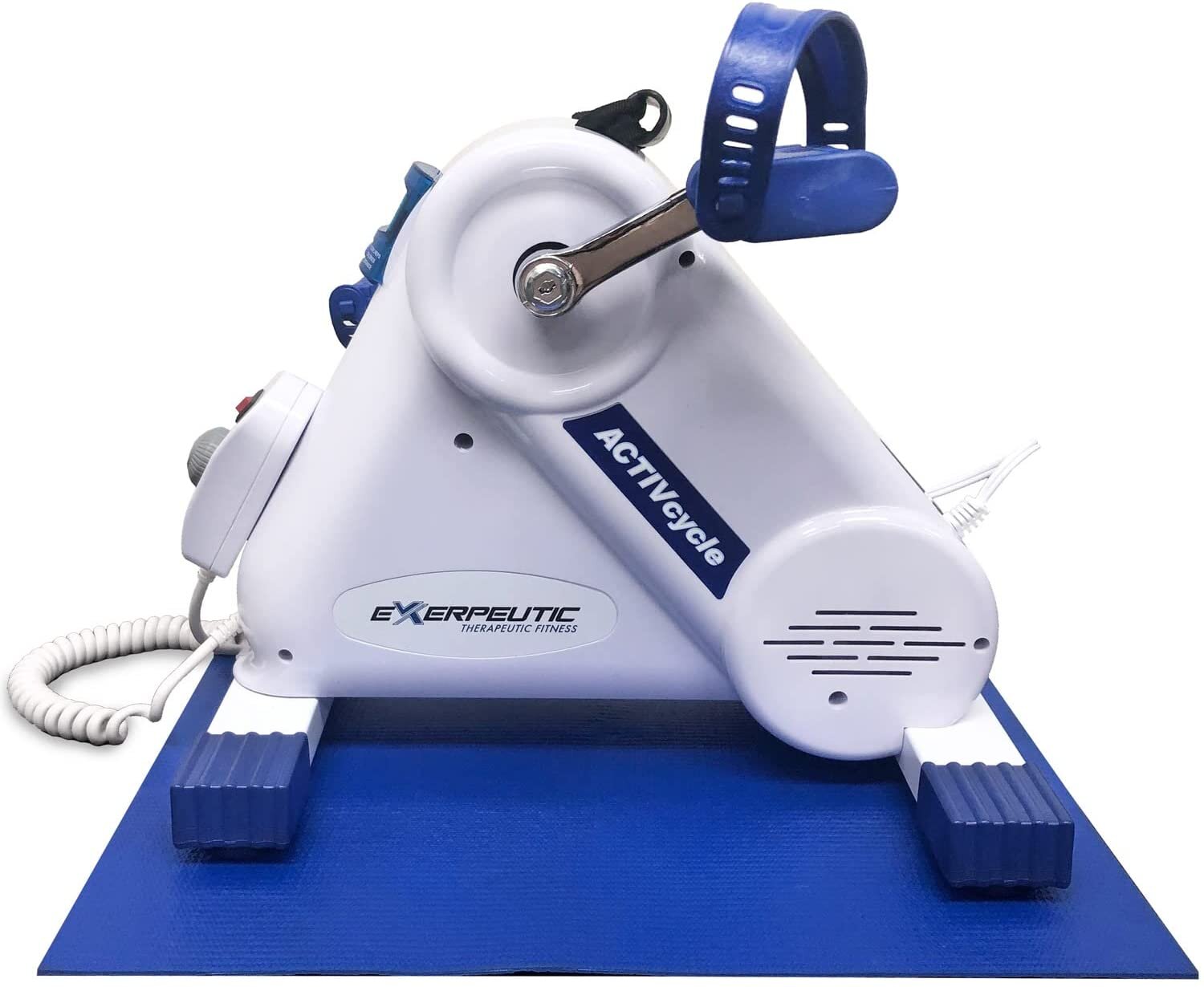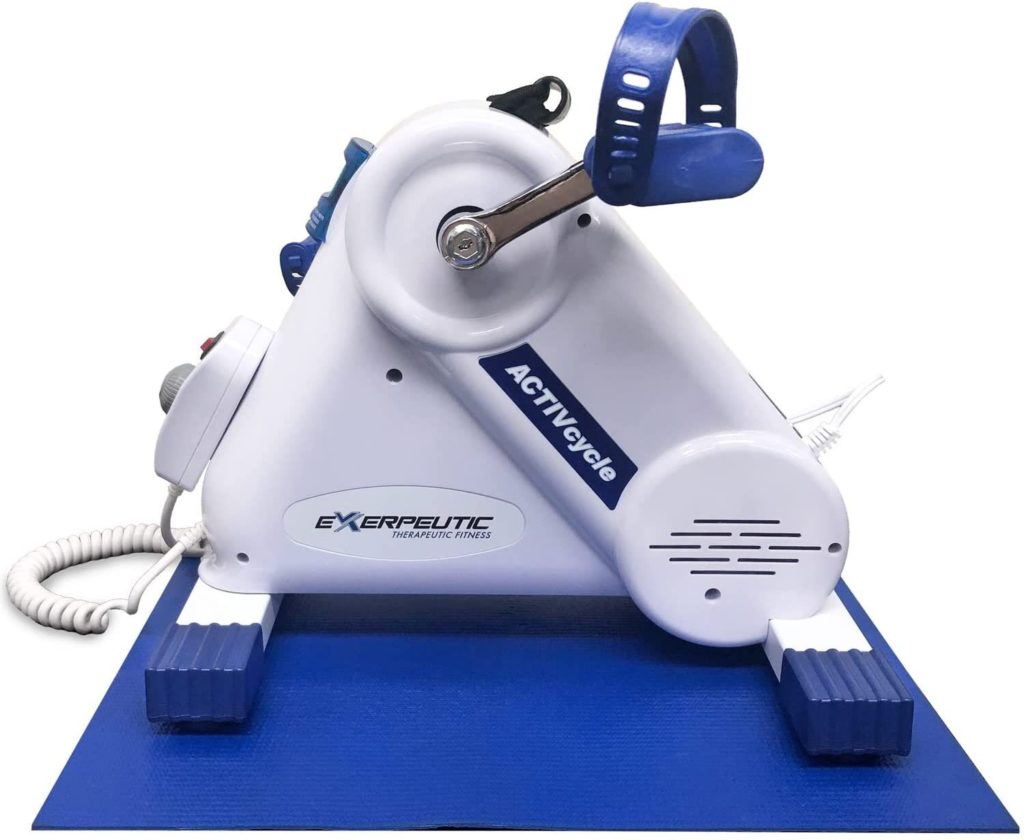 Length: 16"
Height: 13"
Weight capacity: 300 lbs.
Assembly: Comes assembled
Price: $109.99
Partial quadriplegic who can no longer use their limbs fully can try out the Exerpeutic Motorized Leg and Arm Pedal Exerciser. Plus, it has motorized pedals. You can use its app to control the motor, track vital signs, and review activity reports.
| | |
| --- | --- |
| Pros | Cons |
| Comes with own app | Motor doesn't have off switch |
| Motor turns pedals itself | Needs maintenance |
| Suits partial quadriplegic patients | Pedals squeak at first |
Length: 24"
Height: 15"
Weight capacity: 300 lbs.
Assembly: Moderately challenging to assemble
Price: $1,559.00
The Electronic Physical Therapy Rehab Bike Trainer Exerciser is the best mini exercise bike for older adults with disabilities. You can even attach it to wheelchairs. Apart from a pedal exerciser, this machine also has an arm exerciser attached to the sides of its LCD screen.
| | |
| --- | --- |
| Pros | Cons |
| Wheelchair-friendly | Assembly requires handyman experience |
| Easy to adjust | Pricier than other pedal exercisers |
| Designed for PWDs | Only for light movements |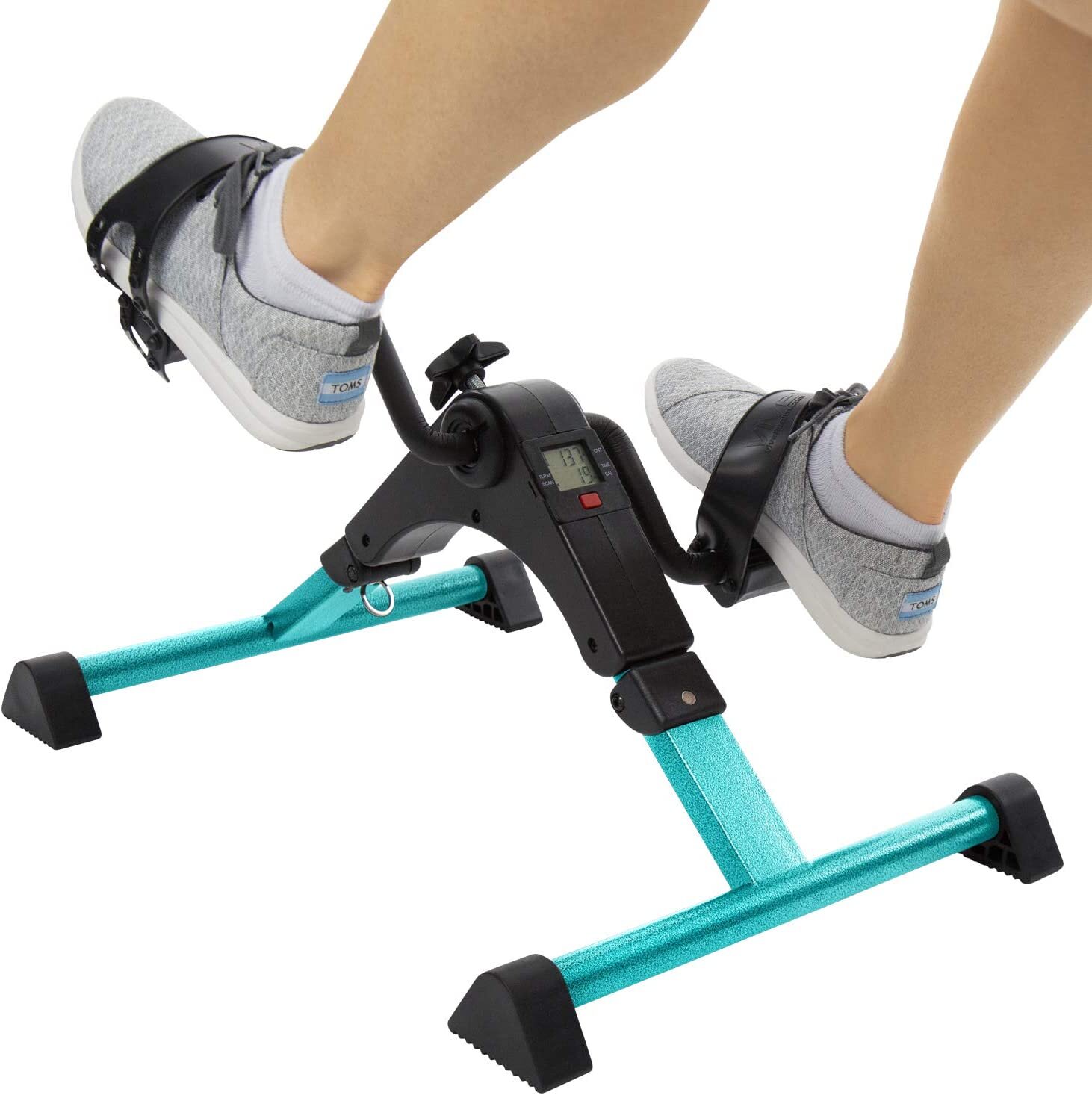 Length: 15.5"
Height: 7.5"
Weight capacity: 400 lbs.
Assembly: Comes assembled
Price: $79.99
The Vive pedal exerciser ranks among the best pedal exercisers for heavy adults. Its safety straps, pedals, and metal frame can support up to 400 lbs. Meanwhile, other pedal exercisers for seniors have a maximum capacity of 200 to 250 lbs.
| | |
| --- | --- |
| Pros | Cons |
| Supports heavy users | Metal frame heats up |
| Sturdy; durable mechanism | Moves around for smaller users |
| Easy storage | Pedals wobble at fast speeds |
What Are The Benefits of Pedal Exercisers For Elderly?
Are you still on the fence about getting a pedal exerciser for seniors? To help you make an informed, objective choice, we listed the benefits of regularly using a desk pedal exerciser.
Increases Metabolism
You can lose weight faster and boost your calories burned by pedaling on higher resistance levels.
Remains Convenient and Accessible
You don't have to change your entire schedule to squeeze in a brief workout session. You can even do this leg exercise under your desk while working, watching tv, or reading a book.
Keeps Joints Healthy
Older adults who get mild joint pain while sprinting or jogging can cycle on a seated pedaling machine instead. Exercise peddler models are relatively low-impact.
Boosts Cardiovascular Fitness
Cycling is an excellent cardio exercise that lowers blood pressure levels, strengthens stamina, and improves heart health.
What Are The Main Types of Pedal Exercisers?
The best pedal exercisers in the market typically use the following pedaling mechanisms:
Magnetic
A magnetic pedal exerciser for the elderly typically requires less maintenance than friction-based mechanisms. They also produce a more quiet pedal motion.
Friction
Friction brakes prevent sliding. They create louder noises than a magnetic resistance system, but they also cost less.
Motorized
A motorized pedal exerciser for elderly individuals provides less resistance, so you'll find its pedals easier to push.
Frequently Asked Questions
Check out what older adults typically ask when buying a pedal exerciser for seniors for the first time:
Does using a pedal exerciser burn more calories than walking?
Cycling on a desk bike pedal exerciser burns more calories than walking. An adult male weighing 135 lbs. burns about 75 calories walking at a steady 3.0 mph pace for 20 minutes but burns 120+ calories cycling on a stationary pedal exerciser for 20 minutes at a steady 5.0 mph pace. Note that the exact calories burned differ based on body type.
How often should seniors exercise a day?
The Centers for Disease Control and Prevention (CDC) suggests that seniors strive for 150 minutes of light to moderate exercise every week. Do no more than around five 30 minute-sessions, or you might get injured.
What exercises can seniors do at home?
Seniors can do a wide range of whole-body routines even without exercise bikes. Some great ways to work the upper and lower body muscles simultaneously include brisk walking, yoga, pilates, and jumping jacks.

Overall, getting a desk bike can help older adults maintain a healthy lifestyle. Place it near your home office or couch so that you can do a quick, low-impact workout any time you're free. 

For best results, consider getting upper body exercise equipment as well. A pair of resistance bands or one-pound dumbbells will help you perform more advanced workouts targeting the arms and legs.
Are pedal exercisers too easy? Senior Strong can help! Ramp up your exercise routines with the following safe yet challenging workout programs.
Learn Which Are The Best Recumbent Bikes for Seniors.