As people get older, walking canes are almost vital for day-to-day living as seniors typically require extra support. Foldable canes are a more elevated instrument for balanced support that the elderly can use when doing chores or doing errands without the trouble of hauling bulk. It's a wise option to consider and choosing the best foldable walking canes for the elderly is well worth the investment.
Understanding Balance Issues In Seniors
Because seniors frequently have balance concerns and mobility issues, it is important to keep them safe from falling. Falling is the leading cause of mortality in the elderly community, with one out of four seniors falling every year in the US.
While standard canes provide adequate assistance, folding canes aid older individuals who are still mobile and require physical activity to stay fit. Staying active is important for keeping seniors healthy, which is why selecting the best walking cane requires careful consideration.
What Are The Best Foldable Canes For Seniors In 2022?
As opposed to wooden canes, foldable walking canes are most beneficial for seniors on the go, but there are multiple cane options that can suit different requirements. Collapsible canes come in handy for seniors who travel around with companions, and adjustable walking canes are perfect for those who require a customized fit. These are the best folding walking sticks for every need.
| | | | | | |
| --- | --- | --- | --- | --- | --- |
| Product Name | Ohuhu Folding Cane | BigAlex Folding Walking Cane | HurryCane Freedom Edition | My Cane Pivoting Quad Base | DMI Walking Cane |
| Price | $23.99 | $24.99 | $39.95 | CURRENTLY UNAVAILABLE | $19.22 |
| Height | 32"-26" | 30" - 38" | 30.5" - 37.5" | 33" min. | 33" - 37" |
| Weight Support | 220 pounds | 300 pounds | 350 pounds | 250 pounds | 250 pounds |
| Grip | silicone | rubber | ComfortFit | cushion | wood |
| Portability (folding feature) | foldable | foldable | collapsible | collapsible | foldable |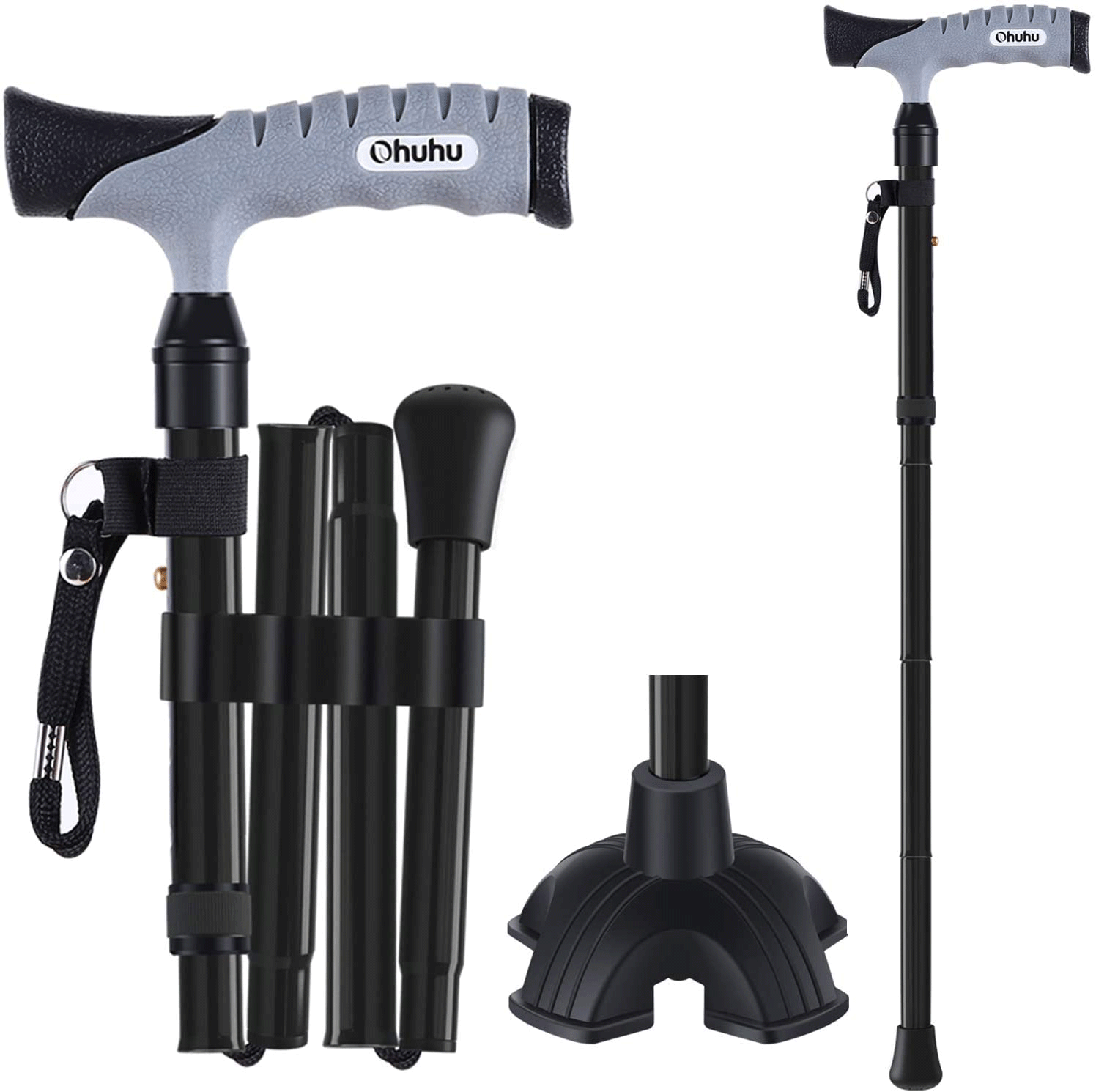 This foldable cane is one of the most comfortable, adaptable, and affordable aluminum canes in the market. It has a strap to hold it together when not in use, and comes with two separate bases—one regular single-point base and one quad base—so you can choose which sort of cane base is ideal for your senior loved one. It also has a firm silicone grip that prevents slippage in the hand while walking.
Price: $23.99
Height: 32" - 36"
Weight Support: 220 pounds
Grip: silicone
Portability: foldable
| | |
| --- | --- |
| Pros | Cons |
| Comes with a strong pipe clip | Doesn't always stay folded |
| Multiple replaceable tip options | Adjusting requires strength |
| Soft, non-slip silicone grip | Handle could be softer |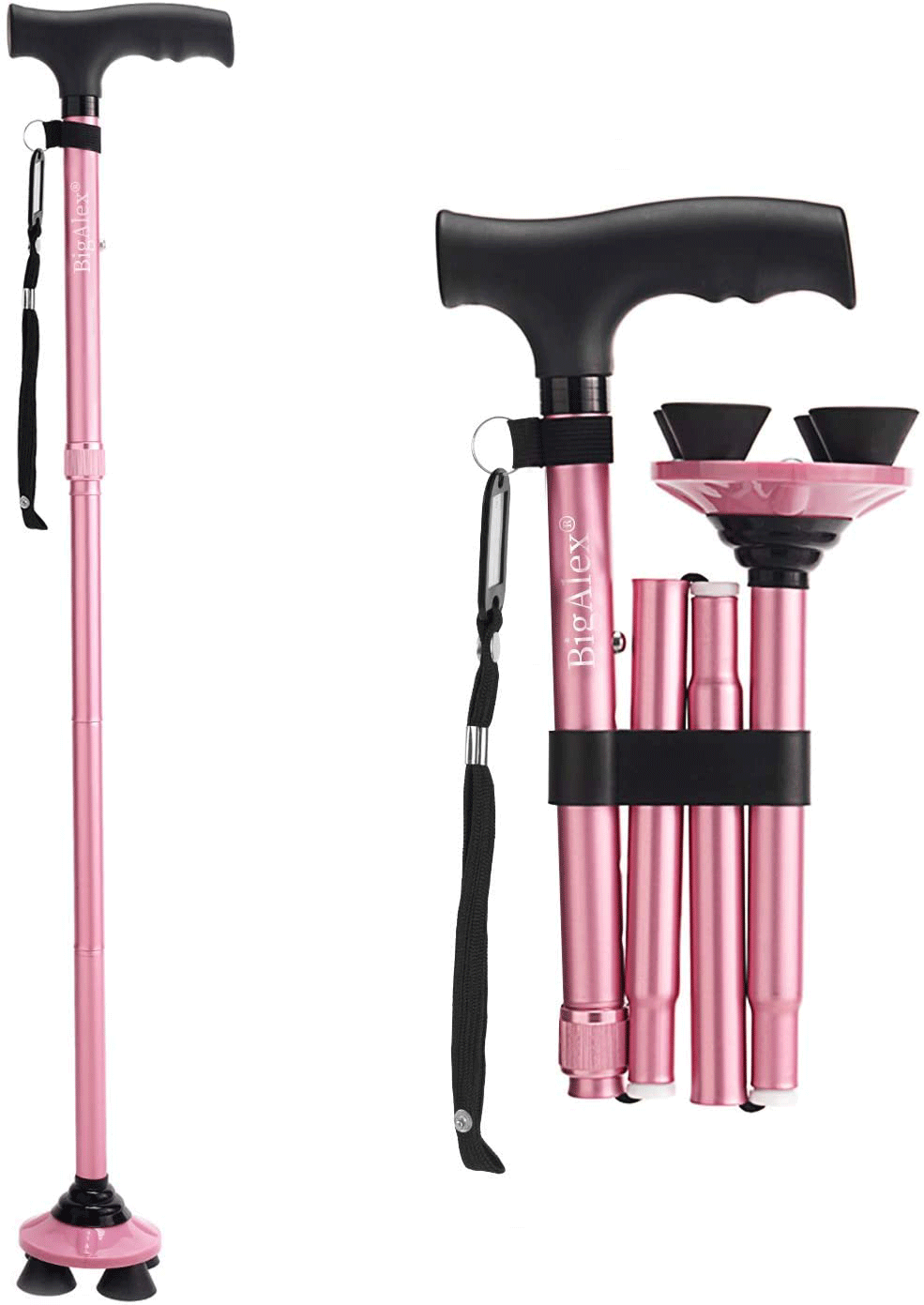 Most adjustable walking canes can only be extended from 32-37 inches. This one extends up to 38 inches in height and can fit almost anyone, regardless of height. It also incorporates a pivoting quad base, which mimics the human ankle and provides extra stability and traction even on uneven terrain.
Price: $24.99
Height: 30" - 38"
Weight Support: 300 pounds
Grip: rubber
Portability: foldable
| | |
| --- | --- |
| Pros | Cons |
| Maximum height adjustability | Pipe clip could be improved |
| Can support heavier seniors | Wrist strap isn't very secure |
| Ergonomic pivoting base | Rubber handle could be slippery for seniors |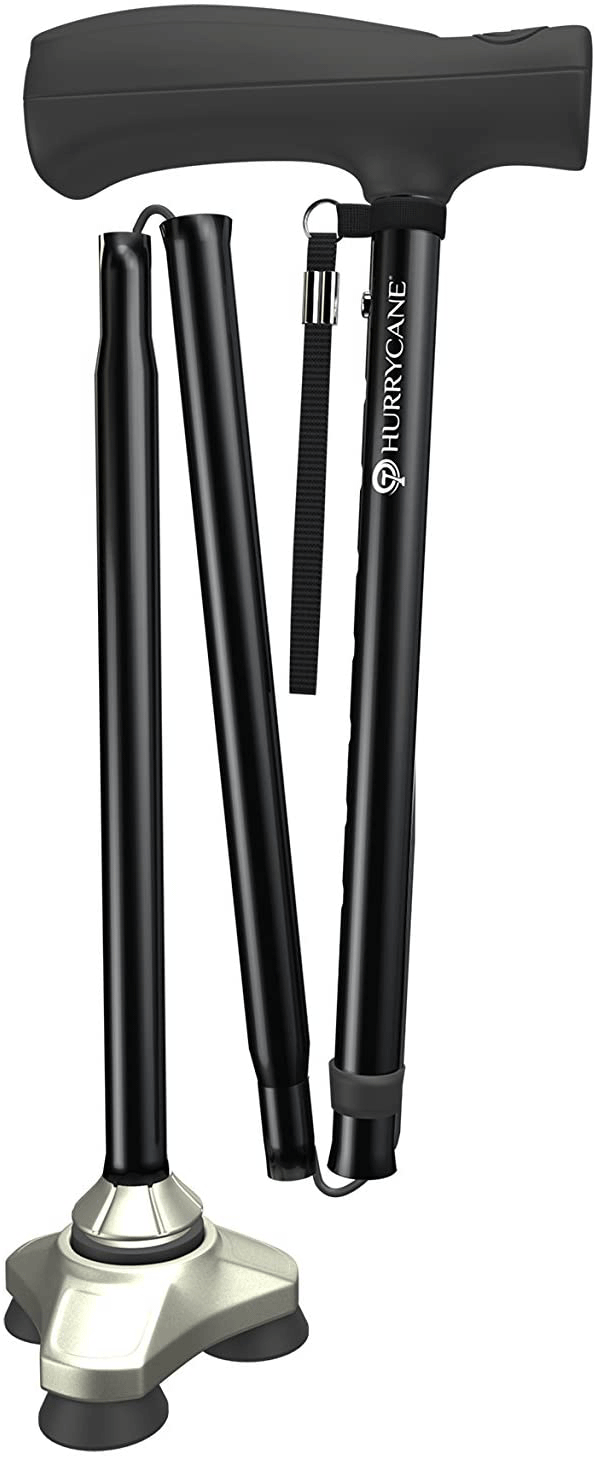 The SteadiGrip base design of this collapsible cane gives it three points of contact for maximum stability and comfort. The WhisperFlex design, which is also proprietary, keeps it whisper-quiet while remaining incredibly stable and reliable. HurryCane's patented technology makes their collapsible canes seem like extensions of the body, so the senior user won't even realize that they're using a cane.
Price: $39.95
Height: 30.5" - 37.5"
Weight Support: 350 pounds
Grip: proprietary ComfortFit
Portability: collapsible
| | |
| --- | --- |
| Pros | Cons |
| Requires minimal strength to collapse | Will not fit in some handbags |
| Can support heavier seniors | Handle may become slippery |
| Easy to get used to | Not as affordable as other options |
This foldable walking stick has a black aluminum shaft, a pivoting joint, and four anti-skid cushions for maximum grip while remaining stylish. The handle resembles a standard derby handle but contains an LED lamp at the end, making it ideal for nighttime restroom visits or leisurely evening walks for active seniors.
Price: CURRENTLY UNAVAILABLE
Height: 33" minimum
Weight Support: 250 pounds
Grip: cushion
Portability: collapsible
| | |
| --- | --- |
| Pros | Cons |
| Lightweight and waterproof | Pivoting base can be squeaky |
| Comes with a money-back guarantee | Doesn't stand on its own |
| Adjustable LED lights | LED light isn't very durable |
This foldable single-point cane has all the essential features of most folding walking sticks but will not break the bank. It's a great option for younger seniors who only need the basics: foldable for easy storage, adjustable in different increments, has a durable anodized aluminum shaft. The wooden handle, along with various printed shaft design options, makes it double as an accessory. However, the handle may not be suitable for those who need a softer grip.
Price: $19.22
Height: 33" - 37"
Weight Support: 250 pounds
Grip: wood
Portability: foldable
| | |
| --- | --- |
| Pros | Cons |
| Fun colors on the shaft | Wooden grip is not suitable for most seniors |
| Very affordable | Only one tip option |
| Has an additional safety lock | May be difficult to insert into storage sleeve |
What To Look For In Foldable Canes For Seniors
When purchasing canes for senior loved ones, there are numerous factors to take into account. It's important to consider the convenience and comfort required for persons suffering from arthritis or other joint or bone ailments so the type of cane is a crucial variable.
A folding cane that is made of sturdy material is a must, as it can provide the best support to fragile joints. Also, consider the features that will maximize mobility. Lightweight canes, for instance, can help reduce strain while walking or traveling, and an ergonomic handle can offer a much more comfortable grip.
Height
The height of the user's lower limbs should be taken into consideration when choosing the height and adjustability of the folding cane. While you determine the appropriate adjustment, it is also essential to consider the movement that is required to grip onto the canes and maneuver them while walking.
Weight Support
Hefty weight on an unsteady elderly person can make walking difficult at times, and the folding cane must adequately support the user's arms with a good weight capacity. Likewise, it must be able to endure pressure, particularly when your senior loved one makes a sudden move and you have to hurry over to help.
Grip
A foldable walking cane must have a handle that seniors with hand joint and bone difficulties can readily grip. Walking canes typically support hard pressure so that users can maintain their grasp on the handlebar. To bear tension and accommodate the elderly's weight, the folding cane must have a shaft as sturdy as that of a standard cane.
Elbow Bend
Check your senior loved one's elbow bend to ensure that the cane fits them properly. With the cane in grasp, the elbow should bend at a comfortable 15-degree angle. The user will have difficulty picking up and moving the folding cane if it is too long. If it's too short, it would tilt to one side, which can throw the elderly off balance.
Frequently Asked Questions About Foldable Canes
Folding canes are not a one-size-fits-all tool and there are many variables to consider when choosing the right one. These answers to common questions may help you decide which one to get for your elderly companion.
How do I determine the correct cane adjustment?
Have your elderly loved one wear their most comfortable walking shoes and ask them to stand upright with feet together and arms straight down? The ideal cane height would go up to their wrist bone from the floor. Adjustable walking canes provide more wiggle room so you can just let the elderly individual hold the folding cane and adjust it to ensure that the wrist is in the perfect comfort position when holding the stick.
What's the best way to use a folding cane on the stairs?
Some seniors can just collapse their folding walking stick and use the stairs without it but some may require their cane to do it safely. The stronger leg should go first when going up the stairs, followed by the can as the senior steps up with the weaker leg. To go down the stairs, the cane must be moved to the lower step first, followed by the weaker leg and then the stronger leg for each step.
Is a foldable cane better than a collapsible cane?
Folding canes and collapsible canes are highly convenient for almost everyone. However, the better portability mode depends on several factors such as the type of luggage being carried around, places that the senior frequently visits, and whether or not the elderly individual has a constant companion.
Finding the ideal foldable walking cane for your senior loved one can be difficult, but it is not impossible. Always look for quality products that have been recommended by the community, and keep an eye out for distinctive features that may meet certain specific needs.
Every elderly person has different requirements, so it's important to stay up to date on the latest innovations in senior care. Visit Senior Strong today for more product ideas and senior care tips.