Gardening is proven to be a therapeutic activity for seniors, which encourages routine and improves health. It can be an enjoyable form of exercise, increase physical activity levels, and boost mobility and flexibility.
However, wearing old clothing and footwear can provide added safety and support while working outdoors. Read on to learn about the best gardening shoes for your outdoor needs.
Gardening Boots Vs. Gardening Clogs
There are plenty of potential safety hazards for working outdoors in the garden, like sharp tools, thorny plants, and long hot afternoons under the sun. Thus, gardening for the elderly should wear a good pair of garden boots or clogs.
Gardening clogs are easy to put on and take off. They are about ankle high and can protect your feet from sharp objects on the ground. Some have no back, while others may have an added safety strap.
Clogs are suited to those looking for:
A lighter option than gardening boots for seniors
A shoe that can be used during warmer months
A shoe that is easy to slip on and off
Waterproof gardening boots are usually ankle, mid-calf, or knee-high and can resemble a rain boot.
Boots are suited to those looking for:
Added protection during cold weather
Those digging deeper areas of soil
A shoe that can double as a waterproof rain boot.
What Are The Best Boots For Gardening?
Choosing the best gardening boots for seniors is a personal decision that requires proper thought. While each pair comes with its own pros and cons, this list of options can keep your feet dry, provide good traction, and improve stability for seniors.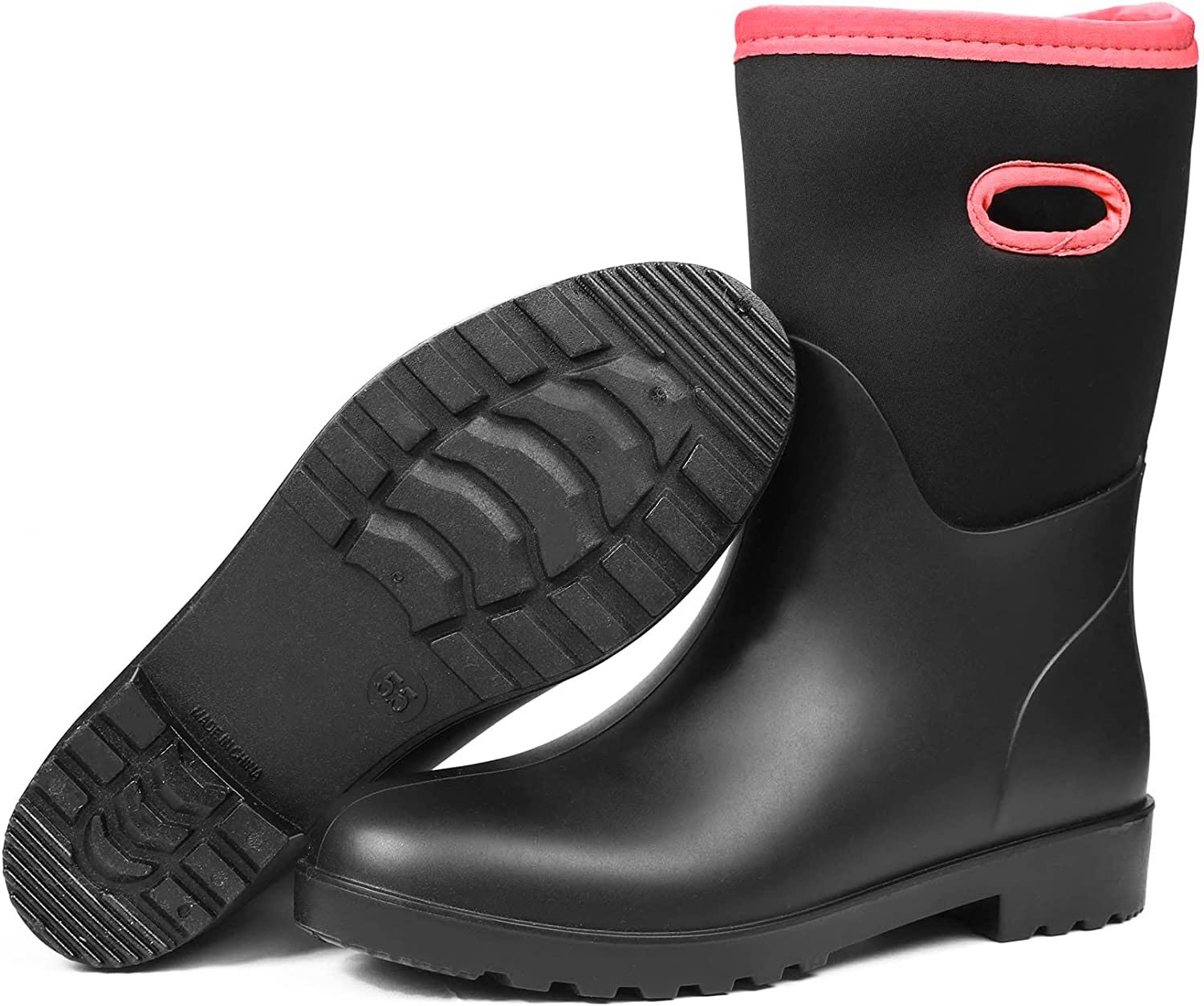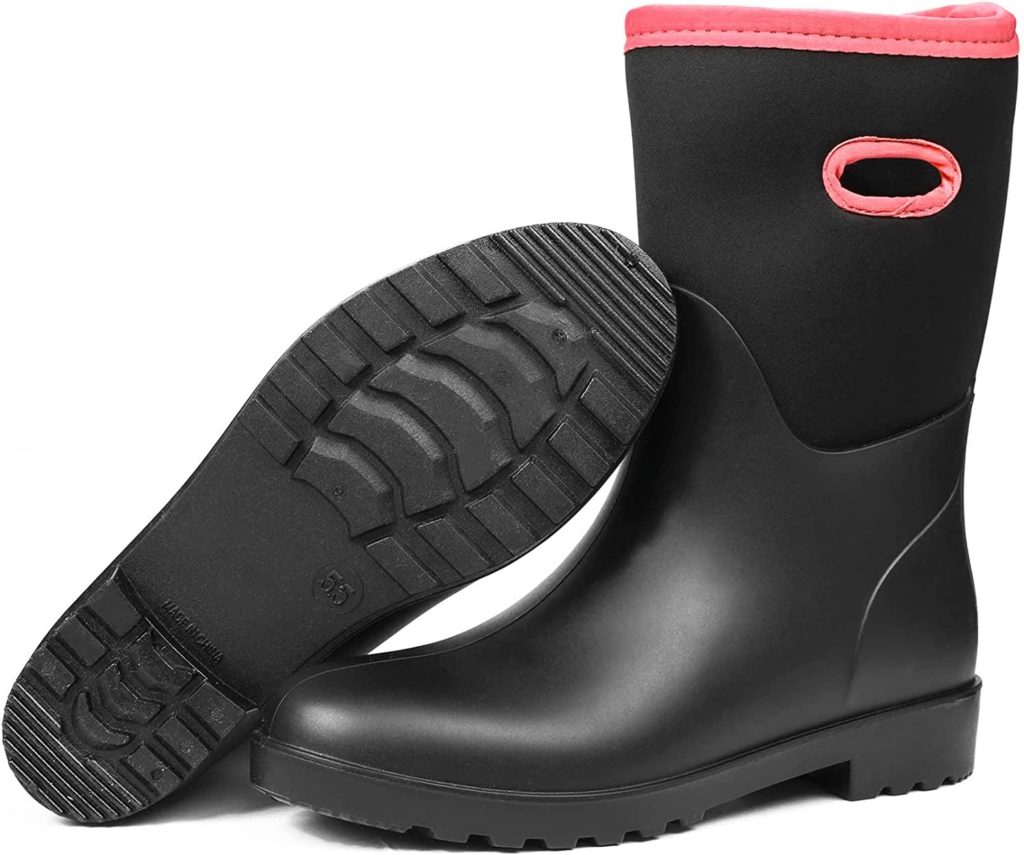 Price: $39.99 - $45.99
Size Options: 5.5-10
Design: Mid-calf length; vulcanized rubber
Heel: Anti-slip rubber
Waterproofing: Yes
Gardening boots for men and women are made of sturdy natural rubber that is vulcanized for durability and flexibility. The DKSUKO garden boots are known for providing superb movability and functionality, with their mid-calf design in mind.
The breathable neoprene lining makes it suitable for wear between temperatures from subfreezing to 65 °F/18 °C. It also comes with a nifty finger hook for when it's time to set the aside. Moreover, the anti-slip rubber sole has high traction, preventing any slips and falls in the mud.
| | |
| --- | --- |
| Pros | Cons |
| The rubber shell extends over the ankle area | Not the best for barn work |
| Ankles are protected from scratches and scarring with fleece lining | Tends to be flimsy on harder and rockier surfaces |
| Boasts 3 mm of thermal foam for outdoor work | Not ideal for those with narrow feet |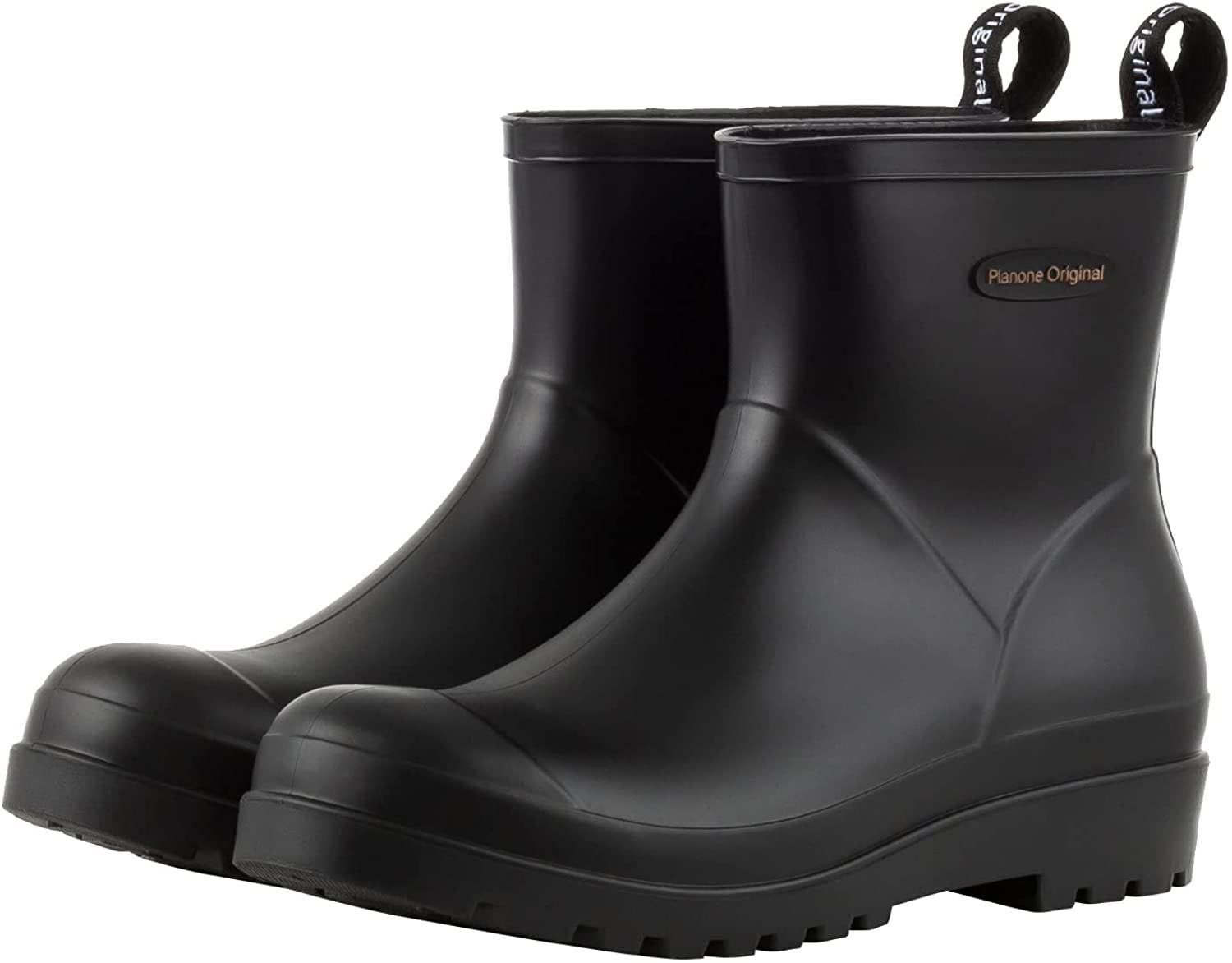 Price: $45.90
Size Options: 6-11
Design: Ankle length; synthetic rubber
Heel: Anti-slip rubber sole
Waterproofing: Yes
These classic garden boots by planone are the best option for those looking for a lightweight and breathable option. They are very easy to slip on and off and can also be used for casual wear, aside from garden work purposes.
When it comes to gardening work, planone garden boots are ideal for women who prefer comfort over style. The soles feature a shaft that provides 5.6 inches of arch support for immediate comfort.
| | |
| --- | --- |
| Pros | Cons |
| Comes in plenty of different colors | May not be the best fit for colder months |
| Lightweight for all day comfort | Not ideal for those with rounded feet |
| Good arch support | Sizing can be inconsistent |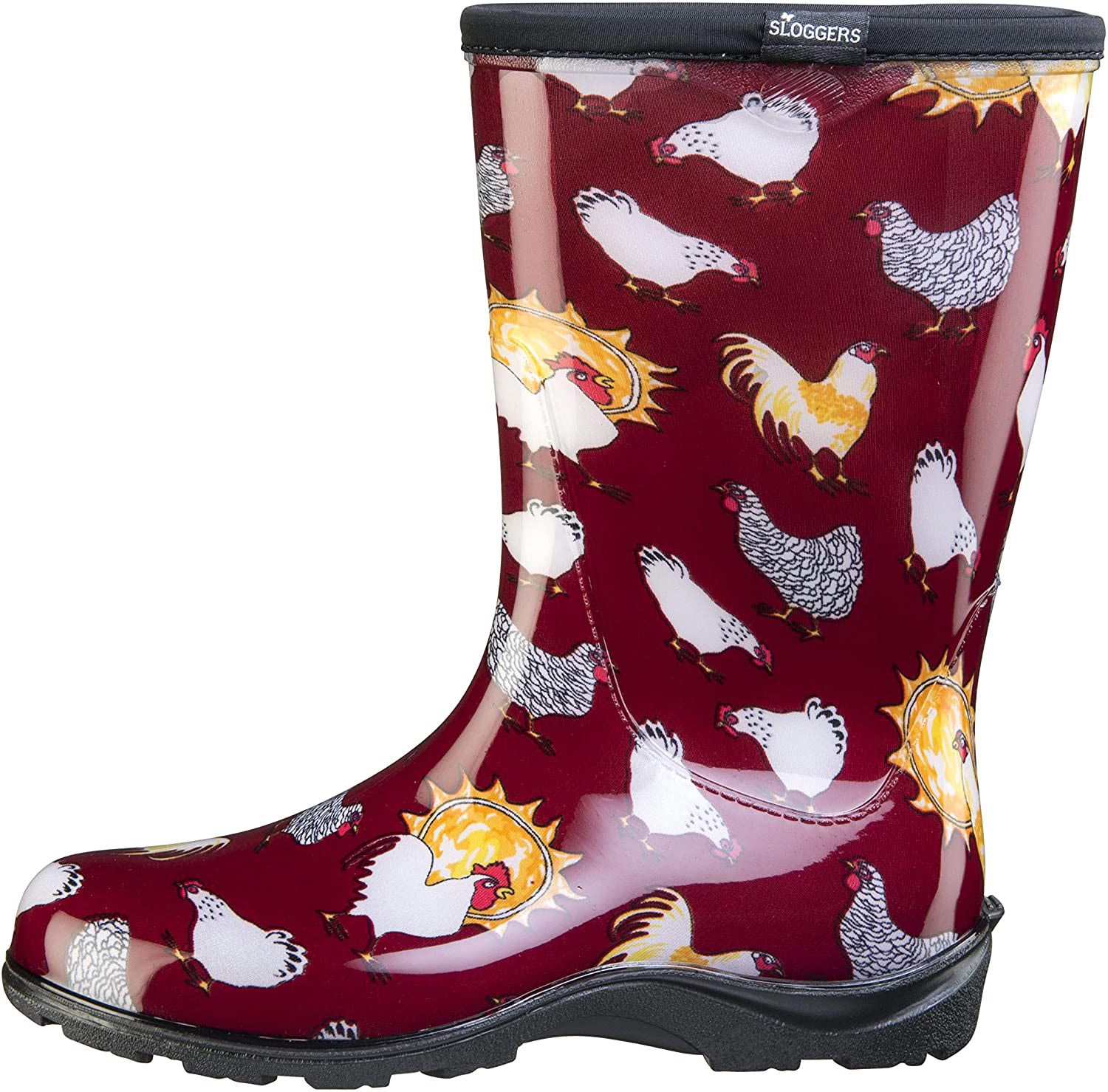 Size Options: 8-11 Women
Design: Mid-calf length; synthetic rubber
Heel: Anti-slip rubber sole
Waterproofing: Yes
The robust design of these Sloggers mid-calf garden boots emphasizes study and insoles, and the lug sole adds traction for any situation. These sturdy patterned boots are lightweight, weighing less than 2lbs, and great for muddy garden work. It is also made with 50% recycled material, while the "All-Day-Comfort."
| | |
| --- | --- |
| Pros | Cons |
| Can also be used as rain boots | Comes in whole sizes only |
| Multiple color options and of fun patterns | Soles could be thicker |
| Replacement insoles can be ordered from the manufacturer | Band around the top could be more comfortable |
Size Options: 6-11 women
Design: Ankle length; synthetic rubber
Heel: Lightweight rubber sole
Waterproofing: Yes
These stylish and functional gardening shoes are ideal for older women who prefer footware that can double as garden boots and rain boots. They boast waterproof rubber material that is easy to clean, while the low back makes it easy to pull them on and off. It comes in plenty of color options for men and women but could be improved in terms of durability.
| | |
| --- | --- |
| Pros | Cons |
| Wide size range women | Insole cushioning could be improved |
| Comes in multiple color options | A bit pricier than other gardening shoes in the market |
| Comfortable opening that prevents ankle scratches or marking | Width may be too narrow for some buyers |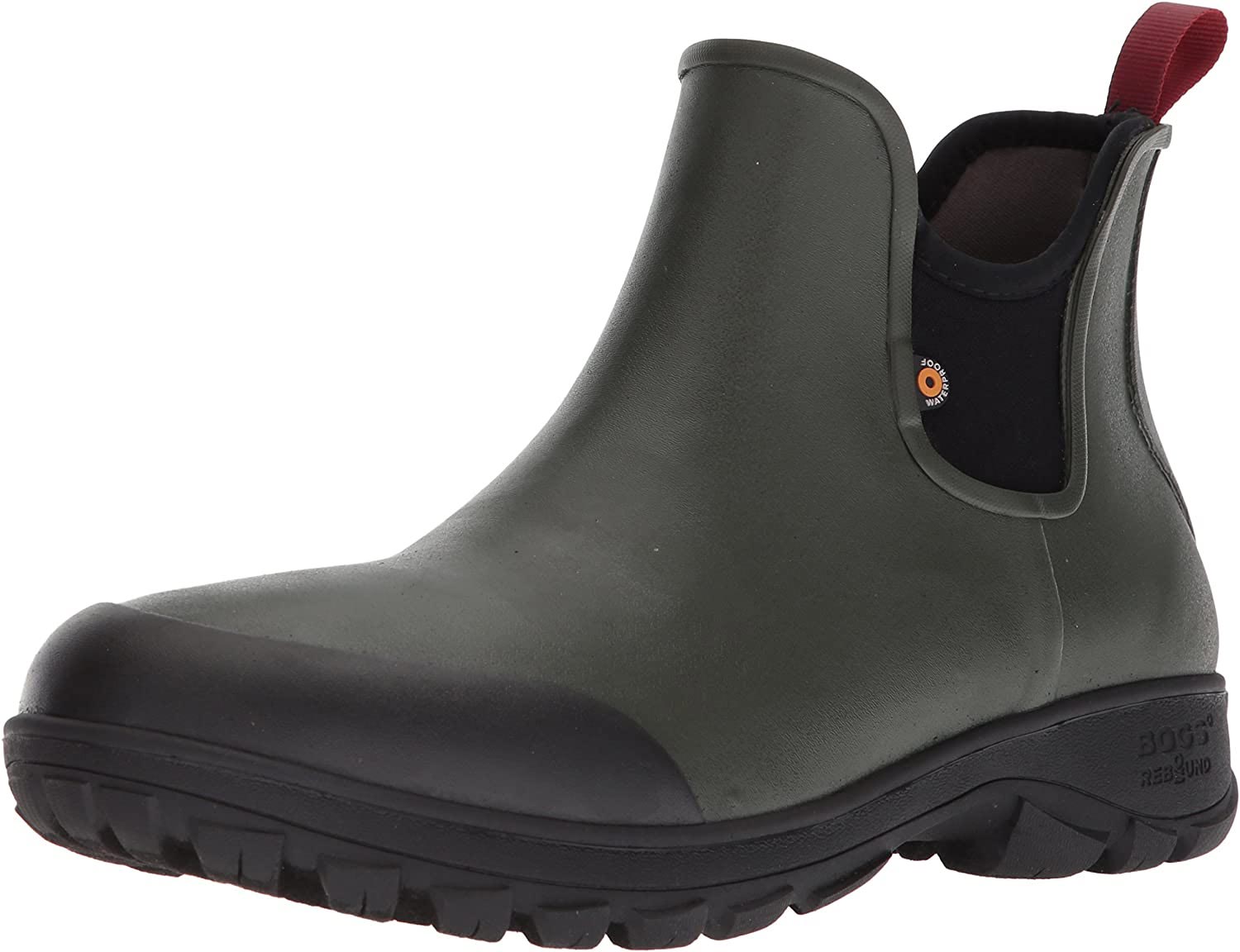 Price: $66.49 - $186.15
Size Options: 7-14 men
Design: Ankle length; textile and synthetic materials
Heel: Rubber sole
Waterproofing: Yes
With an opening of 10.5 inches, these stylish and lightweight boots will not mark or scratch your ankle over time. These affordable gardening shoes can double as outdoor footwear for errands or light trekking activities.
Neo-Tech waterproof insulation provides long-term comfort and durability with these rain boots. Additionally, the back features a sewed-in hook for easy packing away or putting on. Older men have neutral color options to choose from including dark brown, green, and olive, among others.
| | |
| --- | --- |
| Pros | Cons |
| 100% textile and synthetic materials | Sizing could be improved (half sizing options) |
| Stylish and functional for garden and casual use | Not ideal for those with rounded feet |
| Excellent footbed support | Quite expensive |
What To Look For In Gardening Shoes
To choose the best gardening boots for your needs, you'll need to think about what activities you're doing. For weeding, clog-style shoes may be the easiest pick. In contrast, taller boots may be more suitable for other chores like digging and planting. Other useful features include breathability and ease of cleaning.
Multiple Widths
Wide width shoes are suitable for seniors who need a wider toe box and forefoot width to accommodate their feet. However, the overall length is the same. They also usually have a greater depth for a more comfortable fit. However, most gardening shoes tend to be wide so wearing a pair of socks can help improve the fit.
Breathability
During hot months, breathable shoes let out moisture that can be trapped in the shoe. Although waterproof shoes may be less breathable, they tend to have an inner lining or plenty of holes to increase ventilation and prevent sweating. Wearing socks can also reduce sweat in a pair of gardening shoes.
Ease Of Cleaning
Rubber boots are relatively easy to clean but it's a good idea to hose away any wet debris or mud after each wearing with plain water. To clean dried mud you can use a bristle brush or a toothbrush on the sole of the shoe. Don't forget to clean the inside of the shoe as well to prevent any odor-causing bacteria and Athlete's foot fungus.
You may also need to remove any insoles to speed up drying, but you can use dish soap or heavy duty laundry detergent to clean the inside of any soil residue combined with warm water. You will need to soak a clean cloth in the solution and wipe down the whole interior of the boot, rinsing off the detergent or soap afterward.
Functionality
Perhaps the most important factor to consider when choosing a new pair of shoes is the function. Some shoes allow you to slip in an additional insole for greater support, while others have buckles or straps to provide a better fit. Try on several pairs and walk around to see if there are any sore spots or painful areas that may cause trouble later on.
Frequently Asked Questions About Gardening Boots
To help you find the best boots for gardening, here are some common questions that buyers tend to ask as they shop.
What is the best kind of shoe for gardening?
Waterproof gardening boots are the best type for gardening since they repel any moisture and dirt. Look for a pair that provides support to the feet and has a deep lug tread to prevent any dangerous slips or falls that seniors may be more prone to.
Why do gardeners wear clogs?
Gardeners are often huge fans of clogs since they are very easy to slip on and off. A gardening shoe is a sturdy, waterproof shoe with good traction on wet soil or grass. They also can help prevent injury against sharp tools and any thorns that can cause pain and injury as you're tending your garden.
How do I keep my feet clean in the garden?
To keep your feet clean, waterproof gardening boots are a good divestment. After you're finished, you can simply hose them down and use a scrub brush to remove all the chemicals, mud, dirt, and small rocks from the sole of your shoes.

Choosing high-quality garden footwear can keep you both comfortable and safe as you pursue your hobby over multiple seasons. Unlike regular boots, waterproof boots can get dirty and are easy to clean, so you don't have to worry about bringing dirt into your house.
They also come in many shapes and sizes, so you should shop around to find the best garden shoes for your elderly loved one's gardening needs. Visit our blogs at Senior Strong to learn more about garden safety tips for seniors.
Looking for garden kneelers? Visit our blog to learn more about our recommendations for the best garden kneelers for seniors.