Unlike low sitting couches, high couches for seniors can enable the elderly to get on and off the couch without assistance with much less effort. A supportive sofa at the right height is ideal for those with mobility issues, and a high back and bolster pillows can provide better back support while elderly people watch television or read a book.
Learning about what to look for in a couch in addition to mobility equipment for elderly can boost independence and improve comfort at home.
Most Recommended Tall Couches For Seniors
To help you find the best high sofa with timeless features, here are some brands to consider when shopping online.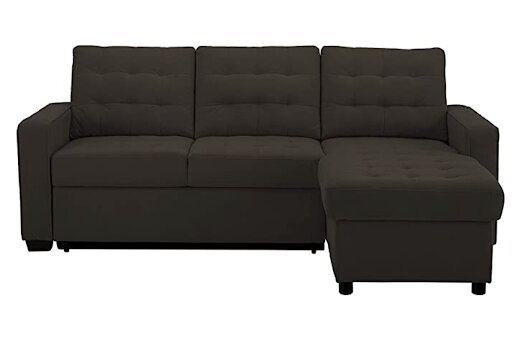 Seat Height: 37"
Seat Depth: 76.7"
Length: 50"
Weight Capacity: 792 pounds
Number of Seats: 3
Cost: $955.68
The Serta sofa is made of 100% Polyester and can be used as a sofa or a full-size bed. It has high-density foam for comfort and bouncy coils on a solid hardwood frame for maximum durability. It also comes with hidden storage to store blankets or other items.
| | |
| --- | --- |
| Pros | Cons |
| Easy assembly and setup | Some models may come damaged |
| Provides roomy storage space | Price is relatively high |
| Converts between a sofa and bed | May be missing hardware and instructions |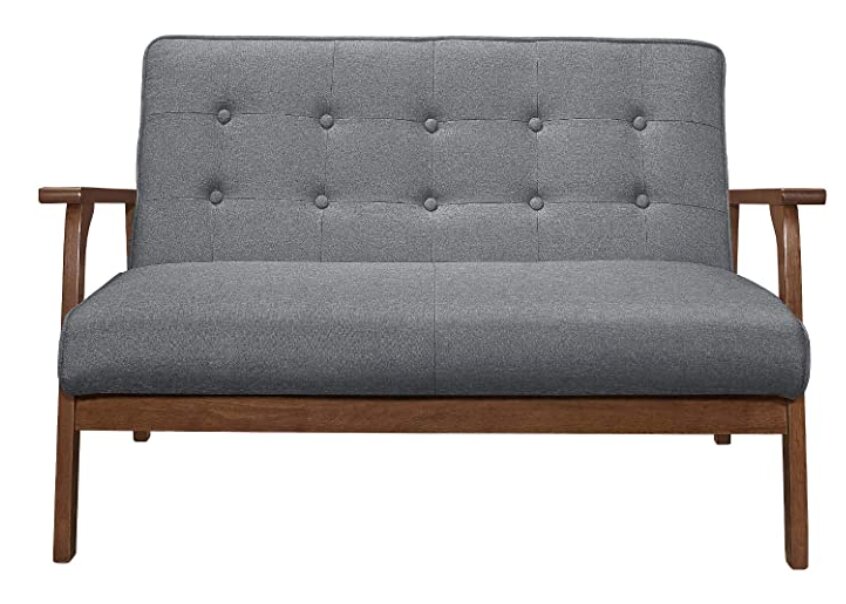 Seat Height: 27.8"
Seat Depth: 23.5"
Length: 42"
Weight Capacity: 400 lbs
Number of Seats: 2
Cost: $296
The Blackwolf sofa requires about 30 minutes of assembly and is suited for a smaller bedroom nook. The contemporary style suits most homes, with sturdy solid wood legs. However, its dimensions and body frame may make it unsuitable for taller or heavier elderly adults.
| | |
| --- | --- |
| Pros | Cons |
| Suitable for small spaces | May be too small for some people |
| Comfortable backrest | Low weight capacity |
| Sleek and modern design | Very low to the ground |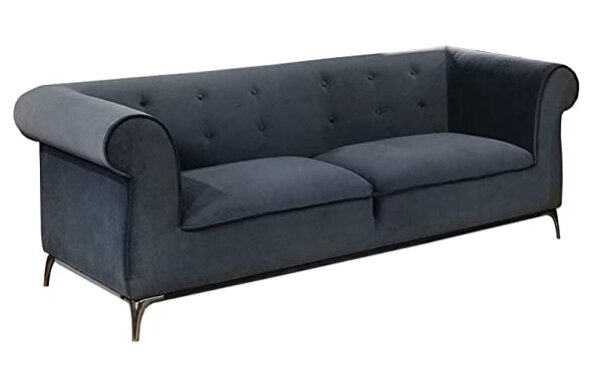 Seat Height: 28.75"
Seat Depth: 90.5"
Length: 39.13"
Weight Capacity: Unknown
Number of Seats: 2
Cost: Currently unavailable
The Benjara sofa has a sturdy construction and a button tufted backrest. It Has rolled armrests for greater comfort and is covered with a piece of grey velvet fabric. Its large size makes it suitable for families looking for high sofas.
| | |
| --- | --- |
| Pros | Cons |
| Classic modern design | Difficult to clean |
| Comfortable velvet sofa upholstery | Metal legs don't match the aesthetic |
| Plush fabric on padded rolled armrests | May be too deep for an elderly person |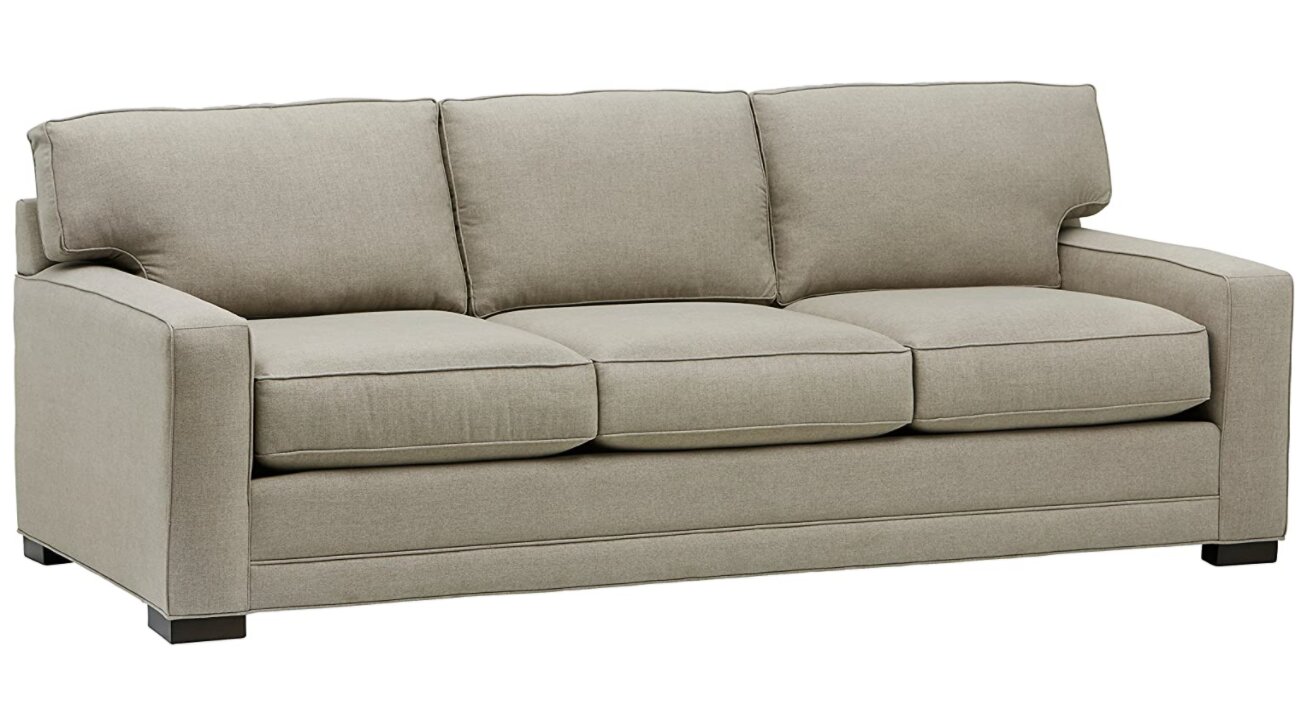 Seat Height: 35"
Seat Depth: 37.5"
Length: 91.5"
Weight Capacity: Unknown
Number of Seats: 3
Cost: Currently unavailable
The Stone and Beam sofa is a modern higher sitting sofa that has a moisture-repelling and stain-resistant fabric. It requires no assembly, and the manufacturer provides free returns for 30 days. Plus, it comes with a 3-year warranty in case of any issues.
| | |
| --- | --- |
| Pros | Cons |
| Neutral colored sofa matches many interiors | May wear out quickly over time |
| Easy to clean up stains and spills on functional sofa | Only comes in one color |
| Doesn't require any assembly | Lumpy texture can prevent people from sitting comfortably |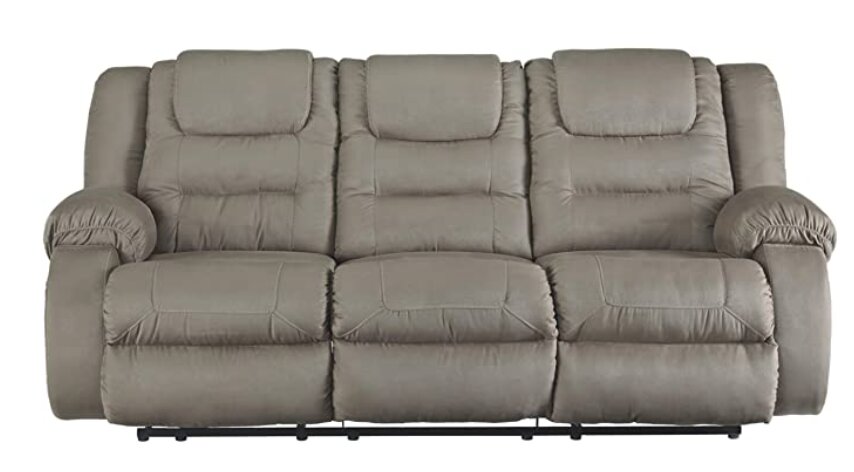 Seat Height: 42"
Seat Depth: 40"
Length: 87"
Weight Capacity: Unknown
Number of Seats: 3
Cost: $669.99
This reclining sofa has rounded sides and a comfortable rolled armrest suitable for watching tv. Unlike a regular recliner, it can seat 3 people, but the recommended distance between the sofa and wall is 3 inches and the required minimum doorway delivery width is 32 inches.
| | |
| --- | --- |
| Pros | Cons |
| Reclines for maximum comfort | Reclining may be difficult |
| Comes with extra padded cushion for armrests | Lacks cup holders |
| Company provides delivery and setup | Material may produce static |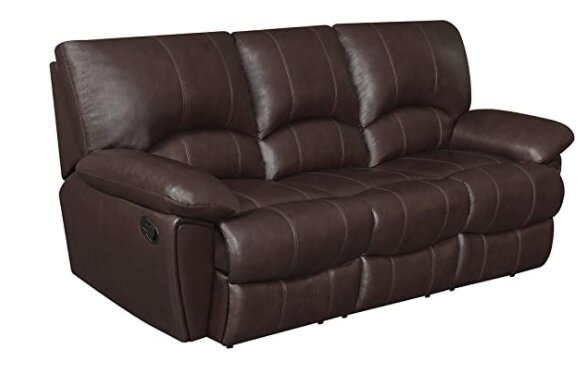 Seat Height: 38"
Seat Depth: 88"
Length: 39"
Weight Capacity: 870 lbs
Number of Seats: 3
Cost: $2,970.47
One of the best sofas for the elderly, this chocolate colored sofa comes in 100% top grain leather. While it requires assembly, it has a relatively high weight limit of 870 lbs and can recline between 39"-62" in length or 110-135 degrees. The sturdy hardwood frame and webbing help ensure longevity.
| | |
| --- | --- |
| Pros | Cons |
| Durable wood construction | Expensive price compared to other models |
| Best sofa for heavier adults | May not be the best fit for taller seniors |
| Reclines for greater comfort | Requires assembly |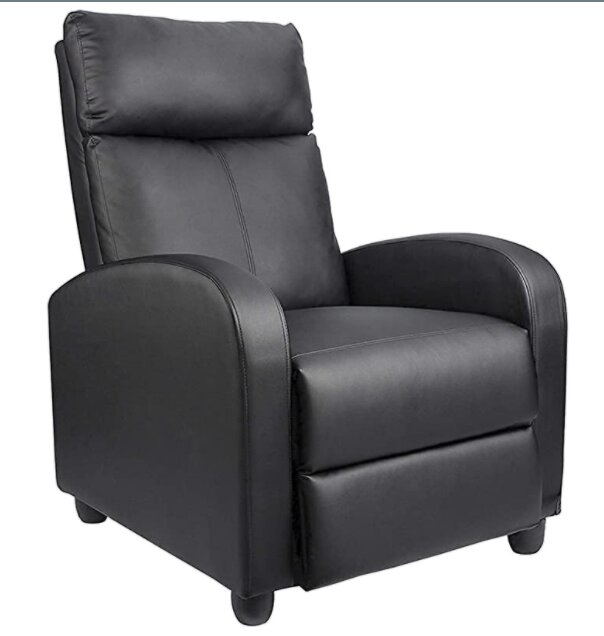 Seat Height: 20.67"
Seat Depth: 30.31"
Length: 27.16"
Weight Capacity: 265 lbs
Number of Seats: 1
Cost: $143.99
This adjustable motion sofa is ideal for a senior looking for an easy to clean sofa. It is made of high-quality PU leather that is comfortable on the skin. The footrest is made of a durable steel frame with thick foam padding. The recliner is also mounted on four feet with non-marking pads to prevent damage to floors.
| | |
| --- | --- |
| Pros | Cons |
| PU leather is easy to clean | Only one person can sit comfortably |
| Sofa reclines from 90 to 180 degrees | Headrest could be taller |
| Adjustable footrest comes with thick foam padding | May not be ideal for larger individuals |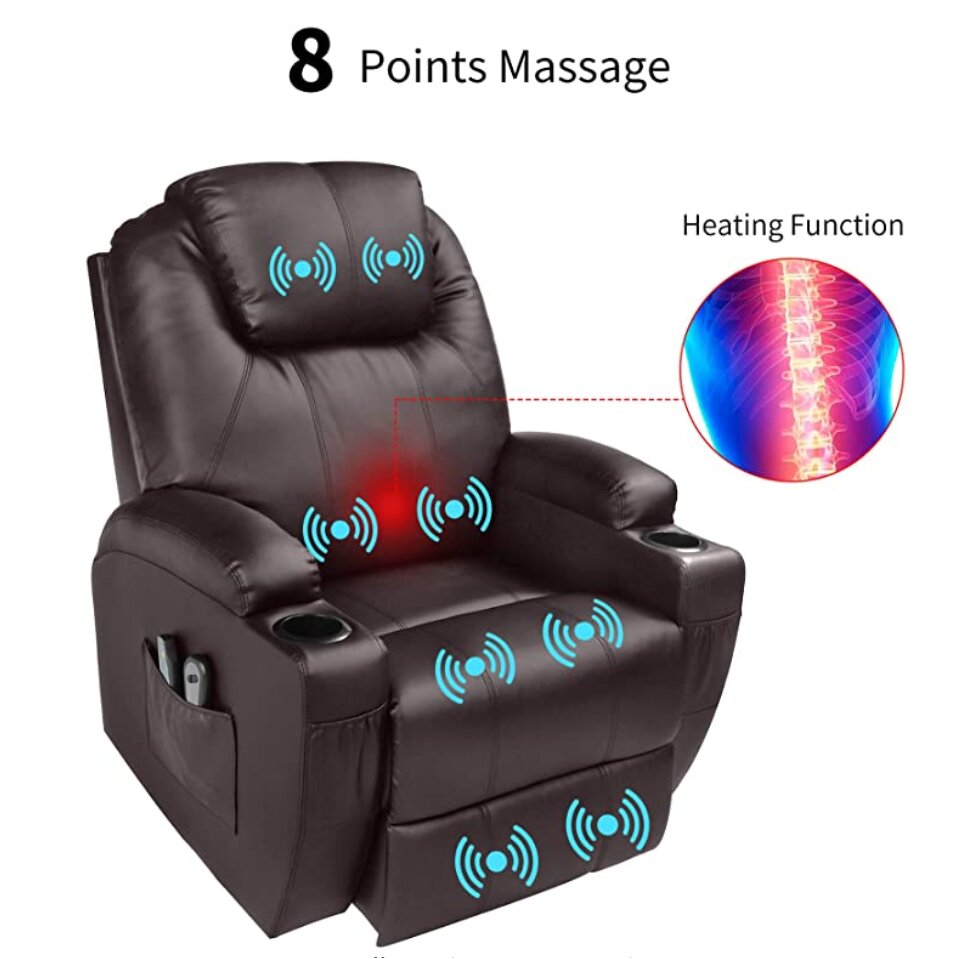 Seat Height: 41.4"
Seat Depth: 62"
Length: 33.5"
Weight Capacity: 350 lbs
Number of Seats: 1
Cost: $399.99
One of the top massage sofas for the elderly, this model has a built-in footrest and remote. It provides 4 different massage areas for the leg, lumbar, and back, with 5 special modes as well as heating for sore joints.
| | |
| --- | --- |
| Pros | Cons |
| Lift chair reclines easily | May stop working overtime |
| Massage feature comes with different settings | Requires assembly |
| Easy to use for elderly adults | 30-day guarantee is limited |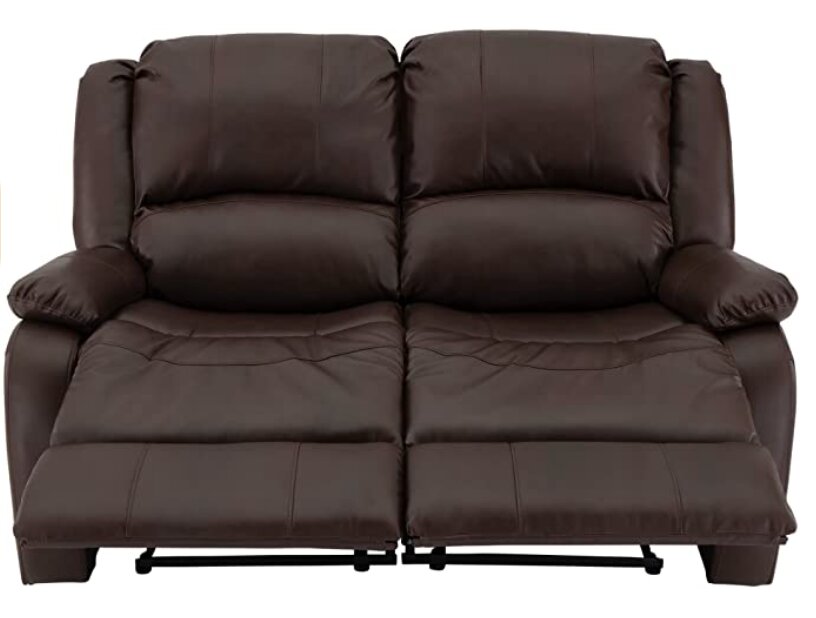 Seat Height: 39"
Seat Depth: 36"
Length: 54 ½"
Weight Capacity: 166 lbs
Number of Seats: 2
Cost: $1,339.95
This double recliner comes in Mahogany faux leather and the modular structure allows for easy installation. However, the relatively low weight capacity is something to watch out for heavier seniors. It is also space-saving and must be 3" from the wall to allow clearance for a fully reclined position.
| | |
| --- | --- |
| Pros | Cons |
| Provides comfortable seating for two adults | Upholstery might fall apart over time |
| Brown vinyl leather is easy to clean | Doesn't come in genuine leather |
| Easy to assemble | Customer service could be improved |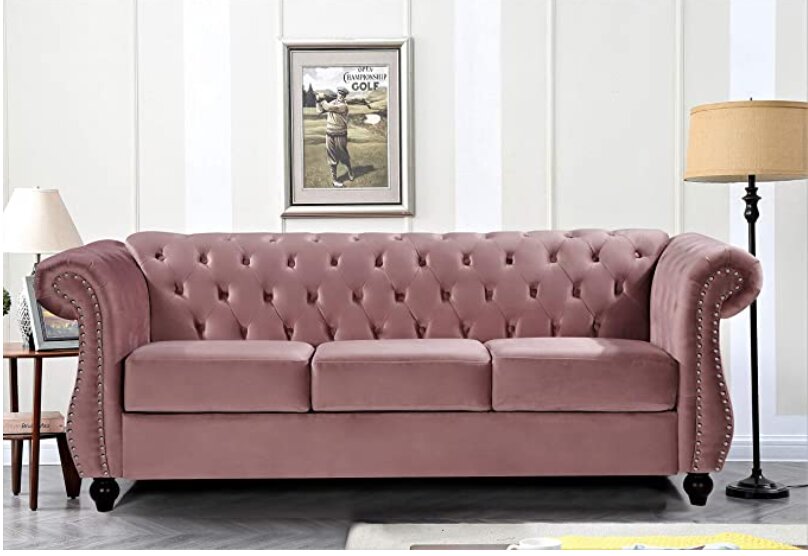 Seat Height: 30"
Seat Depth: 32.6"
Length: 82.6"
Weight Capacity: Unknown
Number of Seats: 3
Cost: $783.96
This elegant sofa comes with a velvet-like fabric and tufted backrest. It has solid wood legs and is easy to assemble and clean, reminiscent of chaise lounge sofas from the past. The sofa seat measures 30" x 32.6" x 82.6", with a total weight of 112.4 pounds.
| | |
| --- | --- |
| Pros | Cons |
| Beautiful antique inspiration | May not suit modern homes |
| Rose-colored crushed velvet | May be difficult to clean |
| Removable seat cushions support healthy posture | Does not recline |
Benefits of Tall Couches For Seniors
Tall couches can lessen muscle strain, joint pain, and increase comfort and relaxation for seniors. Tall couches also allow seniors with limited mobility to stand up without assistance.
Some benefits of tall couches include supportive arms, adjustable backrests, and a sturdy frame. It is also best to get a sofa frame made of something sturdy, like hardwood or metal, to ensure that the sofa will be able to withstand years of use.
Factors To Consider When Buying Tall Couches
When buying a tall sofa, there are several things to keep in mind, such as height, comfort, and firmness:
Seat Height: Ideally, 19 or 20-inch seats are considered a high seat design suited for seniors
Comfort: Thick high-density foam provides enough comfort and support for older adults
Firmness: Strong springs on a sofa can prevent sinking and improve posture for seniors
Armrests: Rounded armrests provide extra support that can help seniors stand up unassisted
Adjustable Features: Reclining couch seats can help seniors move in and out of a seated or lying position, similar to adjustable beds for seniors
Frequently Asked Questions
When finding a sofa that is perfect for the elderly, here are some questions to consider. 
What is the best seat height for the elderly?
The ideal seat height for a sofa for the elderly is 18-19 inches or higher for most adults. 
What is the most durable type of sofa? 
The strongest type of sofa for upholstery is genuine leather since it will age well over time. However, it may be more expensive than polyester fabrics or synthetic leather, so this is something to consider when buying a sofa. 
What is the purpose of a fainting couch?
In the past, a fainting couch was used for relaxing or taking day naps to prevent messing up the sheets on a freshly made bed. It resembles a day bed with a high back and a curved wooden frame. 
Verdict
When shopping for high couches for seniors, buyers should consider many factors, including accessibility, material, main use, and whether or not it needs to be assembled. Since each senior will have specific needs, trying out various options and looking at various high-sitting sofas can help seniors find the best fit for them. Read on to learn more about other senior care products for the elderly on Senior Strong today!