Many senior citizens, particularly those who live in cities, can enjoy the benefits of having mobility tools at their disposal. For instance, portable grocery carts are the best for supermarket runs, laundry days, or simply carrying various possessions from one point to another.
For seniors who seek to maintain their independence, having personal shopping carts is a must — so, here is a list of the best grocery carts to help them shop and run errands with ease.
What Are The Best Grocery Carts For Seniors To Use?
Going to the groceries is harder for senior adults, especially with the need to load and unload the items they bought in their cars, to their homes. For errands like this, it is vital that seniors have mobility tools like shopping carts. These can help them lift, store, and carry heavy items — not only for their convenience but also for their safety.
Grocery carts for seniors are specifically designed to give them support in cases like this. They are portable, often foldable, tools that they can bring wherever they go. These grocery carts make life easier for:
Senior adults who live in multi-story homes and need a solution for carrying heavy items up and down
Elder folks who enjoy shopping for groceries or shopping at the farmer's market
Senior adults who need a portable tool in carrying their things in and out of their home — may it be clothing, equipment, food, or beverages.
If you think these grocery carts are perfect for your needs, you should find high-quality brands that you can use for a long time.
5 Best Grocery Carts To Check Out In 2022
Not all shopping carts for seniors are made equal, especially in terms of design and function. Here are our top five picks that you may consider in looking for the right match for your needs.
Price: $69.97
Size & Capacity: 41" x 4" x 19" size; 66 lbs. capacity
Extra Pockets/Storage: None
Maneuverability: Yes
Non-slip Handle Grip: Yes
Bag: None
The Wellmax WM99024S Grocery Utility Shopping Cart is well-designed for quick and easy maneuverability, ideal for seniors up and about town. With its four front swivel wheels and two large back wheels that you can easily snap on and off, senior adults would have no trouble setting up and assembling this cart.
This folding shopping cart also comes with ample storage space and up to 66 lbs. weight capacity. It will comfortably fit kitchen supplies, snacks, beverages, and other usual finds while shopping.
When the time comes for storage, the users won't have trouble folding it flat. Feel free to enjoy convenient storage in the garage, under the bed, or in the trunk of a car without occupying too much space.
| | |
| --- | --- |
| Pros | Cons |
| Lightweight at 10 lbs | Non-adjustable for height |
| Rolling swivel wheels for easy maneuverability | No lock to keep the wheels in place |
| Ergonomic soft handle for comfort while shopping | No bag included |
Price: $59.99
Size & Capacity: 22.5" x 23" x 36" size; 100 lbs capacity
Extra Pockets/Storage: None
Maneuverability: None
Non-slip Handle Grip: Yes
Bag: None
The Goplus Shopping Carts For Groceries offers a straightforward solution for grocery shopping. Despite being lightweight, this cart is the ideal pick if you need a larger capacity — it can comfortably fit a lot of times up to 100 lbs in weight.
Moreover, it is created with upgraded steel frame materials, so you can ensure rust resistance and long-term use. It's a foldable grocery cart that you can store in any small space until the time comes to use it again. Since it quickly folds flat, you don't even have to worry about disassembling the cart.
| | |
| --- | --- |
| Pros | Cons |
| Easy to assemble and fold | Does not have swivel wheels |
| Lightweight and comfortable to use | Wheels do not have locks |
| Can hold its own even in uneven sidewalks and streets | Wheels can be larger |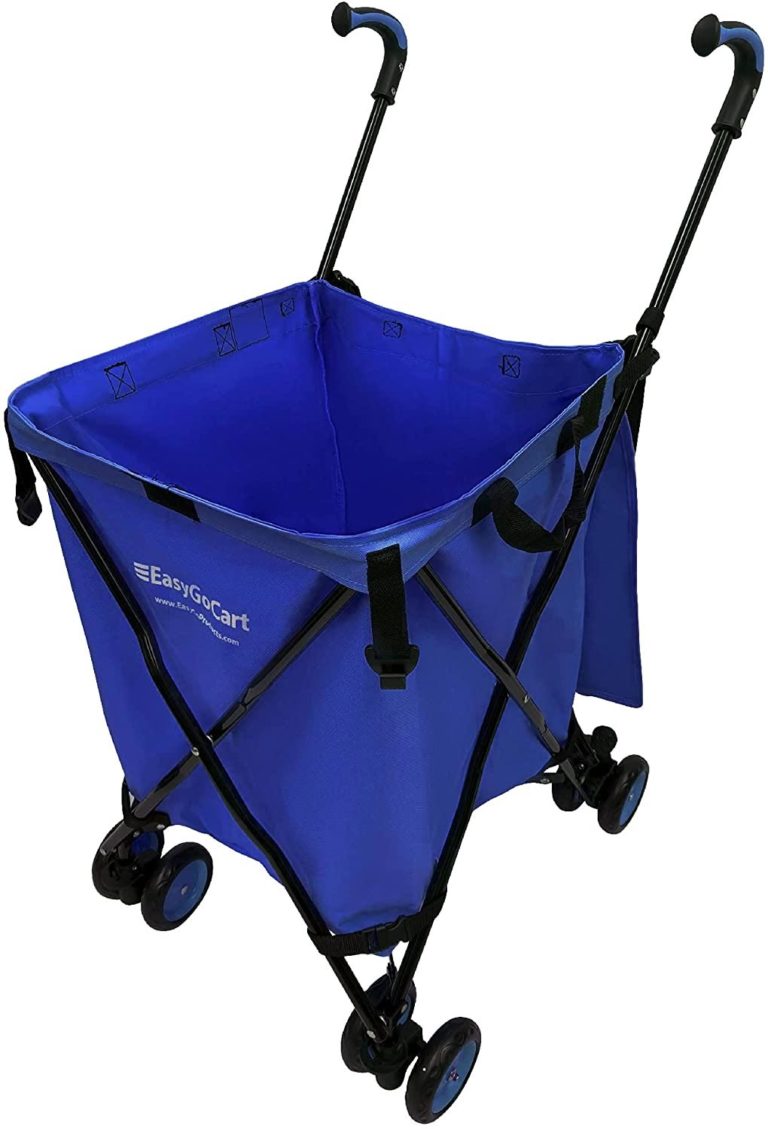 Price: $77.99
Size & Capacity: 24" x 17" x 37" size; 120 lbs capacity
Extra Pockets/Storage: Yes
Maneuverability: Yes
Non-slip Handle Grip: Yes
Bag: Included
Third on our list is the lightweight grocery cart from Easy Go. This model is a soft fabric cart equipped with a heavy-duty canvas bag that can easily handle personal items and heavy objects without breaking. Aside from the ample space inside, seniors can also enjoy two plastic bag holders they can use for fragile items like eggs, fruits, and vegetables.
It also comes with an Easy Go x-folding stable steel design so you can easily fold and store it even in tight spaces around the home. With its padded handle, seniors will have better control and not worry about slipping.
| | |
| --- | --- |
| Pros | Cons |
| Swivel wheels come with locks | Directions to put the cart together can be confusing |
| Canvas bag is sturdy | Cart control can be a challenge |
| With two bag holders so you can hang fragile items separately | Could use adjustable height feature |
Price: $87.99
Size & Capacity: 37.01" x 16.93" x 5.51" size; 170 lbs capacity
Extra Pockets/Storage: None
Maneuverability: Yes
Non-slip Handle Grip: Yes
Bag: Included
Despite this model's smaller size, it boasts sturdy and reliable features. This grocery cart by Lead All Way comes with a 360-degree rotating non-slip handle to make transporting easier in any condition.
What makes this folding shopping cart stand out is the design of its swivel wheels. The rear wheels are designed with three-swivel wheels each for an easy stair-climbing design. This helps seniors save their strength and energy and reduce climbing up and down the stairs repeatedly.
This multifunctional cart can help for transporting goods, groceries, laundry, and gardening tools. Beyond the loading function, you can also use it for beach gear, kitchen supplies, boxes, and office files.
| | |
| --- | --- |
| Pros | Cons |
| Comes with a shopping bag with a lid | Wheel control problems on soft dirt paths |
| Stair climbing and descending feature | Basket could be larger |
| Maneuverability and wheel lock feature makes it easy to use | Handle is too loose for some users |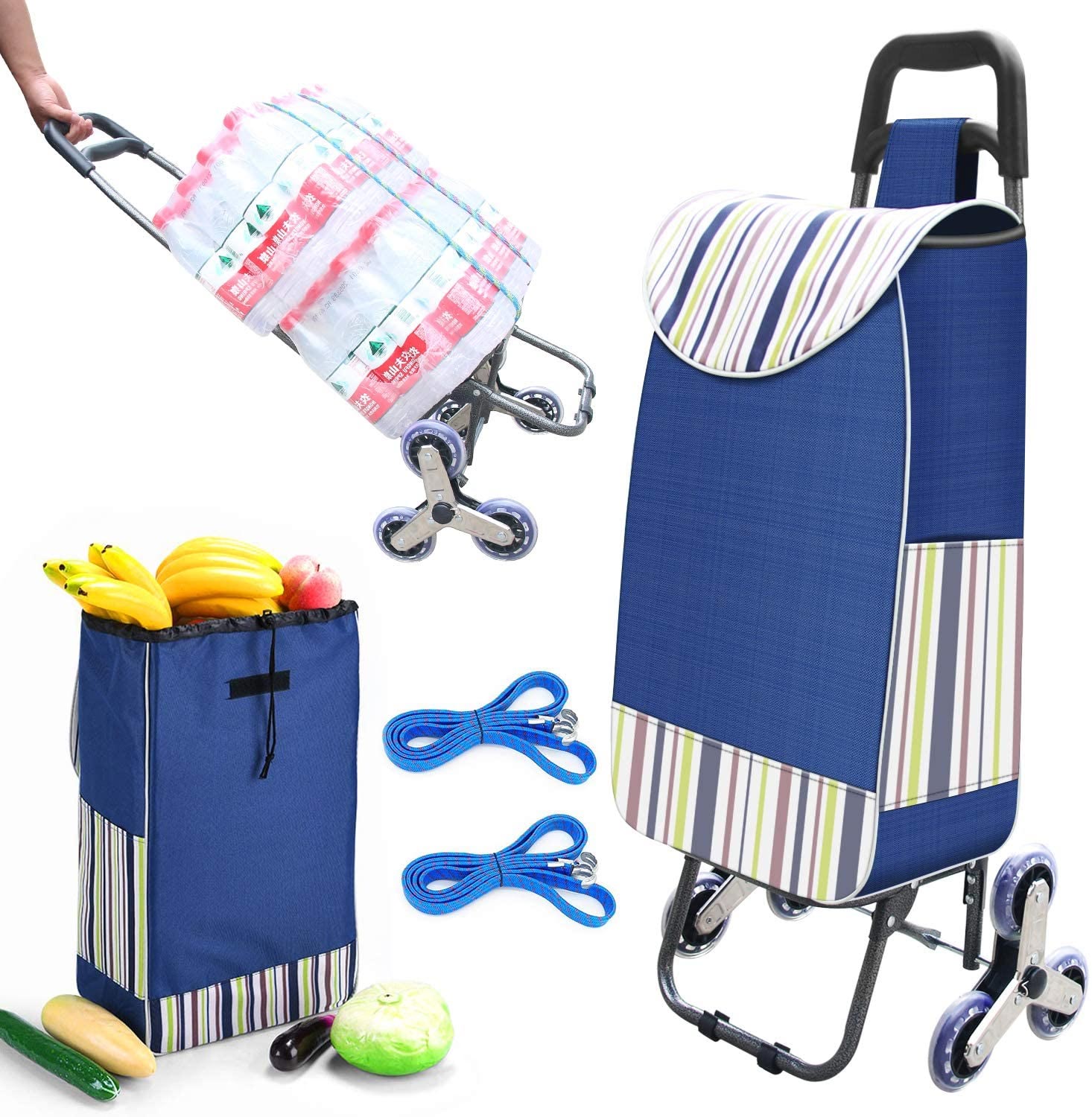 Price: $44.75
Size & Capacity: 37" x 15.4" x 12.6" size; 150 lbs capacity
Extra Pockets/Storage: None
Maneuverability: None
Non-slip Handle Grip: Yes
Bag: Included
Finally, the E&S Foldable Shopping Cart completes our list of the top shopping carts for seniors. This cart is equipped with rubber wheels that comes with a unique tri-wheel design to help seniors who need to climb stairs. Aside from the cart, this package includes a waterproof cloth bag that is capable of carrying up to 150 lbs. worth of items.
In terms of durability, this cart has plastic handles with a rust-proof aluminum alloy frame that can last you a long time. Moreover, you don't have to worry about storage after use as this grocery cart is easily collapsible and won't take too much space.
| | |
| --- | --- |
| Pros | Cons |
| Comes with a waterproof shopping bag | Non-adjustable height |
| Small and lightweight for senior use | Footing is smaller than other carts |
| Equipped with three-wheel design to easily go up and down the stairs | The hopping bag's durability can be improved |
Choosing A Grocery Cart For Seniors' Needs
What should a grocery cart for seniors have? If you are looking for a foldable shopping cart, here are the considerations you should prioritize:
Durability: A shopping cart should last you for a long time. It should be composed of high-quality materials and replacing broken parts should be easy.
Size and Capacity: The best grocery cart for seniors must have ample storage space without being too heavy, making it easy to transport by anybody — even seniors who have lost some muscle.
User-friendliness: Grocery shopping carts are made to make life easy for seniors. This means that they should be easy to assemble and disassemble and minimize the need to go back and forth carrying items.
Versatility: A shopping cart must also have added features that allow seniors to use them for other items — not exclusive for groceries alone.
Maneuverability: Shopping carts must also be easy to maneuver around the store, whether it's turning, stopping, or climbing stairs.
Frequently Asked Questions About Grocery Carts For Seniors
In shopping for grocery carts for seniors, make sure you are well-informed so you can make the right choice. Here are the answers to some of the most popular questions about senior shopping carts.
How much weight can a foldable shopping cart hold?
Grocery carts for seniors are often smaller and lightweight. They usually have a weight capacity ranging from 60 lbs. to 200 lbs., depending on the brand you buy.
What are the loops on grocery carts for?
The loops on some folding shopping carts can be used as extra holders. You can hang bags with delicate items like eggs, fruit, or bread.
How do you fold a foldable shopping cart?
Grocery carts for seniors come with instructions on how you can fold and unfold them for storage. You can message manufacturers for videos that can guide you.

Grocery carts for seniors help them stay independent and limit the risks they encounter while doing their daily activities. Shopping carts help them be motivated in preparing meals and not just rely on food delivery. However, with many options available, it is important to do research on a particular model first before deciding to buy.
Learn more about making life easy for seniors by exploring Senior Strong today!