Oxygen concentrators are used by seniors suffering from COPD, lung disease, or needing help after surgery. It's a medical device that provides supplemental oxygen to individuals by separating oxygen from other gasses in the room and delivering it directly to the user through a nasal cannula or face mask. It doesn't require regular refilling unlike traditional oxygen tanks and there are many small portable oxygen concentrators in the market.
This portability helps seniors with breathing difficulties continue to live life normally and participate in daily activities like yoga and other heart-healthy activities. It also helps them travel and leave the confines of home.
Inogen has been leading the way for almost 20 years when it comes to oxygen concentrators that help older people breathe better. If you or a loved one rely on oxygen therapy, you know how important it is to have a portable oxygen concentrator that meets all your needs. You may be constantly googling "portable oxygen concentrators' reviews."
If you wish to know which one is right for you, let us review three of the best-selling Inogen portable oxygen concentrators to help you decide.
Inogen Oxygen Concentrators – Portable Versions
Inogen has various oxygen concentrators — both immobile (used only at home) and portable (used for travel). The reviews below will focus on the best portable Inogen oxygen concentrators.
Weight: 4.9 lbs
Height: 7.25 inches
Cost: $2,595
Battery life: 10 hours (double battery)
Notable specs: Pulse Dose Delivery via 5 flow settings, clear LCD display
The Inogen One G3 was one of the first small portable oxygen concentrators available. It weighs less than 5 pounds, making it easy to take with you wherever you go, and it comes with a convenient shoulder bag for easy transport.
The G3 also features Intelligent Delivery Technology, delivering oxygen only when needed to ensure you get the most efficient use of your battery power.
| | |
| --- | --- |
| Pros | Cons |
| Covered by MedicareFAA compliant — you can use it on a plane | Not energy saving |
Weight: 3.3 lbs
Height: 7.8 inches
Cost: Starts at $2,651
Battery life: Up to 4.5 hours
Notable specs: Three flow settings, comes with a standard 3-year warranty, with an option for lifetime warranty
The Inogen One G4 was designed with portability and convenience in mind. It weighs less than 4 pounds and comes with a handy carrying case, so you can take it wherever you need. The G4 also features Intelligent Delivery technology, which automatically delivers oxygen only when needed.
| | |
| --- | --- |
| Pros | Cons |
| FAA CompliantLightweight at 3 lbs | Not covered by MedicareReduced battery hours3 flow settings may be problematic for some users |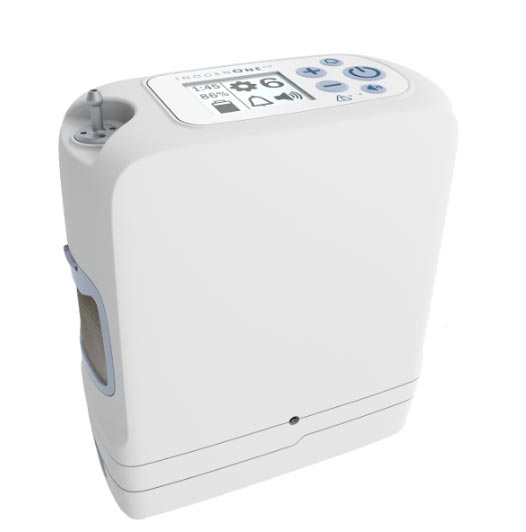 Weight: 5.7 lbs
Height: 9.03 inches
Cost: Starts at $2,882
Battery life: Expanded battery life at 13 hours for double battery
Notable specs: 6 oxygen flow settings following Intelligent Delivery technology
The Inogen One G5 is the latest Inogen product for small portable oxygen concentrators. It takes inspiration from the G3 and further expands it. It comes with 6 flow settings and an impressive 13 hours battery life.
| | |
| --- | --- |
| Pros | Cons |
| FAA compliant and perfect for travelReduced noise levels while operatingRelatively lightweightLots of flow settings to choose fromLonger battery life increases time device | Not covered by MedicareNot energy saving |
Why Get An Inogen Small Portable Oxygen Concentrator?
Inogen makes some of the best portable oxygen concentrators on the market, so it's no surprise that their products are some of the most popular among seniors who rely on oxygen therapy. All three units reviewed here are lightweight and easy to transport, so you can take them wherever you go. They are FAA-compliant, so you can bring them when traveling by air.
And all three feature Inogen's Intelligent Delivery Technology, which means they will deliver oxygen only when needed — saving battery power and ensuring that you get the most efficient use out of your portable oxygen concentrator. All units have 3-year warranties that can be extended to a lifetime warranty.
When purchasing an Inogen portable oxygen concentrator, you can also buy additional accessories that help maximize its function. Some of these are:
Single or double batteries
External battery charger
AC power supply
DC power cable
Backpack or carrying bag to easily carry the unit
Particle filter
Replacement column pair
You can also use any Inogen unit with the Innogen Connect App which helps you manage the device by knowing battery percentage, dates when the filter is due for replacement, and others. So whether you're looking for the best portable oxygen concentrator units, Inogen has great options for you.
To enjoy life independently, check out the best step tracker for seniors here at Senior Strong.
Was this article helpful?