As a woman add years to her life, the need for breast support increases. Bras, like other adaptive clothing for women, help senior bodies adapt to all the changes, particularly with sagging breasts.
Have you ever felt like your bra doesn't fit as well as it did before? Are you having difficulty taking your bra on and off? You're not alone — and you are not doomed. You can purchase a comfortable bra that's designed to give you the support you need.
Let's get started today with this buying guide and the list of the best bras for elderly women.
What Is A Bra For?
At the onset of puberty, women are expected to start wearing bras. They become a quintessential part of a woman's wardrobe from the moment their breasts show some sign of growth, and they are culturally expected to wear them throughout their life. However, are bras really needed?
Breasts become saggy once a person reaches 60 to 65 years old. At this point, the skin may be losing its elasticity, whether it is due to years of breastfeeding or lifestyle choice. By using a bra, you can avoid pain and discomfort, especially if you have heavier breasts.
Bras can also help women maintain a good posture and offer support for the neck and back. When you get well-fitted bras, you can help keep the shape of your breasts and prevent them from drooping even more.
Choosing The Right Bra For Older Women
When shopping for a bra for mature women, it's important to choose one that makes you comfortable. It will only happen if you keep these considerations in mind before you make that purchase.
Quality
The first thing you must take into account is the bra's quality of the material. Bras can be made of cotton, nylon, polyester, and spandex. What matters is getting a moisture-wicking fabric that will work for your skin type.
Comfort
A bra is something you'll wear most of the day, so you have to ensure comfort. For best results, try out the bra and watch out for components that might irritate and scratch the skin.
Coverage
Bras come in various coverages — you can get full coverage cups, half-cup, or semi-covered lace ones. If you want something to help you beat sagging, a full coverage bra may be the best choice.
Function
Finally, think about what you will be wearing the bra for. You might just want general support, but you may also need cushioned support, especially if you had surgery.
Factors To Consider
Another thing you must note when shopping for bras for older women is your specific needs. For instance, think about your lifestyle, physical condition, and budget.
Physical Conditions
Bras can offer support for those who have health issues to consider, including arthritis. When you are hindered in making regular movements, you should get front closure bras or those with velcro fastenings.
Lifestyle
You should also consider your lifestyle when buying a bra. Do you live a more active lifestyle? A sports bra would be a better option for you.
Budget
Bras are generally available at a vast price range. If you are seeking higher quality, there's a chance that you'll be required to pay a more expensive price. However, they will last you longer, and they can handle more wear and tear.
Tips To Get The Perfect Bra Fit
For most women, bra shopping is frustrating, disappointing, traumatic, or a mixture of all of them. Many women live their life handling straps digging into their skin, slipping off the shoulders, or even some breast slippage.
Don't let this happen to you; try out these tips:
Know your size and your sister's size. Bra sizes differ from brand to brand. You should also consider researching your "real size" and see if it's a difficult one to shop for.
Round up if your breasts are in two different sizes. Even them out by getting removable pads or a bra cutlet.
Put on a tight shirt, and if you can see the bra or its parts very clearly, you're wearing the wrong size.
Best Bras For Elderly Women In 2022
Are you ready to feel comfortable all day long? Find the best bra for you by checking out our list of bras for older women.
Cost: $17.99 - $29.99
Quality: 92% Polyamide-Nylon + 8% Spandex
Comfort: Wire-free
Coverage: Full Coverage
Function: Racerback Back Support
Wanayou's Women's Zip Front Sports Bra is one of the most comfortable bras you can get in the market today. First, it comes with a front closure zipper, which is extremely convenient, especially for post-surgery conditions. Second, this zipper comes with anti-slide technology, so you don't have to worry about it sliding even while doing activities.
Moreover, the bra comes with removable pads, so you can tweak your look depending on the clothes you want to wear. This bra also comes with a racerback design for additional support.
| | |
| --- | --- |
| Pros | Cons |
| Ideal for active users & post-surgery conditions | Edges might feel too rough |
| Convenient zipper for easy open and close | Straps are not adjustable |
| Removable pads | Not for larger cup sizes |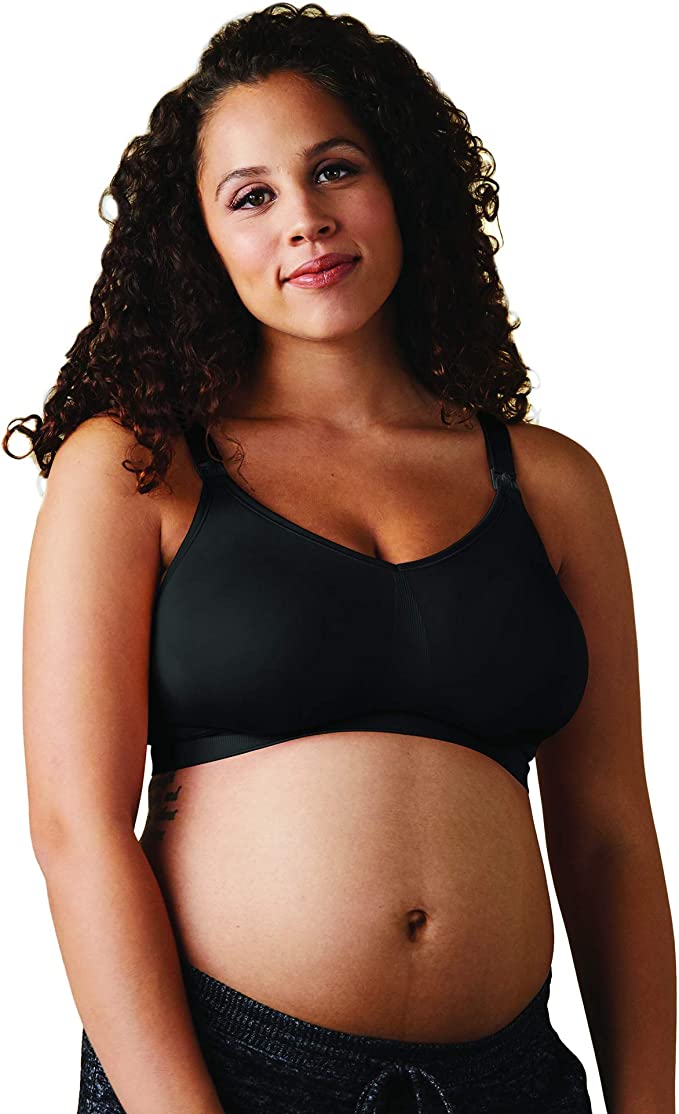 Cost: $31.23 - $50.00
Quality: 81% Polyamide, 19% Spandex fabric
Comfort: Seamless and Wire-free
Coverage: Full Coverage
Function: Ideal for seniors and breastfeeding women
Recipient of the Mom's Choice Award, BRAVADO! DESIGNS Body Silk Seamless Wireless Maternity & Nursing Bra is one of the best bras for older women and nursing moms. It features a four-way stretch breathable fabric that allows ultimate comfort while still retaining firmness, strength, lift, and style.
This bra also features molded cups with shape-defining foams that you can remove if you wish. It also has adjustable and detachable shoulder pads that make it the best bra for breastfeeding. Moreover, it's both comfortable and stylish. Its smooth silhouette makes it blend well with any type of clothing — wear it at home, at work, or anytime you're on the go.
| | |
| --- | --- |
| Pros | Cons |
| Fully adjustable; caters to A to DDD cups | Not the best support for shallow breasts |
| Molded and removable cups | Size chart not accurate, need to size up |
| Best nursing bra | Fabric wears out quickly |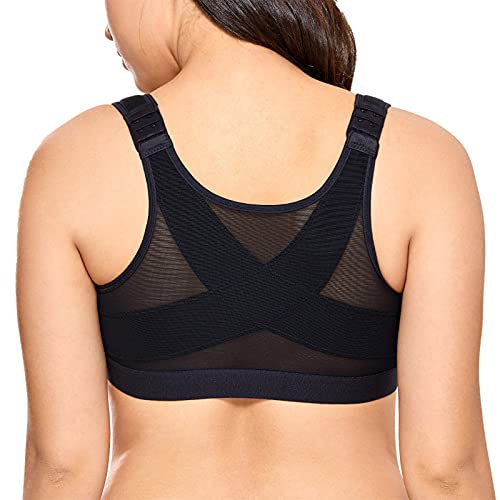 Cost: $21.99 - $23.99
Quality: 81% Polyamide, 19% Spandex fabric
Comfort: Wire-free
Coverage: Full Coverage
Function: Added Back Support
Are you looking for security in your bra to have everything contained in one place? The Delimira's Women's Full Coverage Wire-free Back Support bra would be a perfect choice.
This is ideal for seniors looking for everyday wear. It offers easy access as it comes with a front hook and eye closure, but it also provides maximum support through its crisscross reinforcement and posture correcting technology. With this bra, you get full coverage that will hold your breasts in place with no worries about wiggles and jiggles.
| | |
| --- | --- |
| Pros | Cons |
| Front hook and eye closure convenience | Low-cut is not for everyone |
| Three adjustable positions | Doesn't offer much definition |
| X-shaped back reinforcement to improve posture | Straps are too elastic |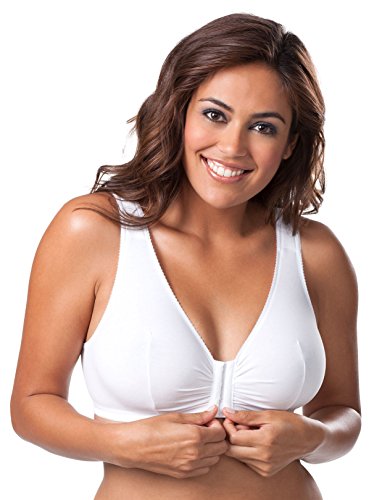 Cost: $13.95 - $36.00
Quality: 90% Cotton, 10% Spandex
Comfort: Wire-free
Coverage: Full Coverage
Function: Ideal for seniors and breastfeeding women
Cotton bras provide an amazing feel and comfort. The fabric is light and breathable making a it ideal for older women. This Leading Lady Women's Meryl Cotton Leisure Bra offers 90% cotton, making it one of the best bras for older ladies.
As a front close bra, this Leading Lady creation makes it a good bra for nursing moms as well as ladies with mobility concerns. It is also free from skin irritating wires but it comes with an elastic underband for more support. This bra also has a wide back design with enough stretch from spandex so it would stay in place throughout the day but still be comfortable enough to wear at night.
| | |
| --- | --- |
| Pros | Cons |
| Contains cotton for the ultimate comfort | Handwash only |
| Can be used for breastfeeding | Sizing chart inaccurate |
| Front closure | Not adjustable |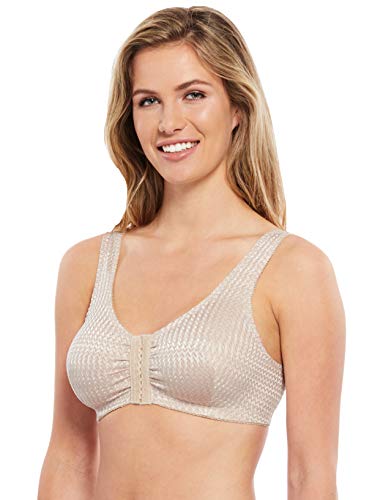 Cost: $14.95
Quality: 85% Nylon, 15% Spandex
Comfort: Wire-free
Coverage: Full Coverage
Function: Light to Medium Support
The Carole Martin Full-Freedom Comfort Bra is one of the best bras for older women, especially for all-day comfort wearing. It offers light to medium support and it also comes with a delicate design. This full-coverage bra offers a multi-directional stretch so you can cover everything without loosening it up permanently.
The combination of nylon and spandex feels so good to the skin. It's perfect while you're lounging around at home throughout the day, as it almost feels like you have nothing on at all. Moreover, you get wide, adjustable straps to relieve the pressure off your shoulders.
| | |
| --- | --- |
| Pros | Cons |
| Multi-directional stretch fabric | Straps may not stay in place |
| Hook and eye front closure bra | Lace on both sides that may cause skin irritation |
| Wide straps to relieve shoulder pain | Hard to see hooks |
Frequently Asked Questions
Do old people wear bras?
Senior women wear bras to provide extra support for breasts after the changes they encounter with age.
What is the average breast size by age?
The average bra size in the United States is 34DD regardless of age. Studies focused on age haven't been developed yet but it is believed that breasts are largest at around 20 to 40 years old.
How do you measure an older woman for a bra?
First, run the measuring tape around your back where the bra band is and finish in the front. Then, do the same toward the fullest part of the bust to the bottom of the shoulder blades. Subtract the first number from the second to identify your cup size.

Getting the best bra for your needs is not an impossible feat. Once you identify the features that interest you and find your perfect size, you'll be able to enjoy the comfort and support that you seek.
For more guides and reviews on the best clothing for seniors, explore the rest of Senior Strong today. Start by reading our list of the best walking shoes for seniors!