For seniors at home, having a pair of comfortable slippers can help them unwind and relax at the end of a long day. Buying a pair with an ergonomic sole, velcro straps, and a fleece lining helps cushion aching feet. Some non-slip slippers may also be used for indoor or outdoor use. Read on to learn more about how to choose proper footwear for seniors.
Why Seniors Like Slippers and House Shoes
Every year, at least 300,000 seniors are hospitalized for hip fractures. Because of this, choosing the right slippers for elderly individuals can truly make a difference in terms of both safety and comfort. Many seniors like slippers and house shoes for several reasons:
Simple & Comfortable: Both house shoes and slippers are easy to put on and provide plenty of comfort. Many are easy to slip on and off compared to an athletic shoe, with easy velcro closure or comfortable wool uppers.
Reduce Pain: Compared to walking in bare feet or socks, a memory foam slipper provides extra support for flat feet. Non-skid slippers can also prevent slips and falls on wet surfaces much better than socks.
Difference Between Slippers And House Shoes
Not all slippers for elderly people are made equal. For instance, safe shoes for the elderly should not include open heel slippers and any shoe with poor arch support. Ideally, soles that prevent slipping in addition to a supported heel cup can reduce heel pain throughout the day.
The terms house shoes and slippers tend to be used interchangeably. However, slippers can come in many styles, including flip flops, open bag slippers, sandal styles, etc. They may also be used indoors and outdoors. On the other hand, house shoes tend to be strictly used indoors.
For walking around the house, doing chores, or napping on the couch, consider choosing a pair of house slippers. On the other hand, if you plan on walking outside with your shoes as well, it's best to choose proper footwear such as non-skid slippers with thicker rubber soles that can offer added traction and protection against the ground.
Best Non-Slip Sandals For Seniors In 2022
This list of comfortable slippers for elderly individuals includes brands with valuable features like a wide toe box, faux fur lining, and a cushioned insole.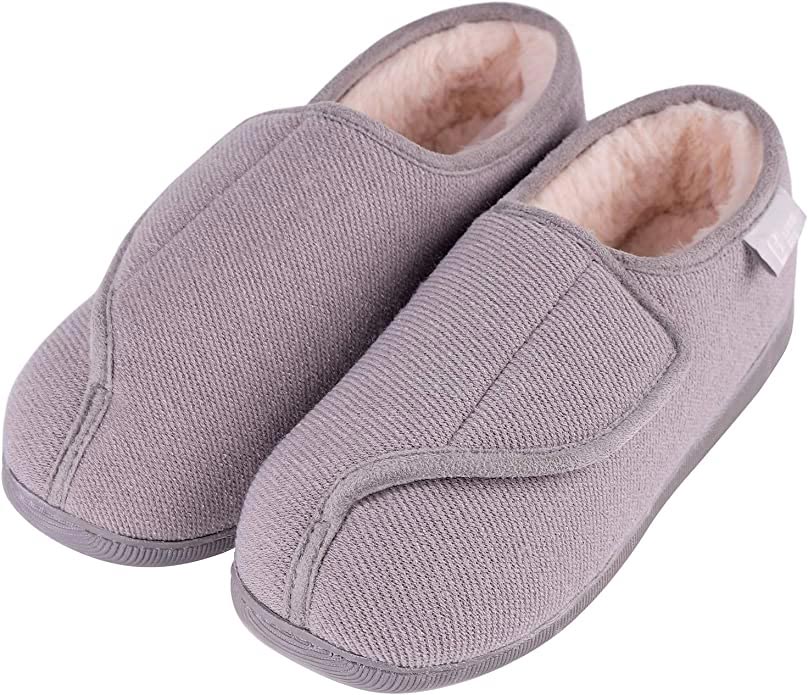 Comfort: High
Closure: Velcro
Support & Stability: Medium
Lightweight: Yes
Quality & Durability: Low
These LongBay slippers have a wool upper with a hook and loop closure for easy wear. The slip-on style is great for swollen feet since the adjustable velcro strap can be easily moved for a tighter or looser fit. The memory foam insoles provide cushion for your feet, while the added support addresses issues like plantar fasciitis for the elderly.
The sole of the slippers is made of non-slip rubber, designed to be worn both indoors and outdoors if you need to pick up the mail or quickly step outside the house. It comes in three different colors, namely light gray, pale pink, and burgundy red, so you can choose the color that matches your outfit the best.
| | |
| --- | --- |
| Pros | Cons |
| Comes with adjustable velcro straps | Build quality can be improved |
| Wool upper helps keep feet warm | May come with uncomfortable tags on the inside |
| Non-slip rubber soles prevent slips and falls | Rubber soles could be thicker |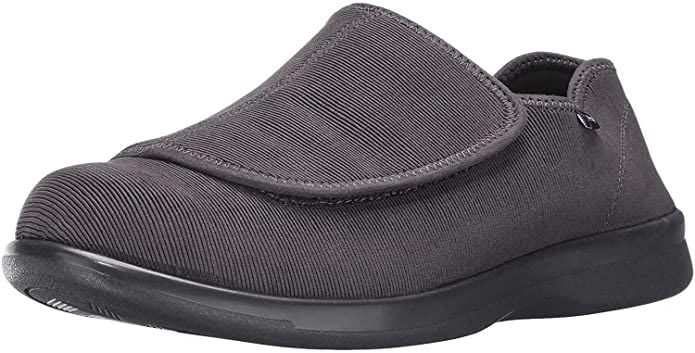 Comfort: High
Closure: Velcro
Support & Stability: High
Lightweight: Yes
Quality & Durability: High
This Cush 'N Foot slipper is made of thick neoprene or stretchable corduroy upper, with an extra large opening and secure hook and loop closure. This makes it easy to put on and take off after a long day. It also has a removable insole for orthotic insoles if you need to replace the cushioning.
The insole is made with a breathable open cell PU that moves moisture from the foot to reduce sweat, while the non-slip rubber sole provides durability and traction for indoor and outdoor wear.
| | |
| --- | --- |
| Pros | Cons |
| Convenient adjustable velcro closure secures feet | Heel could be sturdier |
| Comes in regular and wider sizes | Sizing may run short due to removable insoles |
| Suitable fit and ease of wear for swollen feet | Sole could be more grippy |
Comfort: High
Closure: None
Support & Stability: Medium
Lightweight: Yes
Quality & Durability: High
These Wishcotton slippers are among the best slippers in terms of being lightweight. The largest size only weighs 0.8 a pair, preventing fatigue as you move around the house. The high back lip and closed back heel help keep the slippers snug as you go up and down the stairs, and it is easy to slip on and off as needed.
The memory foam footbed supports the contours of your feet with effective shock absorption, improving comfort. In case the shoe gets dirty, the memory foam insoles can regenerate after washing and drying. Because it is a supportive slipper with a rubber sole, it can also be used to step outside of the house for brief periods, though it is better suited for indoor use.
| | |
| --- | --- |
| Pros | Cons |
| Slip on style is easy to wear | Sizing can be inconsistent |
| Thick rubber sole can be worn outside | Build quality could be improved |
| Washable slipper boots are easy to clean | Material could use some stretch |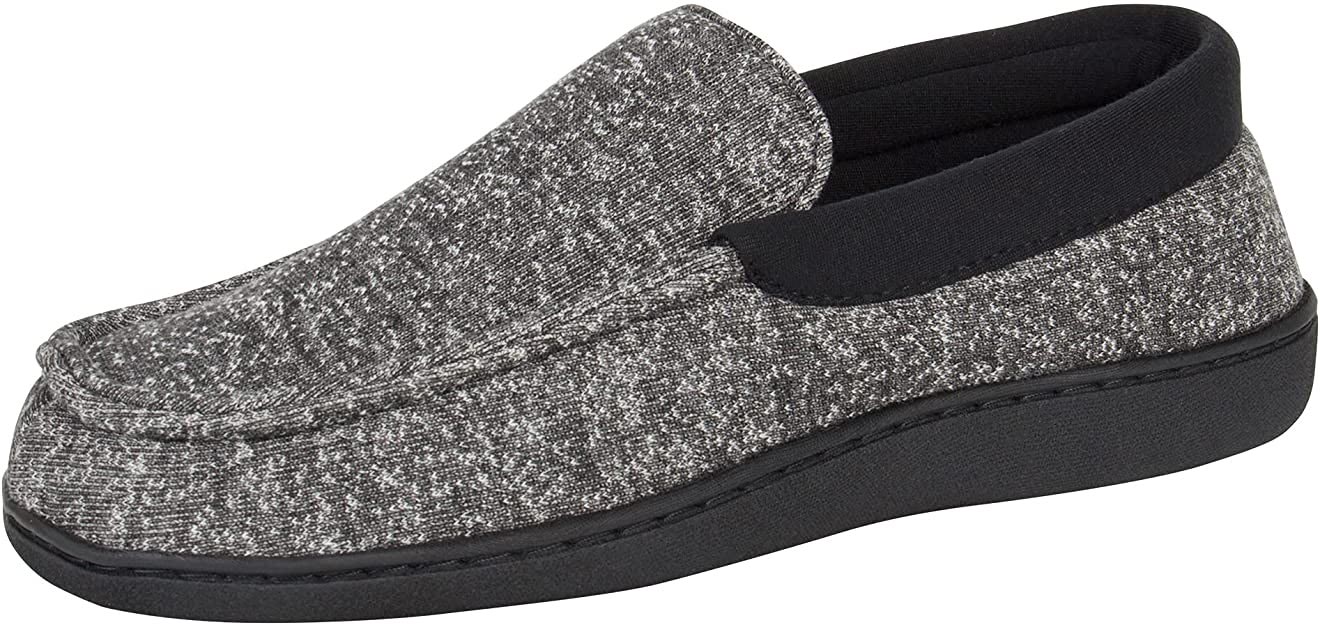 Comfort: Medium
Closure: None
Support & Stability: Low
Lightweight: Yes
Quality & Durability: Low
These slippers have a thick layer of memory foam to cushion your feet. Unlike other slippers for elderly people, they are made with Hanes Fresh IQ advanced odor protection to help keep your feet fresh after long periods of wear. They are safe slippers for indoor and outdoor wear due to the durable rubber sole.
While they do not have a fleece lining on the inside, they are thick enough to keep your feet warm and can be worn with socks. They are available in black, navy, and grey, suitable for men and women.
| | |
| --- | --- |
| Pros | Cons |
| House slippers are machine washable | Not the best for those with foot problems |
| Thick memory foam cushions entire foot | Overall design can be improved |
| Flexible rubber sole makes non-slip slippers suitable for indoor and outdoor use | May quickly wear out over time |
Comfort: High
Closure: None
Support & Stability: Medium
Lightweight: Yes
Quality & Durability: High
The UGG Women's Ansley slipper is made from 100% wool and dyed sheep fur from the United States, United Kingdom, Spain, Ireland, and Australia. It has a rubber sole with plenty of grips and a thick 17mm wool lining and insole to keep your feet warm during cold weather. The suede upper is water resistant, and you can wear it both indoors and outdoors.
| | |
| --- | --- |
| Pros | Cons |
| Authentic wool uppers make it suitable for cold winters | Does not come with a velcro strap |
| Can accommodate swollen feet | Only comes in whole sizes |
| Thick sole makes them safe slippers for indoor and outdoor use | Arch support can be improved |
What To Look For In The Best Non-Slip Sandals
Finding the best flip flops for elderly people can be a challenge. Ideally, you should look for a safe slipper with arch support, memory foam insoles, and velcro closures that easily accommodate swollen feet.
There are plenty of designs with fuzzy linings, multiple straps, a wider toe box, and shock absorption.
Comfort: Look for useful features like a roomy toe box, slip on style sandals, and a faux fur or wool lining for comfort during cold weather
Closure: For seniors, a velcro strap or adjustable straps can promote ease of wear compared to complicated buckles or ties
Support & Stability: Seniors are more prone to balance issues, so look for a slipper with a wider sole, ankle support, and a memory foam insole for greater stability
Lightweight: A fleece lining keep feet warm in the winter, or breathable material is a good option in the summer, as well as lightweight slippers
Quality & Durability: Soft-soled slippers may not last as long as non-slip slippers, so look for a style with extra grip if you are using them outdoors
Frequently Asked Questions
Here are some common concerns and questions of shoppers when choosing the best slippers for elderly people.
Are sandals safe for seniors?
Sandals are a good choice for seniors instead as long as they provide enough arch support, a rubber sole, and velcro closure.
Should elderly people wear shoes in the house?
Elderly people should wear close-backed and safe slippers at home, especially in winter. It can increase comfort and stability compared to walking on bare feet or socks.
How can an older person get up off the floor?
An older person can get off the floor by rolling on their side to their stomach, slowly pulling themselves up to their hands, and finding an object that can help support their body weight as they stand.

At the end of the day, finding comfortable house shoes and slippers can address heel pain and discomfort at home. A pair of lightweight slippers with a memory foam insole can be beneficial for cozy nights and afternoon naps.
Quick Guide- Best Gripper Socks For Elderly Folks
Read on to learn more about the best shoes for the elderly with balance issues on Senior Strong today!