Many seniors experience difficulty tying their own shoelaces or bending down to put on their shoes. Specialized senior products like hands-free shoes or slip-on shoes can be easily worn without any complicated buckles or straps that get in the way.
There are plenty of different comfortable options that can help seniors become more independent in their daily lives. Read on to find one that fits your needs and situation.
Reasons Why Seniors Need Easy To Slip-On Shoes
There are several reasons why seniors should invest in hands-free shoes. These shoes make it easier to participate in physical activity and prevent the aggravation of injuries.
Statistics from the CDC show that in people 65 years or older, 49.6% reported doctor-diagnosed arthritis. Joint pain and balance issues can make it difficult for seniors to tie shoelaces on their own. Below are some other reasons why seniors need hands-free shoes:
Back Pain: Without the proper support, seniors may experience lower and upper back pain that can range in severity. Unlike slip-on shoes, open-back slippers may not provide enough arch support and may worsen existing problems.
Health Problems: Health issues like arthritis, diabetes, and balance problems may make it harder to wear shoes with complicated buckles and higher heels. In contrast, hands-free shoes can provide greater stability and comfort.
Calluses and Feet Deformations: Those with callouses and feet deformations may require the use of specialized insoles that can be easily put in a shoe.
Best Hands-Free Shoes For Seniors In 2022
This list of hands-free shoes for seniors is some of the best casual and fashionable options in the market today.
Comfort: Great
Ease Of Use: Good
Support & Stability: Great
Quality & Durability: Good
This slick and sophisticated leather slip-on by Taos has a sturdy rubber sole, large side zip, decorative stitching on the vamp, supportive curves, and pods removable footbed. The footbed provides plenty of arch and metatarsal support, while the zipper provides added accessibility. It comes in a black and a steel grey color for added versatility.
Although it comes in half sizes, it does not come in a variety of different widths.
| | |
| --- | --- |
| Pros | Cons |
| Arch insert is removable in case an orthotic insole is needed | Only comes in two different colors |
| Slip-resistant sole and easy-to-clean leather upper | Lacks different width options |
| Casual shoes can be worn on most occasions | Zipper may be inaccessible for some people |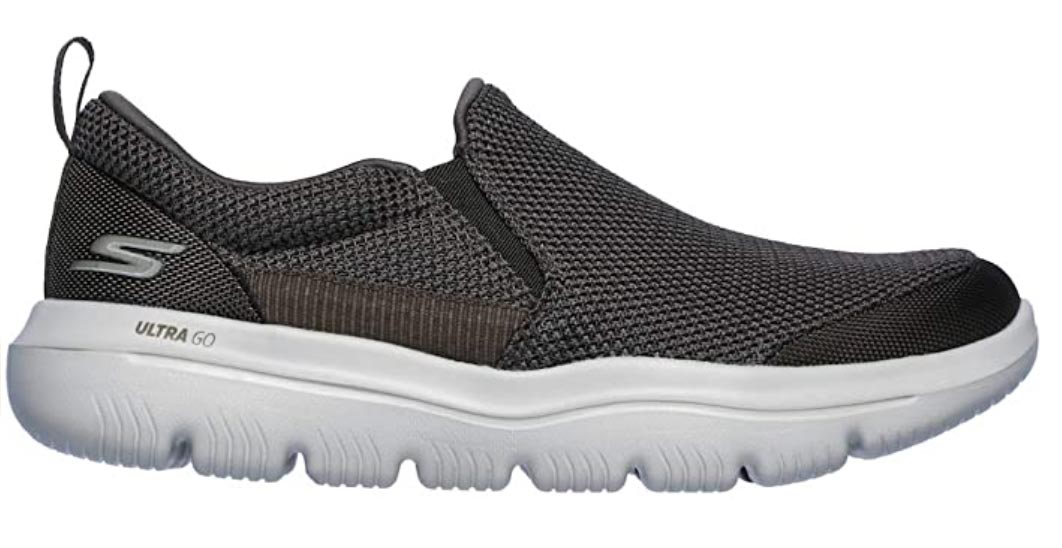 Comfort: Excellent
Ease Of Use: Great
Support & Stability: Great
Quality & Durability: Excellent
The Skechers Men's GOwalk Evolution Ultra comes with lightweight and responsive cushioning that provides lots of comfort during long walks and other types of physical activity. The insole system is air-cooled, while the woven mesh upper provides breathability on hotter days.
It comes in a variety of different colors to match different outfits, along with a knit texture detail that's easy to clean. The dual-side elastic panels make it easy for seniors to slide their foot in hands-free, while the toe and heel panel overlays improve the durability of the shoe.
| | |
| --- | --- |
| Pros | Cons |
| Midsole cushion makes it a good walking shoe since it keeps the foot stable | The bottom of the sole may pick up gravel or small pebbles |
| Wide toe box is very roomy and increases comfort | Shoe entry slots could be a bit wider for ease of wear |
| Woven mesh is breathable and makes it a good pair for the summer | Sizing could be improved |
Comfort: Great
Ease Of Use: Good
Support & Stability: Good
Quality & Durability: Excellent
This slip-on by Propet comes in both leather and suede options. It has a stretchable neoprene collar that easily accommodates the foot. The rubber outsole has good traction for slippery or wet surfaces and has been specially tested for slip resistance on vinyl and quarry tile floors.
All styles are machine washable and come in four different widths from Medium, Wide, Extra Wide, and Double Wide.
| | |
| --- | --- |
| Pros | Cons |
| Non-slip sole is great for most surfaces | Lacks memory foam in the shoes |
| Shoes are easy to clean in the washing machine if they get dirty | Quality of the hands-free shoes can be improved |
| Shoes feature a knit version for comfortable shoes in the summer | Opening of the shoe may be too small for some seniors |
Comfort: Excellent
Ease Of Use: Excellent
Support & Stability: Excellent
Quality & Durability: Excellent
The Kizik slip-on sneaker is one of the top hands free shoes for seniors. It has a custom, easy-entry shoe technology that enables you to slide your foot in without causing damage to the back area of the shoe. They are made from premium materials and have a contoured footbed for maximum comfort.
Unlike other shoes, they have been cycle tested 5,000 times in terms of durability, and there is no need to bend down when putting them on.
| | |
| --- | --- |
| Pros | Cons |
| Shoes feature fabric made from 100% recycled plastic bottles | May not be as affordable as other hands free shoes |
| Contoured footbeds promise all-day support breathability | The back of the shoe can be softer |
| 4-way stretch air mesh upper improves breathability | Laces may come untied and be inconvenient for seniors |
Comfort: Great
Ease Of Use: Excellent
Support & Stability: Good
Quality & Durability: Good
The Skechers GOwalk 5 is an excellent casual and athletic shoe that has a wide opening at the mouth. It has a breathable mesh knit upper, comfort pillar technology for support, and a lightweight midsole to prevent fatigue. The heel panel has a quick-fit portal for easy wear. If it gets dirty, it can be machine washable and air-dried.
| | |
| --- | --- |
| Pros | Cons |
| 1 1/2-inch heel height is suitable for seniors | Sizing could be improved |
| Ortholite comfort foam insole layer adds more cushioning and breathability | May wear out quickly over time |
| Supportive midsole makes it a good choice for a hands-free walking shoe | May require a break-in period depending on the shape of your foot |
Comfort: Great
Ease Of Use: Good
Support & Stability: Great
Quality & Durability: Great
These Bruno Marc slip-on shoes have a sporty appearance. They are made from a full canvas upper that provides plenty of breathability. The soles of the shoes are very light and flexible, providing good grip and durability. The elastic at the sides makes them easy to put on and take off for seniors with arthritis or balance issues.
| | |
| --- | --- |
| Pros | Cons |
| Comes in a variety of different colors | Sizing may run large |
| Soft memory foam insole provides added support | May not last as long as other hands free shoes |
| Very lightweight for travel and longer walks | Non-slip sole could be improved |
What To Look For When Buying Hands-Free Shoes
With all the different types of hands-free shoes in the market today, prioritizing these key features can help you find the right pair for your needs.
Comfort: Walking shoes should have a well-padded insole and fit well at the heel and midfoot with enough room in the toebox.
Ease Of Use: Hands-free shoes should ideally have no shoelaces and be easily put on or taken off without any assistance.
Support & Stability: Shoes should have a heel under 1" and have a stable tread that prevents slips and falls.
Quality & Durability: A good hands free shoe is sturdy, can be used for physical activity, is made of breathable materials, and may be water-resistant as well. Most shoes end up having a weakened heel after the constant slipping on and off, so it's important to find a sturdy pair.
Frequently Asked Questions
Here are some commonly asked questions about hands free shoes that can help you narrow down your options.
How can I put shoes on without bending over?
To help you put on shoes without bending over, slip-on shoes or velcro tennis shoes are a good idea. A useful tool is an extra long shoe horn that can be held against the inside back of a tighter shoe so that the foot can easily slide in.
What are the best hands-free sneakers?
One of the best hands free sneakers is the Kizik The Madrid Eco-Knit Slip-On Sneakers. This is because the flexible F1 Titanium Arc in the heel can stand up to repeated wear and tear and doesn't deform, unlike other slip-on shoes.
Should walking shoes be tight or loose?
Ideally, walking shoes should have a snug fit in the heel and midfoot but have enough room in the toe area. A good rule of thumb is to buy a one-half size bigger than your casual shoe size if you are looking for a shoe to wear during exercise.

The most important aspect of buying a slip-on shoe is ensuring you purchase the correct size. Wear the socks you regularly wear and stand up and walk around to test the fit. Walking shoes that feel too tight would cause discomfort in the long run.
Since the back heel may wear out more quickly compared to traditional shoes, it may be a good idea to replace your slip-on shoes more often.
Looking for slip-on shoes? Visit our guide about the best slip-on shoes for seniors today.
Read on to learn more about the best shoes for senior women with balance issues on Senior Strong!