Golden Corral is a family-style restaurant offering a famous buffet of hot meat options, pizza, pasta, fresh vegetables, salads, and carved meats. They claim to be "The Only One For Everyone" since their broad menu serves all dietary preferences, like low carb, paleo, vegan, and plant-based diets. It's a perfect choice for families looking for delicious meals at special prices.
There are also a wide variety of deals and exclusive offers, like the Golden Corral senior discount which is a notable discount for seniors. This is part of Golden Corral's senior discount policies, which aim to offer amazing discounts to the elderly.
The Golden Corral Senior Discount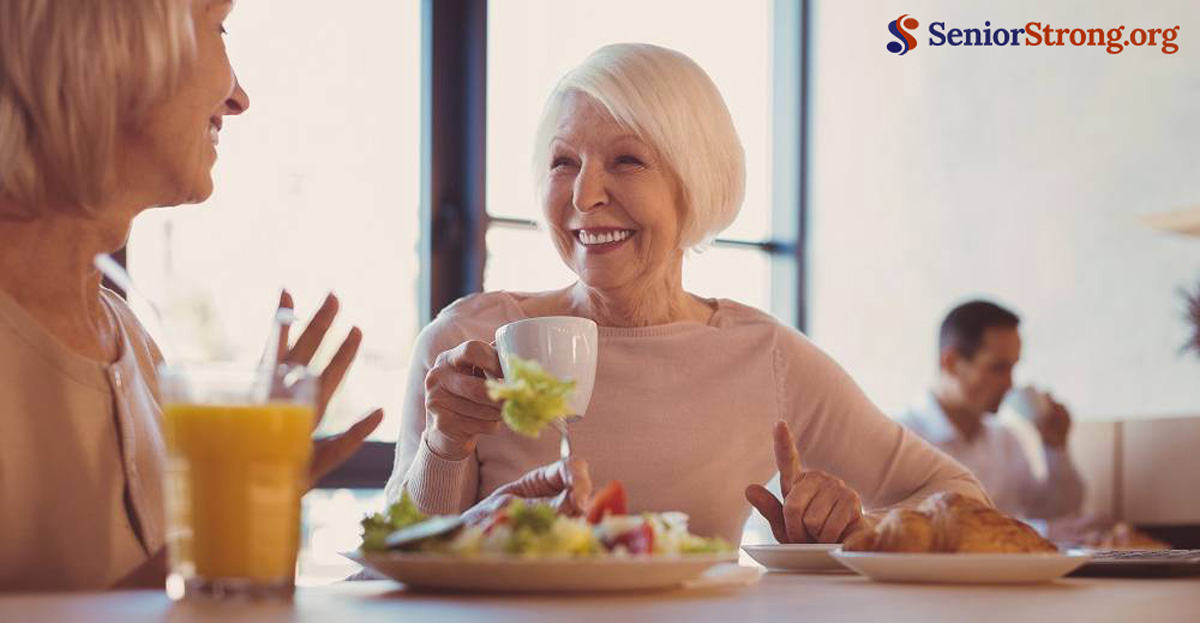 Senior discounts can lead to increased customer loyalty and repeat business.[1] For a chain like Golden Corral, which emphasizes family dining and value, offering a senior discount can be a strategic move to build a loyal customer base.
Golden Corral offers a senior discount of 10% off the total bill for guests aged 60 and over. The discount is available at participating locations only. As a franchised business, different locations have their own versions of senior discounts and other promotions.
Some locations can lower the restaurant senior discount age requirement to 55, while others may give a higher discount. To find a participating location near you, visit the Golden Corral website and, use the restaurant locator tool, and input your zip code. Before dining, you can also ask the nearest store about their promotions and discounts.
How Much Is the Golden Corral Senior Discount?
Golden Corral Senior Discount
Breakfast

Saturday & Sunday (Open – 11 a.m.)
$12.49
Lunch (beverage not included)
Monday – Friday (10:45 – 4 p.m.)
$10.99
Sunday (After 11 a.m.)
$10.99
Dinner (beverage not included)
Monday – Saturday (After 4 p.m.)
$15.99
Sunday (After 11 a.m.)
$15.99
Senior Early Bird Special
Monday – Friday (11 a.m. – 3 p.m.)
$9.99
Please note that these prices are subject to change with no prior notice. It's advisable to contact the restaurant beforehand to confirm.
Additionally, the endless buffet is available on weekends from opening time until 11 am. The lunch buffet is available from Mondays to Saturdays, opening until 4 pm. The dinner buffet is available from Mondays to Saturdays after 4 pm and Sundays after 11 am.
How to Apply Your Senior Discount at Golden Corral
Visit a Golden Corral Location: Find the nearest Golden Corral restaurant. You can use their location finder to find the one closest to you.
Inquire About the Senior Discount: Once at the restaurant, inquire with the staff about the availability of a senior discount. It's best to do this before you are seated or order.
Provide Proof of Age: Be prepared to show a valid ID as proof of your age. Senior discounts typically apply to those who are 55 years or older, but this age requirement can vary.
Understand the Discount Details: Ask for details about the discount, such as the percentage off, specific meals it applies to, and any particular times or days when the discount is valid.
Order Your Meal: Order your meal as usual. The discount should be applied to your bill if you meet the criteria.
Check Your Bill: Before paying, check your bill to ensure that the discount has been applied correctly.
Depending on the location, you may need to provide an ID with proof of your age to qualify for the senior discount.
Additional Golden Corral Discounts For Seniors
For numerous senior consumers, seeking out discounts on items like a meal, a drink, or a fresh pair of trousers is a delightful advantage that comes with age. However, for some, these discounts are essential, particularly as ongoing inflation erodes their purchasing ability. This segment is expanding — 42% of adults aged 50 and above are either employed during their retirement due to financial needs or anticipate having to work.[2]
Aside from the senior discount, there are other ways to save at Golden Corral. To maximize your budget, be sure to check out these tips and combine them with the senior discount for real savings.
Senior Early Bird Special
Seniors get better deals if they decide to dine early. From Mondays to Fridays, if you dine from 11 AM to 3 PM, you can enjoy the dinner buffet menu for only $9.99 per person. That price includes beverages. It's a terrific early bird discount. That's a lot of discounts you'd get just by dining early.
Golden Corral Rewards
Golden Corral's Gold Rewards Club program lets you earn points for every dollar purchased and redeem these points for dollar savings. If you frequently eat at the buffet restaurant, you should sign up for their rewards card. This is the restaurant's way of showing how much they appreciate your loyalty, offering a host of discounts through this reward program.
Signing up is easy, and you can quickly do it using a smartphone. It's also free, so you shouldn't miss out on getting the rewards app. Every time you dine in or order to take out, you should show your rewards app to earn points. Accumulate the points and redeem them when you reach $10 off, or bank them for a special occasion.
When you sign up, you also get a discount coupon of $5 for your next purchase worth at least $25. If you don't have a smartphone, you can always join the Golden Corral Rewards program through their website. Be sure to keep an eye out for exclusive deals offered through the program.
Good As Gold Club
Another way to earn discounts is joining the Golden Corral Good As Gold Club. It's a membership program where you get special birthday treats, free beverages, exclusive coupons, and more. There are also store-specific discounts and promotions, and events exclusive to club members. It's one of the special memberships that regulars should definitely consider.
It's a great way to enjoy the restaurant you've loved since your teens. It can also be an opportunity to connect with other members of the community who share the same passion for good and affordable meals.
Golden Corral Birthday Promo
Traditionally, Golden Corral has been known to offer a free meal to customers on their birthdays. However, this offer may require signing up for their Good as Gold Club or another loyalty program. To redeem the birthday offer, customers typically need to present a valid ID to prove that it's indeed their birthday.
The offer might not be limited to the exact day of the birthday. Some locations allow the coupon to be used during the birthday week or month, providing more flexibility. The birthday offer might require the purchase of an additional adult meal. This condition varies by location.
Gift Cards and Promotions
If you're looking to share the joy of dining at Golden Corral with a loved one, consider the convenience of gift cards. Golden Corral offers gift cards that can be a thoughtful present for various occasions, from birthdays to holidays. These gift cards can be loaded with a specific amount of money, allowing the recipient to enjoy a scrumptious meal while benefiting from any ongoing discounts.
It's worth noting that gift cards can also be a handy tool for seniors to manage their dining expenses, especially when combined with the various promotions available. Additionally, these cards can be used to pay for meals, ensuring that you or your elderly family members are fully informed about the available senior discounts and promotions. Be sure to check the bar code on the back for any special deals linked to the card.
Remember to always verify the latest information about promotions, discounts, and laws related to gift cards by visiting Golden Corral's official website or contacting the restaurant directly.
Frequently Asked Questions
Who is eligible for the Senior Discount at Golden Corral?

Generally, the senior discount at Golden Corral is available to individuals who are 55 years or older. However, age requirements may vary by location.
How much can I save with the Golden Corral Senior Discount?

The amount of the discount can vary by location. It's best to contact your local Golden Corral restaurant to find out the specific discount rate they offer.
Do I need to provide any identification to receive the Senior Discount?

Yes, most Golden Corral restaurants will require a valid ID to verify your age before offering the senior discount.
Is the Senior Discount available at all Golden Corral locations?

While many Golden Corral locations offer a senior discount, it's not guaranteed at every location. It's advisable to check with the specific restaurant you plan to visit.
Are there specific days or times when the Senior Discount is available?

Some locations may offer the senior discount only on certain days of the week or during specific hours. You should verify this information with your local Golden Corral.
Can the Senior Discount be combined with other offers or promotions?

This depends on the policy of the individual Golden Corral location. It's best to ask the restaurant directly whether the senior discount can be used in conjunction with other offers.
Dine At Golden Corral Today!
Take advantage of these money-saving opportunities and make your next meal at Golden Corral a delicious and budget-friendly experience. It's not just about the savings; it's about enjoying good food with great company. With the multiple special discounts and offers available, you can savor a delightful dining experience without burning a hole in your pocket. Indulge in a buffet meal today, and discover why Golden Corral remains a favorite among many families, especially seniors.
Seniors enjoy the homey vibe in Golden Corral because it's such a popular restaurant that they get to reconnect with other old friends while enjoying delicious and affordable meals. They also have branches in Missouri where senior discounts can be availed. So the next time you decide where to dine, look no further. Go to a Golden Corral outlet near you.
If you're craving for fast food, check out Senior Strong's article covering McDonald's senior discount to satisfy those cravings at an affordable price.
Was this article helpful?