For seniors with higher beds, bed step stools can help them get in and out without having to jump or put additional strain on their bodies. As we age, our balance becomes shakier, which means that investing in mobility aids for the home can improve safety and reduce falls on a daily basis.
Learning about the factors to consider when choosing bed step stools can help you find the best type and model that suits your needs. This can include features such as size, material, and durability.
What To Consider When Buying Steps For High Beds
Some factors to consider before purchasing bedside steps for the elderly include:
Handrails: Handrails can provide extra stability for seniors that need something to hold onto while climbing the steps. However, they need to be the right height and sturdy enough to support their weight, especially since older adults are more prone to falls.
Adjustability: Some bedside step stools have adjustable heights depending on how tall the bed is. This can help reduce leg fatigue for seniors. However, fixed step stools can be easier to use, provided that only one person is using them.
Durability: The strength of a bed step is key, especially for heavier seniors. Buying a durable stool can prevent elderly people from suffering dangerous falls as they climb into bed since a poorly constructed stool may wear out over time.
Size: A wider bedside step with a larger surface area for stepping on may be best for seniors looking for more support. If it is being used for travel or if you have limited storage space at home, a smaller collapsible version may be a better option.
Material: Plastic, stainless steel, and wood are all sturdy materials for bed steps. Look for a stool that is easy to clean and ideally waterproof or water-resistant for added convenience in areas like the bedroom, bathroom, and kitchen. Textured rubber grips can also help prevent slips and falls from taking place.
Bed Steps For High Beds For Elderly In 2022
This selection of bedside step stools is among the best options for the elderly in terms of cost, material, and safety.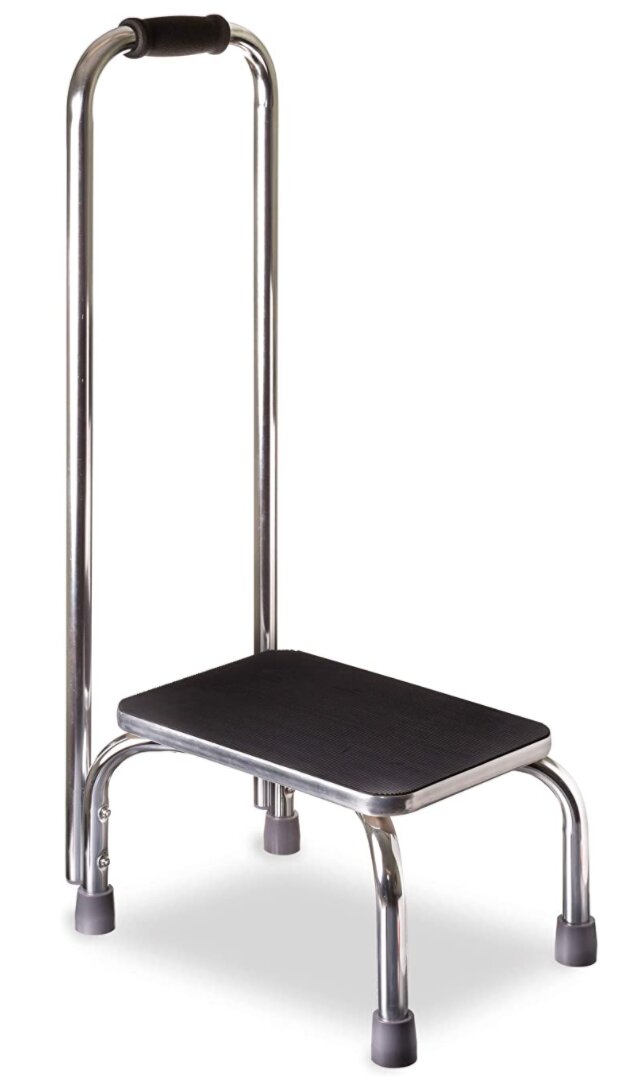 Handrails: Yes
Adjustability: No
Durability: High
Size: 12" x 34" x 16"
Material: Metal
This bed stool is made out of a durable metal that can withstand repeated use over time. The height of the platform from the floor is 9 inches, which is suitable for most seniors. The handle height from the floor is 34", although it is non-adjustable. Because of its size, it may not be the most portable or storage-friendly option for seniors unless it is exclusively used for the bed.
The DMI bed step stool comes with a small wrench, printed instructions, and downloadable PDF instructions as well. However, a Phillips screwdriver is not included as part of the package and is required for assembly.
| | |
| --- | --- |
| Pros | Cons |
| Comes with a sturdy handle with foam grip for greater comfort | Lacks motion-activated LED light for greater visibility at night |
| Has slip-resistant rubber tips, and non-slip matting that prevent falls from occurring | May be too narrow for some larger seniors |
| High 300-pound weight capacity due to strong steel construction | May be difficult to transport during travel or store when it is not used |
Handrails: Yes
Adjustability: Yes
Durability: High
Size: 16" x 12" x 33.5"
Material: Steel
These bed steps come with two handrails for greater safety for seniors. The step and handle height can be easily adjusted to fit your needs, especially if you have a limited range of motion. It also comes with padded non-slip handgrips to prevent pressure in the hands, as well as softer foot and platform pads for greater comfort.
The bed step stool has a clean blue and white design and a powder-coated finish that is rust resistant and easy to clean and disinfect. Sturdy rubber feet prevent marks and scratches on the floor.
| | |
| --- | --- |
| Pros | Cons |
| Has dual handrails for greater safety for those with mobility issues | Some defective models may have stability issues |
| Adjustable step stool can suit seniors of many shapes and sizes | Blue and white color of bedside step stool may not match all interiors |
| No tools required for assembly; can be used straight out of the box | Can take up a lot of space when not in use |
Handrails: Yes
Adjustability: Yes
Durability: High
Size: 18" x 32" x 32"
Material: Stainless Steel
The Step2Bed Bed Rails with a bed step and LED light offers a range of height adjustments suitable for high and low beds. It has an extra-wide design capable of supporting users up to 400 lbs in weight due to the sturdy steel construction. There are also optional velcro straps for further stability.
At night, the motion-activated LED light provides extra illumination to help seniors get in and out of bed without tripping and falling. It can be used on either side of the bed due to its versatility, but may not be easy to pack up and store if needed. The product also comes with a 30-day care guarantee in case of any issues.
| | |
| --- | --- |
| Pros | Cons |
| Comes with motion-activated LED light for fall prevention | Handrails may not be the best position for every user |
| With a handle that helps prevent falls | May be difficult to assemble especially for seniors |
| Extra wide steps accommodate users of 400 lbs | Rubber grip isn't on both handles decreasing comfort |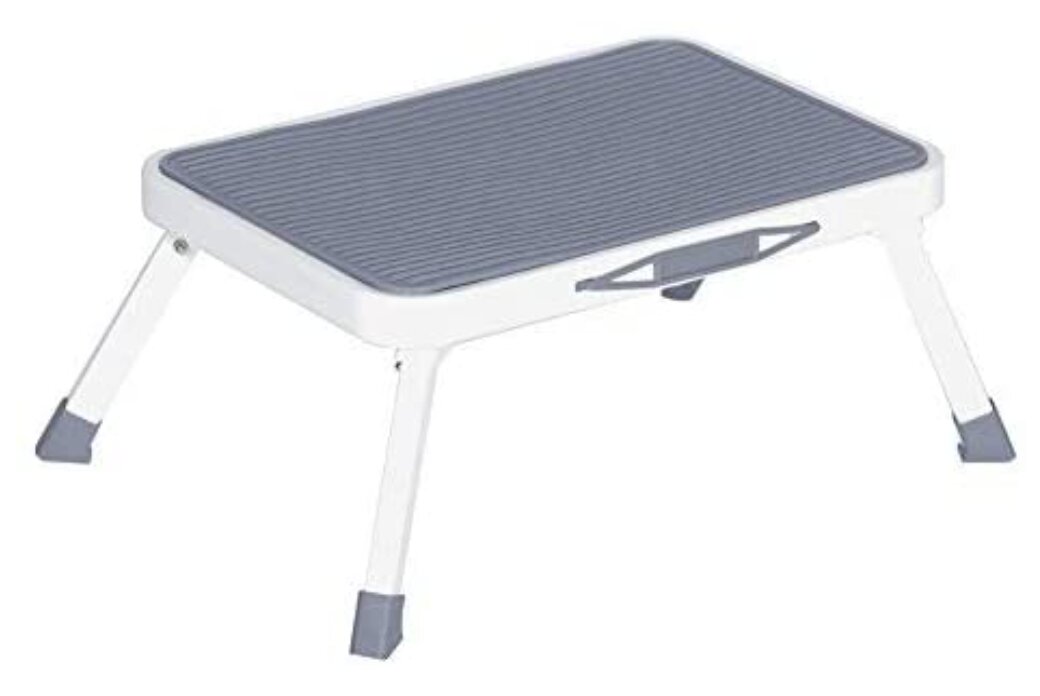 Handrails: No
Adjustability: No
Durability: Medium
Size: 15" x 10.2" x 8"
Material: Steel, PE, TPR
This solid steel bedside step stool has locks on each leg to prevent the stool from buckling when in use. Both the platform and bottom feet of the stool come equipped with anti-skid PE and TPR to prevent it from moving around during use. It supports users weighing up to 330 lbs, with a height of 6.8" that is suitable for most seniors.
Unlike other bed step stools, this model folds up and is relatively lightweight and portable making it ideal for travel or for use in other rooms of the house. It can be stored away in a drawer or a gap between the walls, weighing only 4.07 pounds. It also comes with a handle to make it easier to carry.
| | |
| --- | --- |
| Pros | Cons |
| Easy to use for travel purposes and saves space | May not accommodate users weighing over 330 lbs |
| Anti-skid bottom and rubber grip prevent falls | Quality control could be improved |
| Made of solid steel with locks on each side | May scratch wooden floors due to poor rubber grip quality |
Handrails: No
Adjustability: No
Durability: Medium
Size: 17.34" x 17.14" x 6.11"
Material: Cherry Wood
This step stool is constructed from solid cherry wood in black, white, and brown. It has a sleek and modern design with a polished finish and molded details well suited to most interiors. However, users note that assembly may take time since the holes may not line up perfectly.
The height provided by the two steps makes it suitable for users looking for a higher stool than others in the market. On the other hand, it is important to note that the weight capacity is only 150 pounds, which may make it an unsafe choice for heavier users. In addition, the width of the steps may also be quite narrow, making them difficult to use at night without adequate lighting.
| | |
| --- | --- |
| Pros | Cons |
| Simple wood construction suits many home interiors | Doesn't come with any handles |
| Bed step comes in 3 different colors | May be too narrow for those with mobility issues |
| Two steps add extra height for seniors who need to climb into higher beds | Hardware may be missing and screw holes may be incorrect leading to difficult assembly |
Frequently Asked Questions
When buying bed step stools, here are some common concerns that shoppers have about the safety of bed steps for seniors.
Are step stools safe?
A step stool is safe to use as long as it is being used on a flat surface with good support for all four feet. It shouldn't be placed on top of another object since that would decrease its stability. Additionally, it should also be used in a well-lit environment. 
What are bedside rails?
Bed rails can help prevent seniors from falling off the bed, help seniors get in and out of bed, or help seniors change positions in bed. 
How do you get up on a high bed?
A step stool can provide extra assistance for seniors who want to get into a high bed. This reduces the need to jump or tiptoe, which can be much more difficult for seniors with limited mobility. 

Ultimately, there are several factors to consider when purchasing a step stool for the elderly. Generally, purchasing one with handles can offer greater support and stability for seniors, even if it may be difficult to store and transport.
In need of a bed alarm? Visit our blog about the best bed alarm for seniors to know more.
Read on to learn more about other useful types of mobility equipment for seniors on Senior Strong today!