As seniors age, they may not be able to wear shoes that they wore in their younger years. Wear and tear of muscles result in flat feet, and plantar fasciitis may become more common. As a result, it's important to prioritize comfort over style when buying athletic shoes for the elderly.
The best athletic shoes for seniors have useful features like a breathable mesh upper, padded tongue, and slip resistant sole that are necessary for their everyday exercise and walks or when running errands among other activities. Read on to get a complete break down of the best athletic shoes for seniors to have in 2022.
What Are The Best Athletic Shoes For Seniors In 2022?
To help you choose the proper athletic shoes for seniors, here are some of the best stable walking shoes that provide anatomical arch support, help prevent injury, and improve balance during physical activities.
Price: $129.95
Size: 7-15, Regular to X-Wide
Support: High
Comfort: High
Flexibility: High
One of the best athletic walking shoes for men is the Echelon 8. It is a very protective shoe that has a roomy toe box, a secure fit, and plenty of cushioning to prevent knee injuries. The PWRRUN cushioning provides springy energy return and plenty of durability, reducing fatigue during runs and other sports.
The base of the shoe is very stable and wide to support the entire foot, while the 3D Support Frame adds additional security at the heel counter and prevents the foot from slipping out. The Orthotic-friendly sockliner is very comfortable, and it has removable insoles to accommodate special insoles.
| | |
| --- | --- |
| Pros | Cons |
| Arch support can be replaced | May lack traction on slippery surfaces |
| Padded collar accommodates custom insoles | Could be more durable |
| Good for wide feet | The insole may be too thick for some people |
Price: $69.99 - $364.94
Size: 7-16, Narrow to XX-Wide
Support: High
Comfort: Medium
Flexibility: Medium
The New Balance 928 men's walking shoe has motion control and ROLLBAR stability technologies as well as ABZORB cushioning to help seniors keep their balance during day to day activities. It has a removable insole for added customization and a durable rubber outsole that prevents slips and falls.
When choosing athletic walking shoes for men, it's important to find a shoe with many widths for the most secure fit. This particular pair comes in a range of narrow to XX-wide sizes so you can find the best shoes for your needs.
| | |
| --- | --- |
| Pros | Cons |
| Wide toe box suited for a wider foot shape | May wear out quickly over time |
| New Balance shoes provide great stability | Tongue may be too short for some people |
| Comes in both leather and mesh uppers | Sizing could be improved |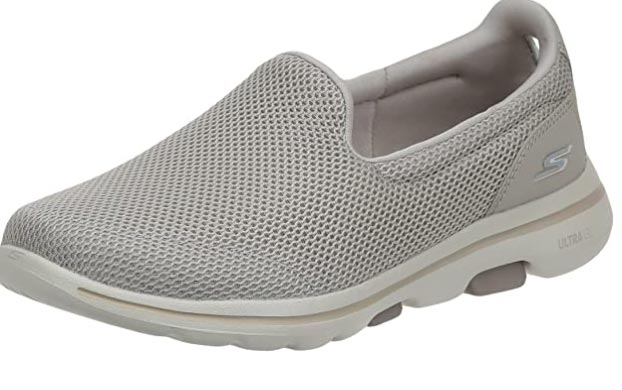 Price: $34.12 - $157.50
Size: 4-13, Regular to Wide
Support: High
Comfort: High
Flexibility: High
When choosing athletic shoes for seniors, ease of wear should be a high priority. This pair of slip on shoes are made of 100% mesh, making it a good pair for those with sweaty feet. The Skechers Air Cooled Goga Mat insole provides additional breathability and helps keep you cool in the heat.
Unlike some other walking shoes for seniors, this pair is machine washable and can be air dried when it gets dirty. It comes in a wide variety of colors to match different outfits and can be used for travel, walking, and other casual activities.
| | |
| --- | --- |
| Pros | Cons |
| Soft lining and breathable mesh uppers keep feet cool | Does not come with laces to customize fit |
| Easy to slip on for those with swollen feet | Cushioning could be thicker for those with joint problems |
| Provides good arch support for brisk walking | Has no leather upper option |
Price: $107.25
Size: 5-13, Regular
Support: High
Comfort: High
Flexibility: Medium
The stylish Adidas DNA sneaker is one of the best athletic walking shoes for seniors. The sock-like fit tightly hugs the foot and supports the arch during indoor and outdoor sports. In the midsole, 20% more boost is added for a springy feel.
The stretchy and seamless synthetic uppers are very breathable and dry easily when wet. Although it comes at a higher price point, the tailored support and sturdy rubber outsole provide plenty of grip to help keep seniors safe.
| | |
| --- | --- |
| Pros | Cons |
| Stylish walking shoe that can be used for running | Doesn't have velcro straps for easy wear |
| Great shock absorption and cushioned midsole | More expensive than most shoes for the elderly |
| Lightweight shoes prevent fatigue | Available only in regular widths |
Price: $19.99
Size: 5-11, Regular
Support: Low
Comfort: Medium
Flexibility: Medium
These Belilent athletic walking shoes for seniors are one of the most affordable options on the market today. They are durable enough for most daily activities including daily walking, driving, shopping, gardening, yoga and travel. However, they aren't the best fit for more intense exercise since they may be too lightweight.
One of their best features is the elastic shoelace top that can be easily tightened or loosened seniors looking to achieve the perfect fit. They also come in plenty of colors.
| | |
| --- | --- |
| Pros | Cons |
| Lightweight shoe can be used for walking and travel | Shock absorption could be more effective |
| Synthetic mesh upper is breathable | Limited cushioning for those with heel pain |
| Elastic laces are suitable for aging feet and most elderly women | Not a good fit for custom orthotic inserts |
What To Look For In Athletic Shoes For Seniors
Since athletic and canvas sneakers come with the lowest risk of falls compared to other shoe styles, they are a good option to have in every wardrobe. Knowing what to look for in a pair of shoes can help you find the best athletic shoes for seniors.
Protection
Ideally, seniors should wear closed-heel shoes for greater stability. This is because open heeled shoes like flip flops don't fit tightly enough creating instability or balance problems.
When walking, sandals are generally more likely to lead to stubbed toes or other injuries compared to closed-toed footwear like sneakers. Sneakers also have greater sole support to prevent pain in the foot arch during long walks.
Shock Absorption
The heel padding wears out with age, so thin, unsupportive footwear isn't suitable for seniors. Ideally, seniors should look for shoes with memory foam and shock absorption to help support the foot with every step. This can be beneficial on hard and rocky ground.
Support
To promote healthy feet, arch support from the heel to toes is essential. This means that the midsole and outsole should be made with sturdy materials to reduce the burden on the knees, back, and arch of the foot. Some seniors may choose to use orthopedic shoes or replace existing insoles for greater support.
Traction
Finding a pair of shoes with a grippy rubber sole can help seniors feel more secure when it rains. A sole that lacks tread may make the wearer stumble, especially on steeper trails, jogs, or fast runs. Since running shoes come with different types of traction and support levels, it's important to look at the surface on which you'll be walking or running.
Flexibility
When choosing the right walking shoes, flexibility is another key factor. Midsoles need to be sturdy and not too flexible since they can lead to a twisted ankle or a rough fall. Some flexibility can be beneficial, but in general, hard and sturdy soles are more resistant to slips and falls.
Frequently Asked Questions About Athletic Shoes For Seniors
Since there are plenty of variations in athletic shoes, here are some common questions and concerns seniors may have when shopping for the right pair.
What are the best sneakers for senior citizens?
The best walking shoes for seniors provide a good balance of cushioning and support. Brands like Adidas, New Balance, and Skechers often have models that can promote better running and walking posture. However, each senior will have their own specific needs so finding the right fit and features is essential.
What type of shoes should elderly wear?
Ideally, elderly people choosing the best walking shoes or slippers should choose a heel that is 1 in (1.6 cm) or lower, have soles that prevent slipping, come with a velcro strap or lace up closure, a firm heel counter, plenty of toe room, memory foam, and a smooth lining to improve comfort.
What is the difference between a walking sneaker and a running sneaker?
While running shoes have a stiffer sole, walking shoes tend to be more flexible. Running shoes also have larger heel cups to prevent feet from slipping out of the backs of the shoes.
For seniors, the best athletic walking shoes for men and women provide sufficient comfort, stability, support, and value for money. Don't forget to replace your shoes after every three hundred to four hundred miles of wear since the tread of the sole is likely to wear out over time, along with the shock absorbency and cushioning. If tying your own shoes proves to be hard, check out the best hands-free shoes for seniors.
Going hiking? Visit our article about the best hiking shoes for seniors for our recommendations.
Read on to learn more about how to choose the best walking shoes for seniors at Senior Strong today!