Seniors who seek independence enjoy activities like walking and gardening. However, they are more prone to accidents than others, so it is important to invest in things that will help them stay safe. For instance, investing in the best walking shoes can do wonders for senior adults.
So, if you have a senior in your life, you should buy them the best gardening shoes to ensure they enjoy their hobby safely.
What Are Gardening Shoes For?
As people grow older, it can get harder and harder to accomplish tasks that used to be simple and easy to do. For instance, though seniors enjoy gardening, they now face the risk of slipping or falling if they and their caregivers fail to give attention to their safety and security.
Aside from providing them with adaptive clothing, it is also helpful to invest in high-quality gardening shoes for seniors.
Is it really important to get a gardening shoe? Won't any type of shoe do the job?
When gardening, you can turn any type of shoe, even a rugged work boot, into a dirty, muddy mess. If you use other shoes, you can expect them to get destroyed right away. But if you invest in gardening shoes, you can easily rinse them off without worrying about their durability.
Moreover, these shoes usually come with a memory foam insole that will give you comfort and won't suck up water and squelch while you walk. They come with a lining that will get rid of excess moisture, plus accidents can be avoided with a non-slip sole.
If gardening is something that you do regularly, the purchase of a good pair of gardening shoes will surely be worth it.
Best Gardening Shoes For Seniors In 2022
Ensure the safety and comfort of the senior adult in your life by knowing the best gardening shoe model on the market today. Here's a quick comparison overview of some of the best ones.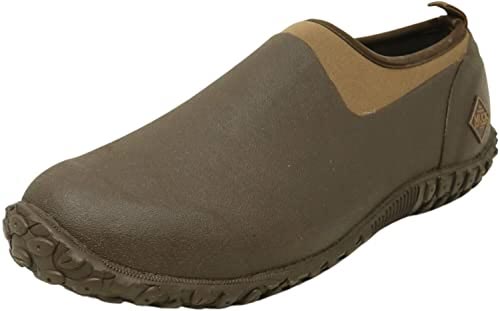 Comfort: 4mm Neoprene with heat retention
Multiple Widths: None
Support & Stability: Rubber sole with shock absorption
Breathability: Air mesh lining
Ease Of Cleaning: Yes
The Muck Boot Muckster Ll Men's Rubber Garden Shoes is one of the best garden shoes for seniors. Although they are fairly lightweight when worn, they can be used in temperatures as low as 18 degrees Fahrenheit. You can rest assured that you will stay comfortable as it comes with a stable design, neoprene insulation, and breathable mesh lining.
These work boots are fully waterproof, so you can wear them even in wet weather. In the warmer months, its mesh lining will wick moisture away so your feet will stay warm and dry. Maintenance will also be easy as its rubber outsole self cleans by readily releasing dirt.
| | |
| --- | --- |
| Pros | Cons |
| Neoprene insulation | May be too warm for all-day wear |
| Thick, grippy sole | The foot opening may be too narrow for some |
| Pull-on tab with an easy on and off | No half sizes available |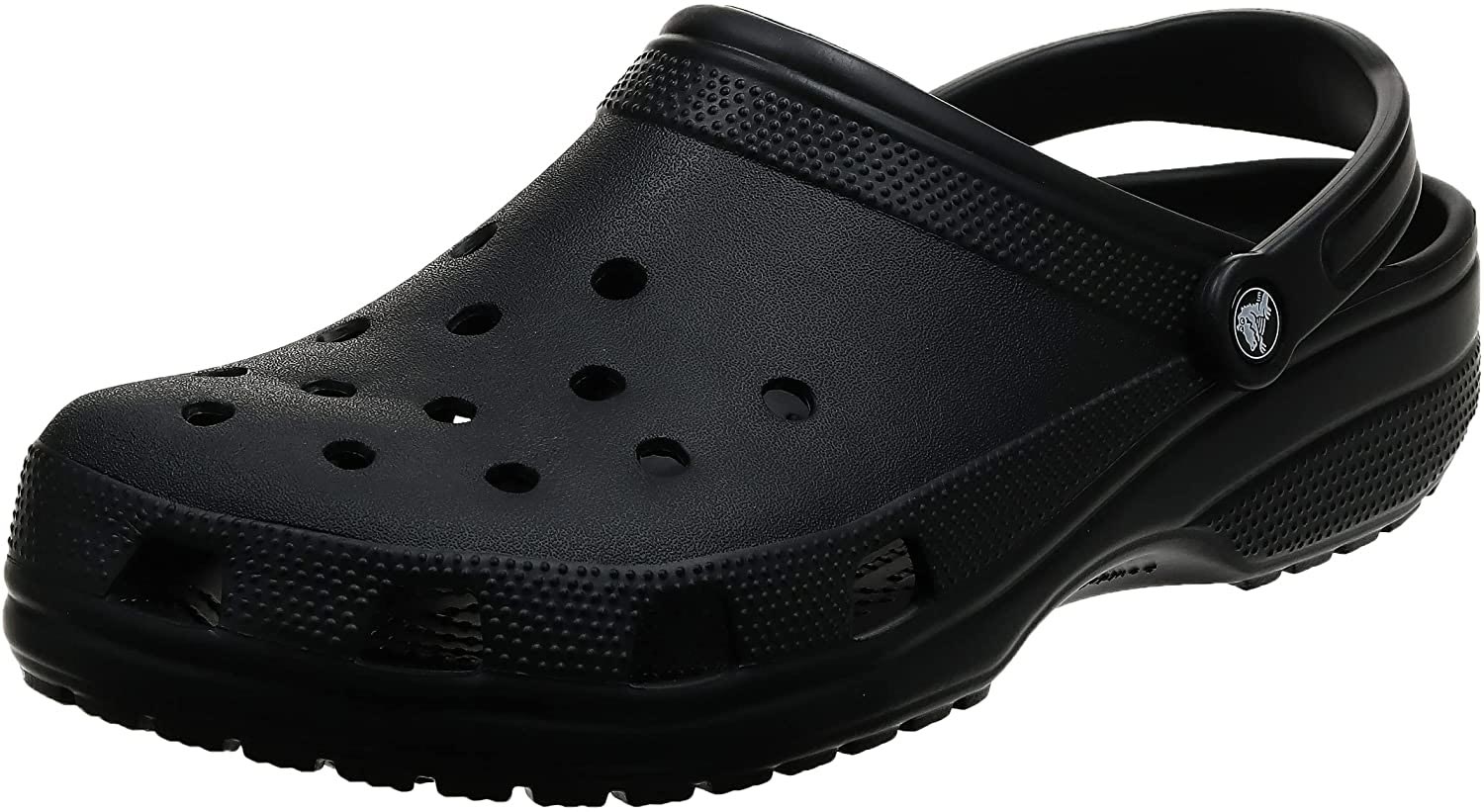 Comfort: Soft, molded foam
Multiple Widths: Yes
Support & Stability: Ethylene Vinyl Acetate sole
Breathability: Ventilation ports
Ease Of Cleaning: Yes
Crocs is a brand that has been synonymous with comfort, so it's not surprising that many people consider them the best gardening clogs in the market today. The Crocs Unisex-Adult Men's and Women's Classic Clog is breezy and generously sized, so they will always be ideal garden footwear, especially in the summer.
These garden clogs are perfect because of their ventilation holes that will keep your toes cool without sacrificing protection. Plus, when the workday comes to an end, you can easily hose off sweat and dirt with no hassle.
With this sturdy pair, seniors have the option to bring down the strap for secure footing. They can also flip the strap up if they prefer a more slip-on vibe.
| | |
| --- | --- |
| Pros | Cons |
| Plenty of color choices | Clog design might leave the heel vulnerable to surgery |
| Flexible, ventilated, and lightweight | Width might be too spacious for some users |
| With patented cushion comfort | Some users recommend sizing up |
Comfort: Certified Occupational Footwear
Multiple Widths: Yes
Support & Stability: Arch support with minimal cushioning
Breathability: Woven acrylic lining
Ease Of Cleaning: Yes
Have you ever thought of elegance when shopping for the best gardening shoes? The Birkenstock Original Super-Birki Alpro-Foam Regular Width delivers something cool and classy that you won't readily expect from a pair of gardening shoes.
The Super Birki is also one of the best unisex garden clogs because of the vegan-friendly, anatomically-shaped polyurethane material. Its durability has also led these garden shoes to be certified occupational footwear due to their excellent traction, even when used in culinary or medical settings.
This pair of Birks will be well-loved by gardening enthusiasts because they are resistant to dirt, and they come with the brand's signature cork-latex footbed liner. They also have removable insoles for easier washing or disinfection when needed.
| | |
| --- | --- |
| Pros | Cons |
| Proven Birkenstock durability | Minimal cushioning compared to other options |
| Replaceable footbed | Foot may slip due to clog design |
| Multiple color options | Feels too heavy for some users |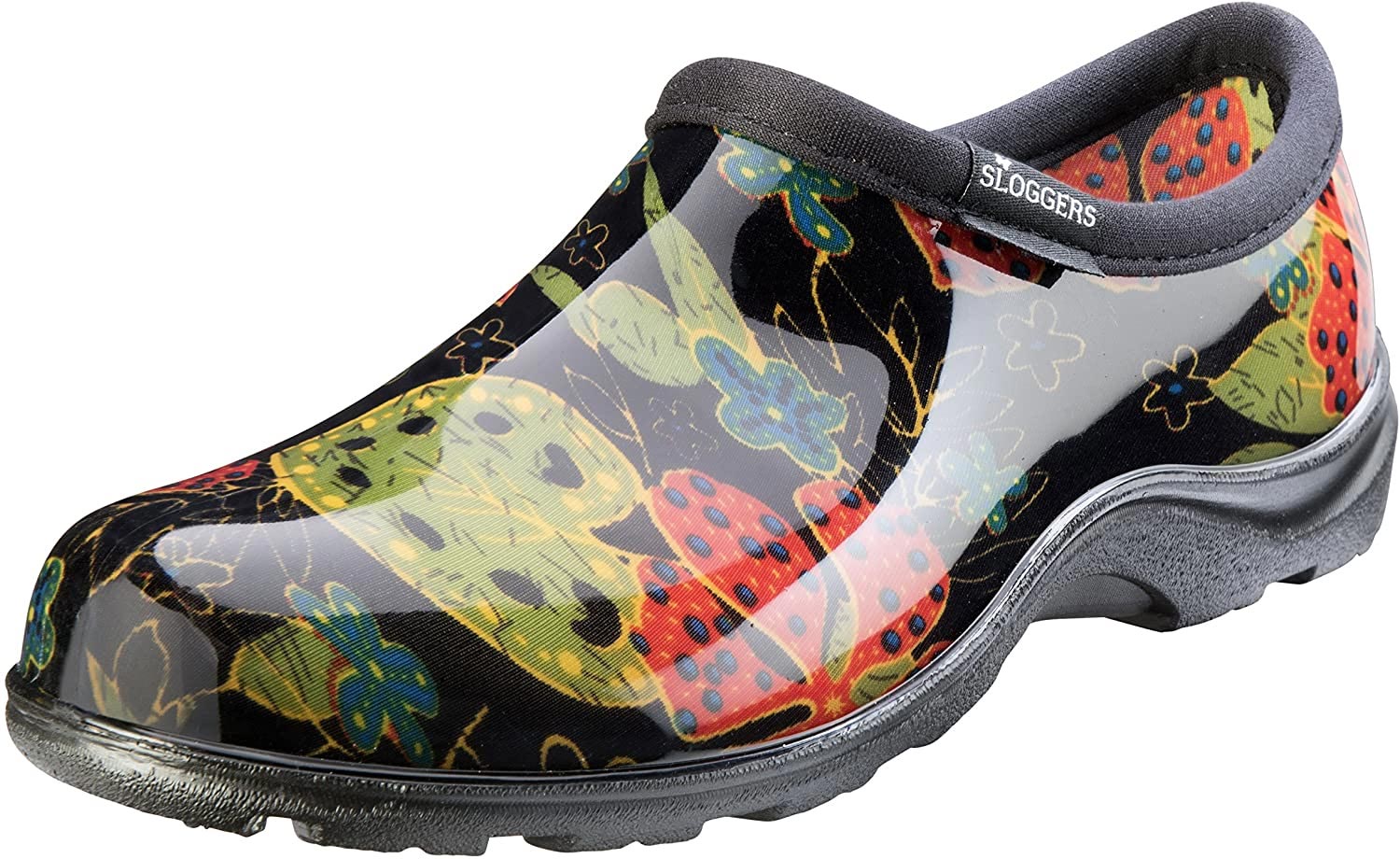 Comfort: All Day Comfort insole
Multiple Widths: None
Support & Stability: Heavy-duty lug tread
Breathability: Resin and lining
Ease Of Cleaning: Yes
Next on the list of the best gardening shoes is the Sloggers Women's Waterproof Rain and Garden Shoe. This garden shoe is made from 100% recyclable, waterproof resin, where 50% of the sole and 100% of the upper part are composed of recyclable materials.
If you are looking for a good pair that you can wear for routine garden maintenance, it's hard to beat this shoe. Though these waterproof shoes will first take your attention from their glossy design, you will also be satisfied with what is inside. This pair also comes with a half-size removable insole if you want a better fit for each garden shoe.
| | |
| --- | --- |
| Pros | Cons |
| Lots of cute patterns available | Less supportive than other brands |
| Comfort insole and heel protection | May be too warm for all-day wear during the summer |
| 50% of each pair is made of recycled material | May be too heavy for some users |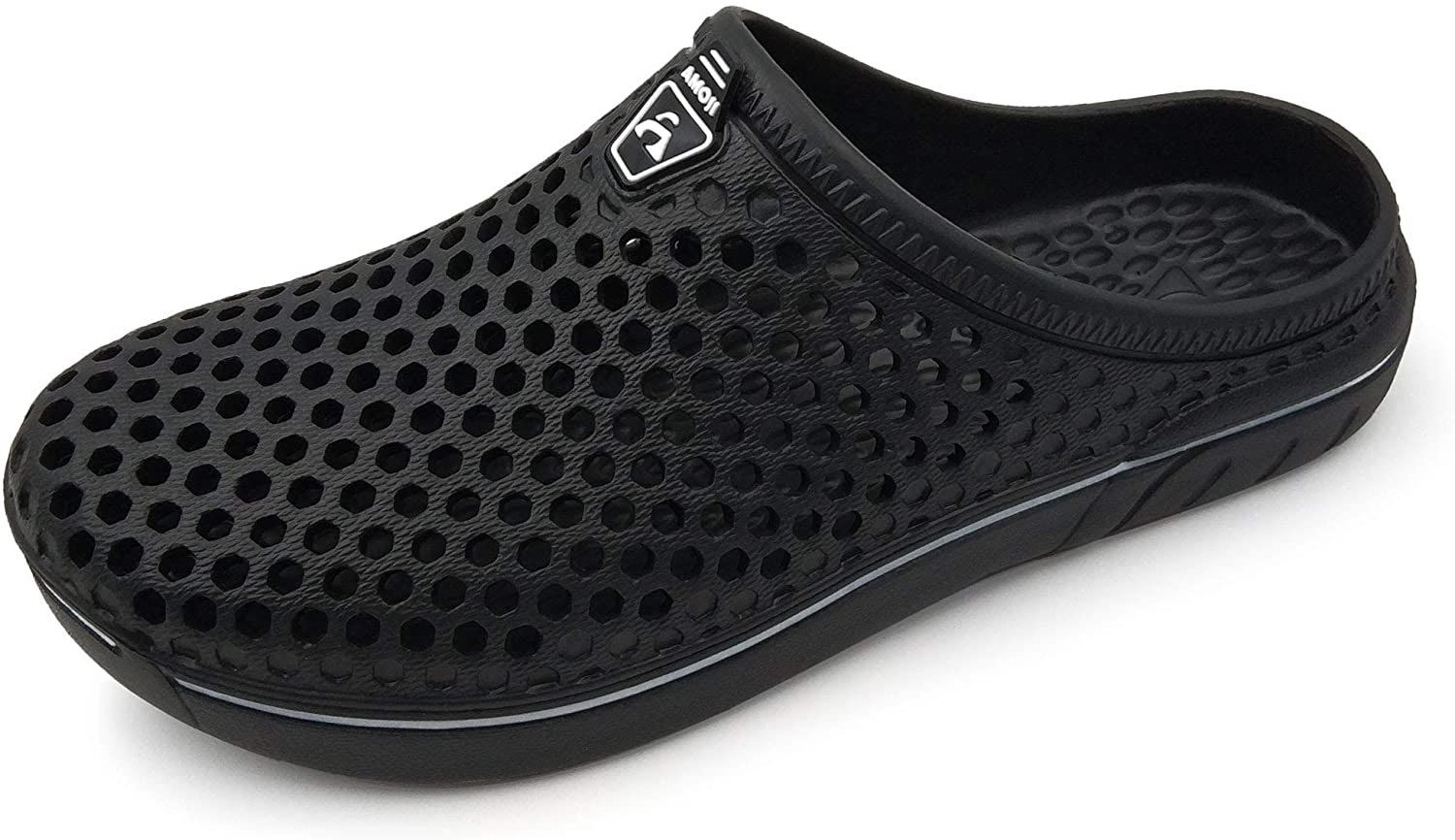 Comfort: Textured, rubber insoles
Multiple Widths: None
Support & Stability: Minimal support
Breathability: Ventilation ports
Ease Of Cleaning: Yes
Last but not least, the best gardening shoes are the Amoji Unisex Garden Clogs. This pair of garden clogs are ideal for people looking for a good deal. It is an excellent option for gardening in the summer because of its lightweight design and easy slip-on and off feature.
Amoji also allows its users quite a lot of choices, with 10 attractive colors you will enjoy. However, note that this model is not made for intense gardening activities. As they are lightweight and filled with ventilation holes, they are more suited for simple activities like watering plants and picking vegetables.
| | |
| --- | --- |
| Pros | Cons |
| Lightweight and easy to slip on and off | May not be the best for heavy-duty gardening |
| Lots of attractive colors to choose from | Arch support needs improvement |
| Textured insoles | Clog design may harm the ankles |
What To Look For In The Best Walking Shoes
With numerous gardening shoes available in the market today, how do you know you are buying the best one? Here are some factors you should consider when you are shopping around:
Comfort: Gardening is a relaxing activity. Ensure you are comfortable throughout by getting gardening shoes that are not restricting and irritating to wear.
Multiple Widths: Some people have narrow feet, while others have wider ones. Find a brand that offers multiple widths so you can ensure a more comfortable fit.
Support & Stability: When you shop for garden shoes, it's best to find something that offers support to the feet, especially as you might need to stand for long periods.
Breathability: Choosing garden shoes made from molded resin or polyurethane helps with breathability. If you want to maximize this need, especially during the summer, it might be best to get shoes with ventilation holes.
Ease Of Cleaning: Seniors don't need shoes that require too much maintenance. It will be better to grab a pair you can quickly hose down and let dry after every use.
Frequently Asked Questions
Make the most of your gardening shoes by finding out the answers to the top questions about them.
How do I keep my feet clean in the garden?
Wearing the best gardening shoes can help keep your feet clean while gardening. You may also wear long trousers to avoid having dirt and debris slipping inside your shoes.
Are gardening and rain boots the same?
Gardening boots and waterproof rain boots are similar. They can both be worn while gardening to protect your feet. However, gardening shoes are particularly designed for gardening activities, while a rain boot is typically worn during colder months to keep the feet warm and dry.
Are Birkenstocks good for gardening?
Birkenstocks offer the best clogs that are perfect for gardening. They have a reliable grip and non-slip features that help in all types of activities.
Gardening shoes don't have to be too complicated. At the end of the day, all you want is something that does the job well. The options mentioned above are the top choices you should consider, especially for seniors
Know The Best Gardening Boots For Seniors to try out.
Learn more about making gardening senior-friendly by exploring Senior Strong today!
Looking for garden kneelers? Visit our blog to learn more about our recommendations for the best garden kneelers for seniors.