As we age, our feet can begin to swell. This is a normal part of the aging process, but it can cause great discomfort and difficulty finding the right shoe. It's important to find the best senior shoes that are comfortable and provide support and cushioning to help alleviate pain, reduce discomfort, and prevent future foot problems.
In this article, you will learn more about the best shoes for the elderly with swollen feet.
Common Reasons For Seniors' Swollen Feet And Ankles
Swollen feet and ankles in seniors are common, and it is important to understand the causes of this condition. Here are some of them:
As we age, our bodies cannot process fluid as efficiently as they did when we were younger. This can cause excess fluid to accumulate in the feet and ankles, leading to swelling. Seniors may also experience more swelling due to decreased activity levels and circulation.
Medications
Certain medications can cause fluid retention and swelling in the feet and ankles. These medications include corticosteroids, non-steroidal anti-inflammatory drugs (NSAIDs), and diuretics.
Underlying Medical Conditions
Common conditions that cause swelling in the feet and ankles include congestive heart failure, kidney disease, diabetes, arthritis, plantar fasciitis, and liver disease. If you have swollen feet and ankles and are unsure of the cause, you must speak with your doctor to rule out any underlying medical conditions.
Top Shoes For The Elderly With Swollen Feet
Swollen feet are a serious issue and are often linked to other medical concerns. With this in mind, you should not take quality likely and make sure you only get the best. To help you get started, here are six of the best shoes to consider for the elderly with swollen feet.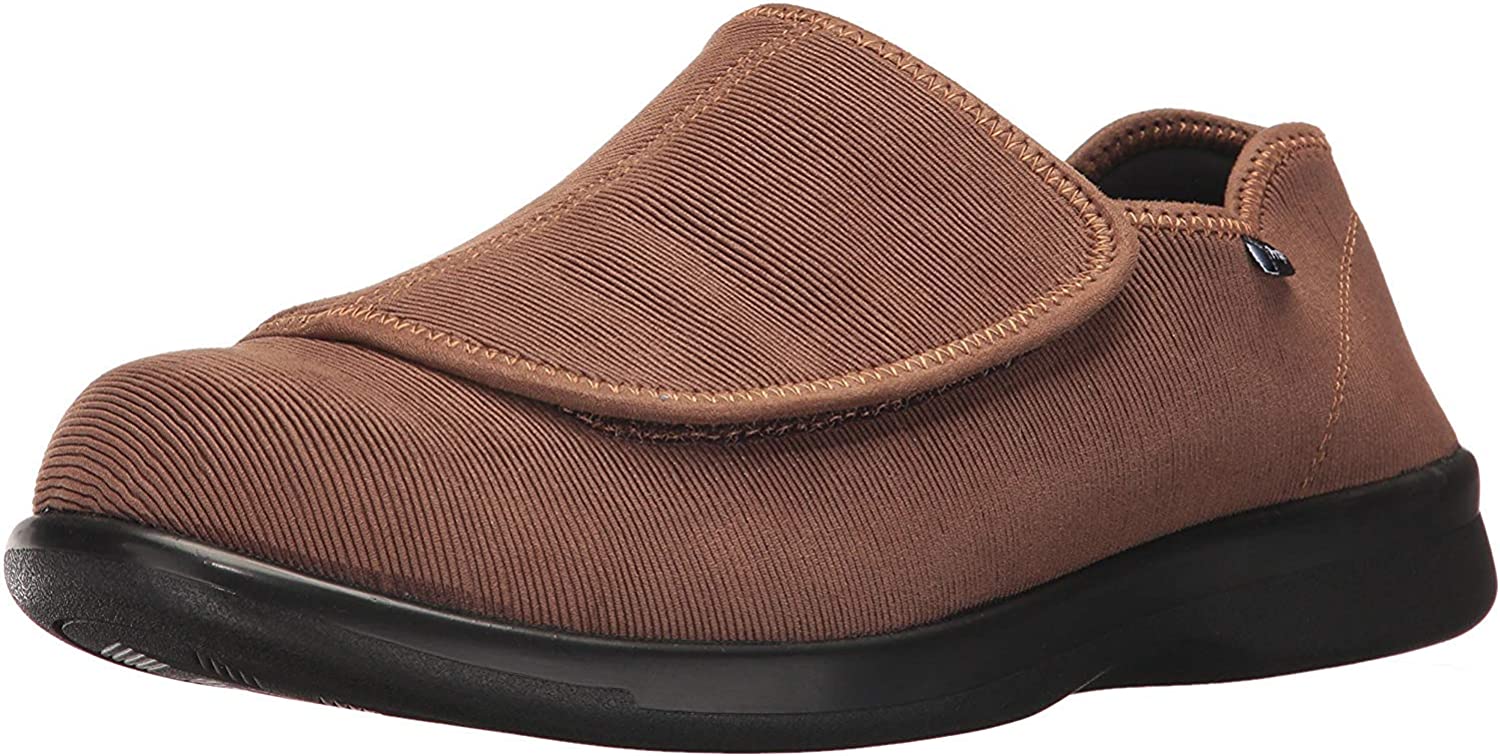 Medicare/HCPCS code A5500 diabetic shoe
Neoprene or Stretch Corduroy material
Extra large strap closure for easy access
Breathable open-cell PU
Removable footbed
The Propét Men's Cush 'N Foot Slipper is the perfect footwear for men, especially the elderly. Just as its name implies, the Cush 'N Foot will cushion the foot carefully with its soft neoprene material. Plus, it comes with a design that delivers both comfort and support, ideal for the specific needs of swollen feet.
Aside from offering a wide range of sizes — from 7 to 16 with various width options, elder people may also select what they prefer from four available colors: black, black corduroy, slate corduroy, and sand corduroy.
Pros:
Removable insoles
Available in regular and broad sizes
Medicare-approved
Cons:
Some consider the shoe's sole slippery
Some users report the shoes easily falling off
Requires closer attention to fit and measurement
Shearling fleece lining
Padded footbeds
Suede leather upper
100% synthetic materials
Removable insole
If you're looking for a classic design for a swollen foot solution, consider the Old Friend Men's Adjustable Strap Slipper. This pair is perfect as walking shoes, especially since you can wear them with all types of outfits.
Because its insoles and lining are made of sheepskin, these elderly slippers deliver comfort and warmth. Plus, the outside is surrounded by soft suede leather with insulation and support.
Pros:
Good traction on the rubber outsole
Features velcro strap for safety and security
Versatile and goes well with various clothing products
Cons:
Inconsistent quality
Not many sizes
Runs in smaller sizes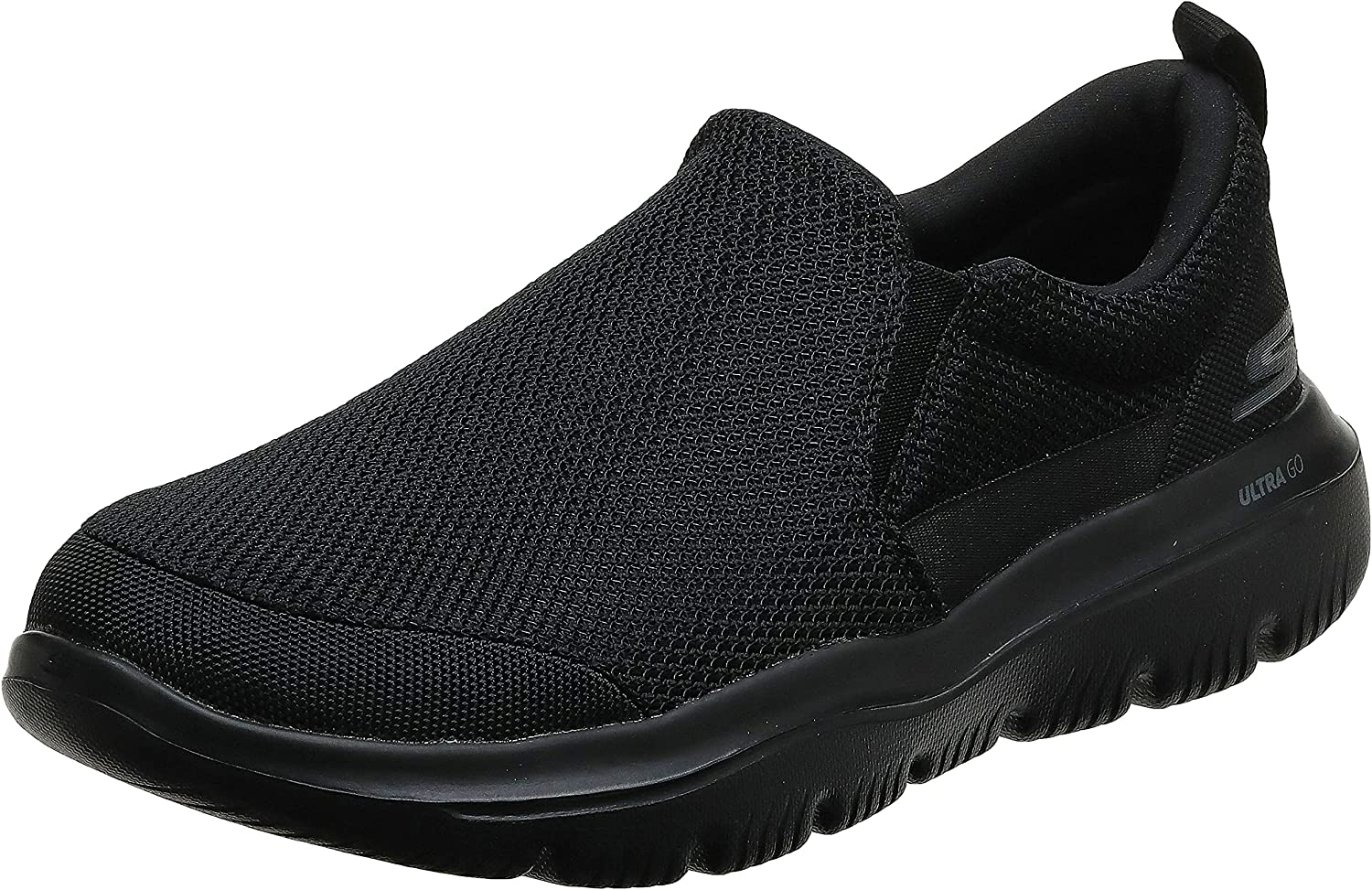 Lightweight, responsive ULTRA GO cushioning
High-rebound ULTRA PILLARS
Air Cooled Goga Mat insole system
Dual-side elastic panels
Soft padded collar
If comfort is what you're after, nothing beats Skechers Go Walk For Men. Many orthopedic shoes are perfect for lounging around, but for customers looking for a product they can wear when visiting loved ones and going out of the house, these sneakers are an ideal choice.
These Skechers pairs also come with the brand's signature memory foam, which means you get comfortable cushioning no matter where you are. Moreover, this brand doesn't sacrifice style over mobility — you can still take your pick from several styles!
Pros:
Shape comes with a tight but comfortable fit
Breathable and cool on the feet
Sneakers you can wear outside
Cons:
May run quite large
Grip may be improved
Limited support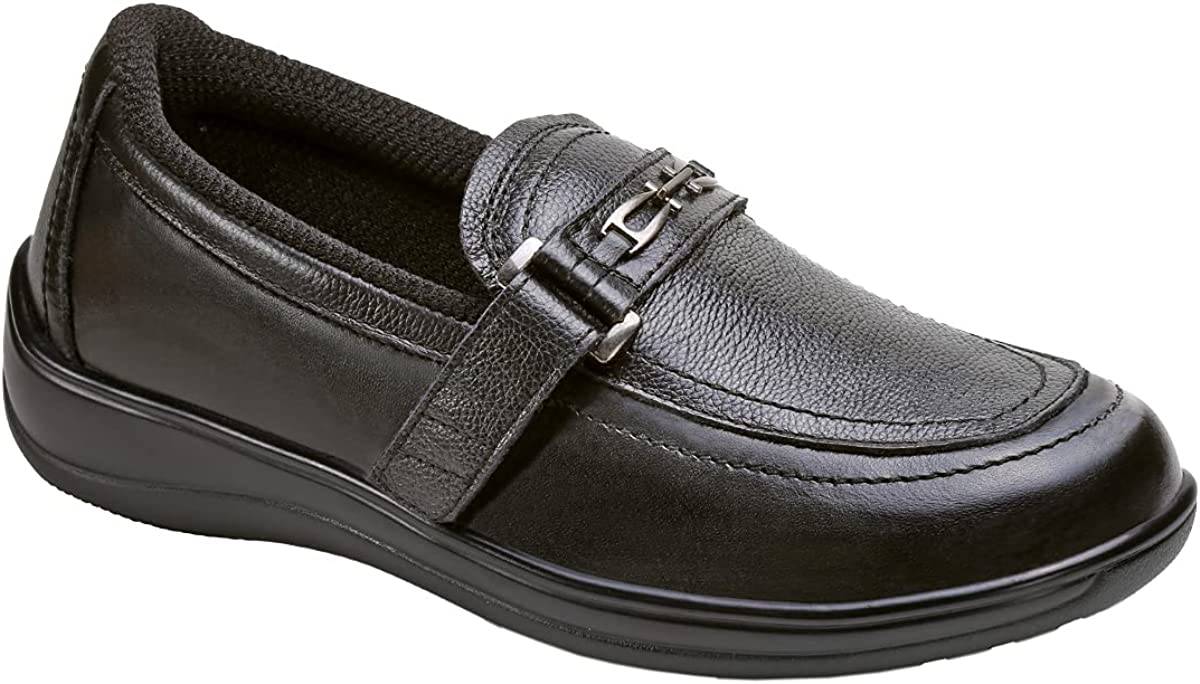 Lycra uppers, orthotic insoles
Heel measures approximately 0.25 inches
Adjustable arch booster
Multiple cushioning layers
Ergonomic soles with a mild Rocker design
The Orthofeet Mary Jane Shoes are considered the best women's shoes for hammertoes and bunions. They feature Lycra uppers that are soft enough to protect the toes and other swelling points from pressure.
The depth and width of the Orthofeet Mary Jane Shoes can support maximum swelling. Plus, the orthotic footbeds deliver cushion and softness for comfy movements.
Pros:
Extra depth and width
Numerous size options
Excellent arch support
Cons:
Lack flexibility
Not as stylish as other models
Review size more carefully
Polyurethane sole
Extra large opening
Secure hook and loop closure
Neoprene or stretchable corduroy upper
Cushioned and removable terry cloth insole
The Propét Women's Cush N Foot Slipper comes from the trusted Propét brand, which means customers in the U.S. may get a doctor's prescription for them and get them for free through Medicare benefits.
Aside from the comfort these slippers bring, their users will also appreciate the shock-absorbing foam midsole and the wide Velcro strap, which reveals ample space for optimum comfort. Moreover, if the elder user has their orthotic accessories, they are free to slip them inside.
Pros:
Easy to put on and take off
Comfortable and flexible to wear
Dedicated shoes for Medicare
Cons:
Limited color options
Not as supportive as others
Sole quality needs improvement
Special air-cushioned sole with arch support
Breathable and flexible textile mesh design
Wide round toe breath cloth
Adjustable closure
Rubber sole
The Git-Up Women's Comfortable Working Nurse Shoes are a perfect way to relax your feet and stay comfortable, whether you are a working nurse or a resident in a nursing home. They are lightweight and comfortable because of their breathable design. But more than that, it is made with memory foam, something that ensures retained quality even with long-term use.
With the particular creation of these shoes, female users can appreciate the help for a number of health concerns, including those with swollen feet from edema, diabetes, and arthritis.
Pros:
Lightweight and easy to wear
Sturdy and durable
Stylish and fit with dresses and skirts
Cons:
Improvable arch support
Sizing needs improvement
Back slips off
How To Choose The Right Shoes For The Elderly With Swollen Feet And Ankles
Shopping for shoes for the elderly with swollen feet and ankles can be challenging if you don't know where to start.
To help you decide better, here is a comprehensive guide on the qualities to look for before you buy shoes for elderly with swollen feet and ankles.
Orthotic Support
Orthotics can provide extra support and cushion to the feet and ankles of the elderly with swollen feet. Look for shoes with built-in arch support and extra cushioning to provide additional comfort and stability.
Design
Choose shoes that have a low-cut design and are made of lightweight materials for maximum comfort. The elderly should also look for shoes with a wide toe box to provide enough space for swollen feet and ankles.
Insoles
Look for an insole with arch support and cushioning, which will help to absorb the impact of walking and reduce the burden on the feet. Additionally, look for an insole with a built-in cushioning layer and a shock-absorbing material to provide extra comfort.
Comfort
Comfort should be a top priority when selecting the right shoes for an elderly person with swollen feet and ankles. Look for lightweight shoes that feature breathable materials.
Fit
When checking the fit, ensure the shoes are not too tight or loose. Additionally, the shoes should provide a snug fit around the ankles and allow for easy movement.
Walk With Confidence And Stay Pain-Free
It's never fun to deal with swollen feet, especially if you want to maintain a sense of independence in your daily life as a senior. The good thing is that the right shoes can make a difference in your quality of life. With the addition of these pairs to your daily wardrobe, you can walk comfortably and confidently anytime and anywhere!
For more information on the best shoes for seniors, you may also check out Senior Strong's guide to the best shoes for the elderly with balance problems.
Was this article helpful?