Seniors today are blessed with all kinds of senior care products that have been designed with their needs in mind. Some of these tools, such as lift belts, maybe things that you never even considered before. Using these tools can improve seniors' quality of life and ensure that they can live their lives in peace and safety.
Read on to learn more about lift belts and how these can be great tools for elderly persons.
What Are Lift Belts?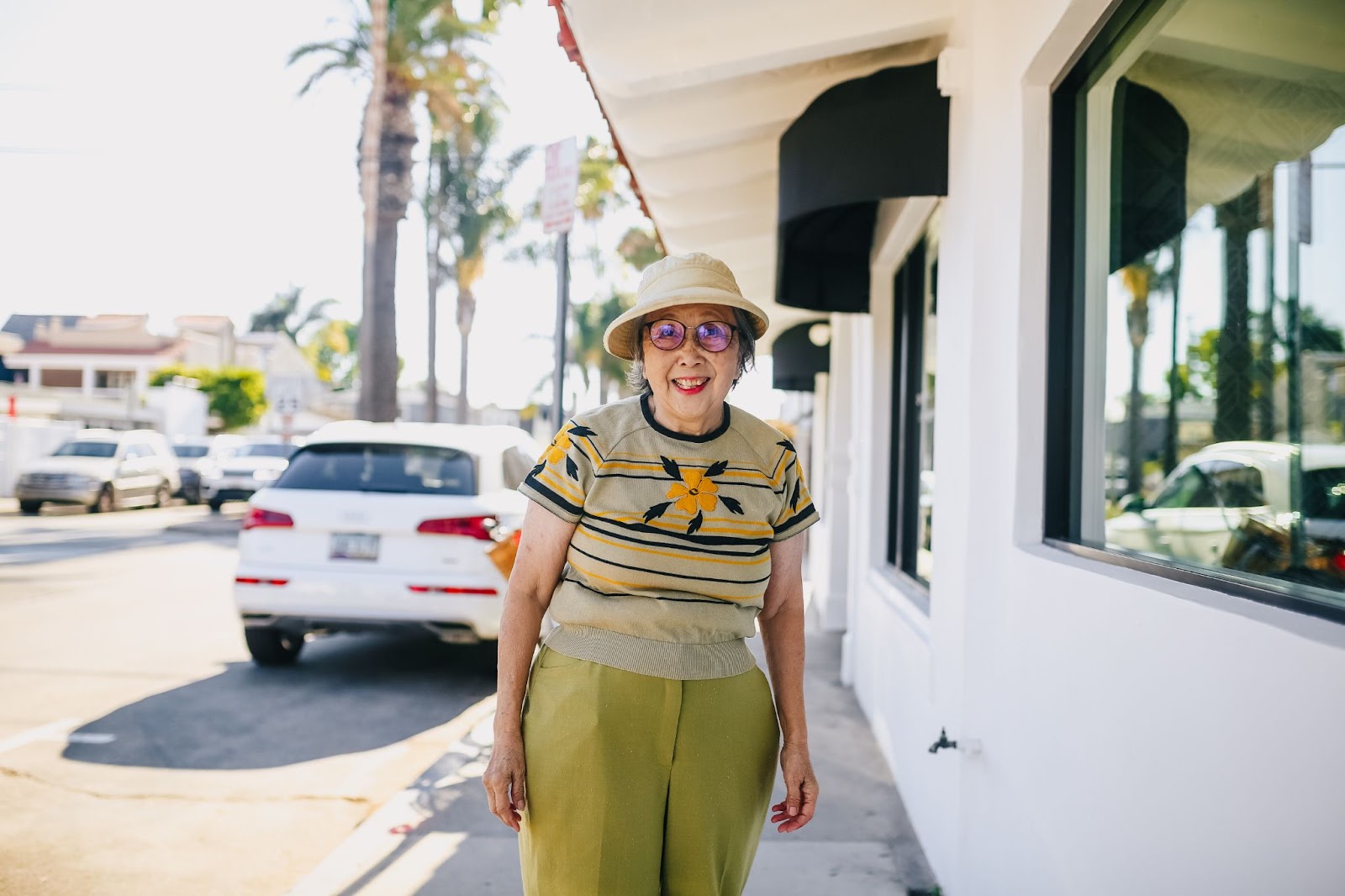 Lift belts are belts specifically for disabled patients, elderly persons, or individuals who lack mobility who have difficulty getting up, standing up, or walking. Also known as transfer belts or gait belts, you place the belt around a person's midsection to add stability. Caretakers will then be able to easily lift the person from a seated to a standing position.
These patient transfer belts can minimize back injuries and can even reduce the risk of falls. These are also affordable and can conveniently be integrated into an elderly person's lifestyle for as long as they wear comfortable and adaptive clothing and can bear their own weight.
Top Lift Belts For Elderly Individuals In 2022
Since gait belts are not too common, we've helped you narrow down some of the best ones in the market in 2022 so that you can find the one that closely matches your needs.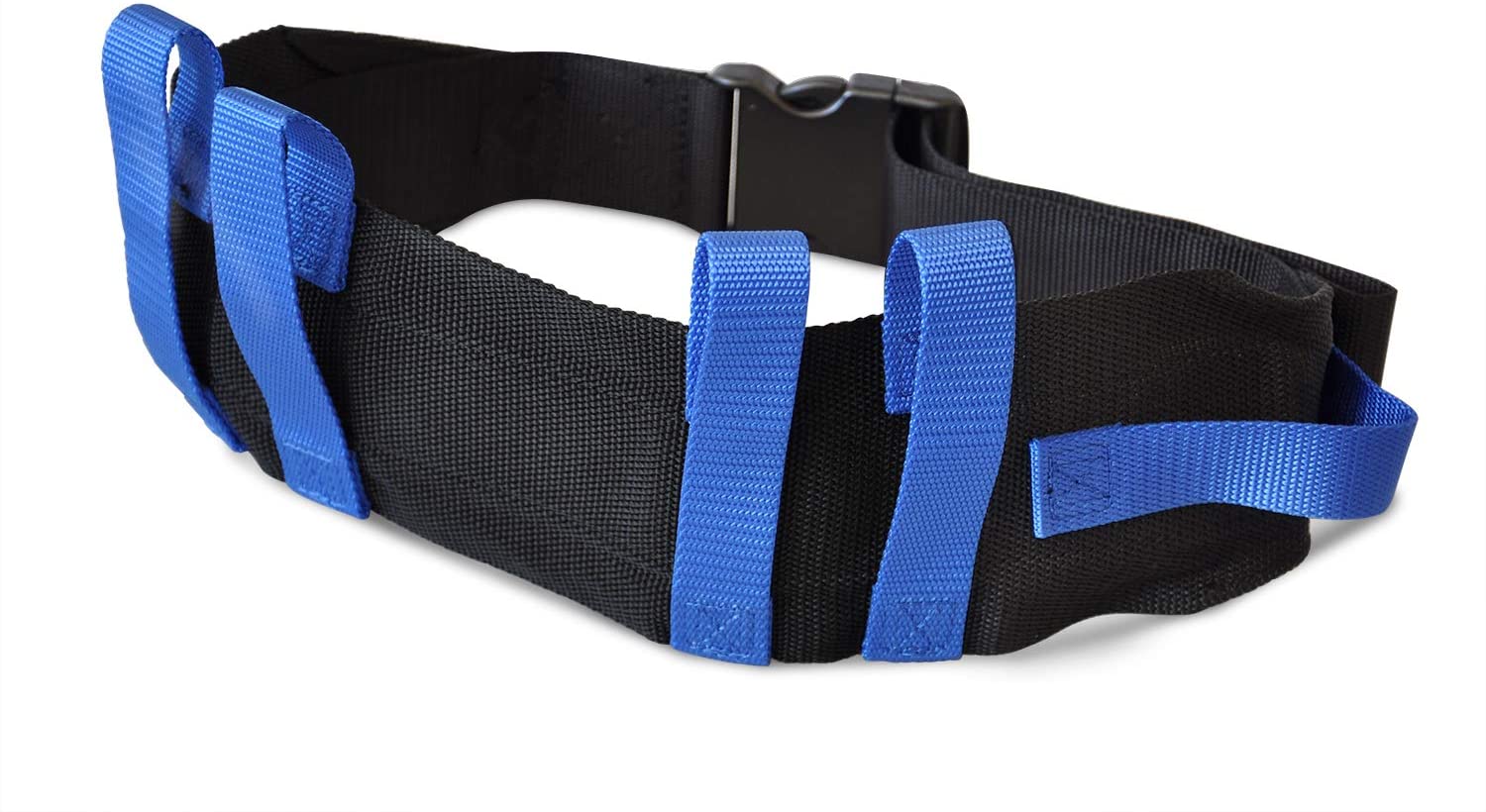 Cost: $18.99
Length: N/A
Waist Size Fit: 28" to 55"
Weight Capacity: Universal sizing
Size Options: None
The NYOrtho Transfer Gait Belt is an ergonomically designed lifting belt that is easy to put on and remove. It comes with multiple handles (six) on the belt itself so that the family member or caregiver can find the most secure grip when lifting the patient. It is very adjustable, fitting waists between 28" to 55".
This lifting belt boasts flexibility since it has a universal weight-bearing capacity. This belt is also wide enough (4") so that it does not dig into the body or cause injury. However, it may not work well with all types of clothing, so be sure to have a towel on hand to avoid unprecedented slippage.
| | |
| --- | --- |
| Pros | Cons |
| Ergonomic design | Prone to slipping with some fabrics |
| Very adjustable | Plastic buckle |
| Lots of grips for caregivers | May not always stay tight |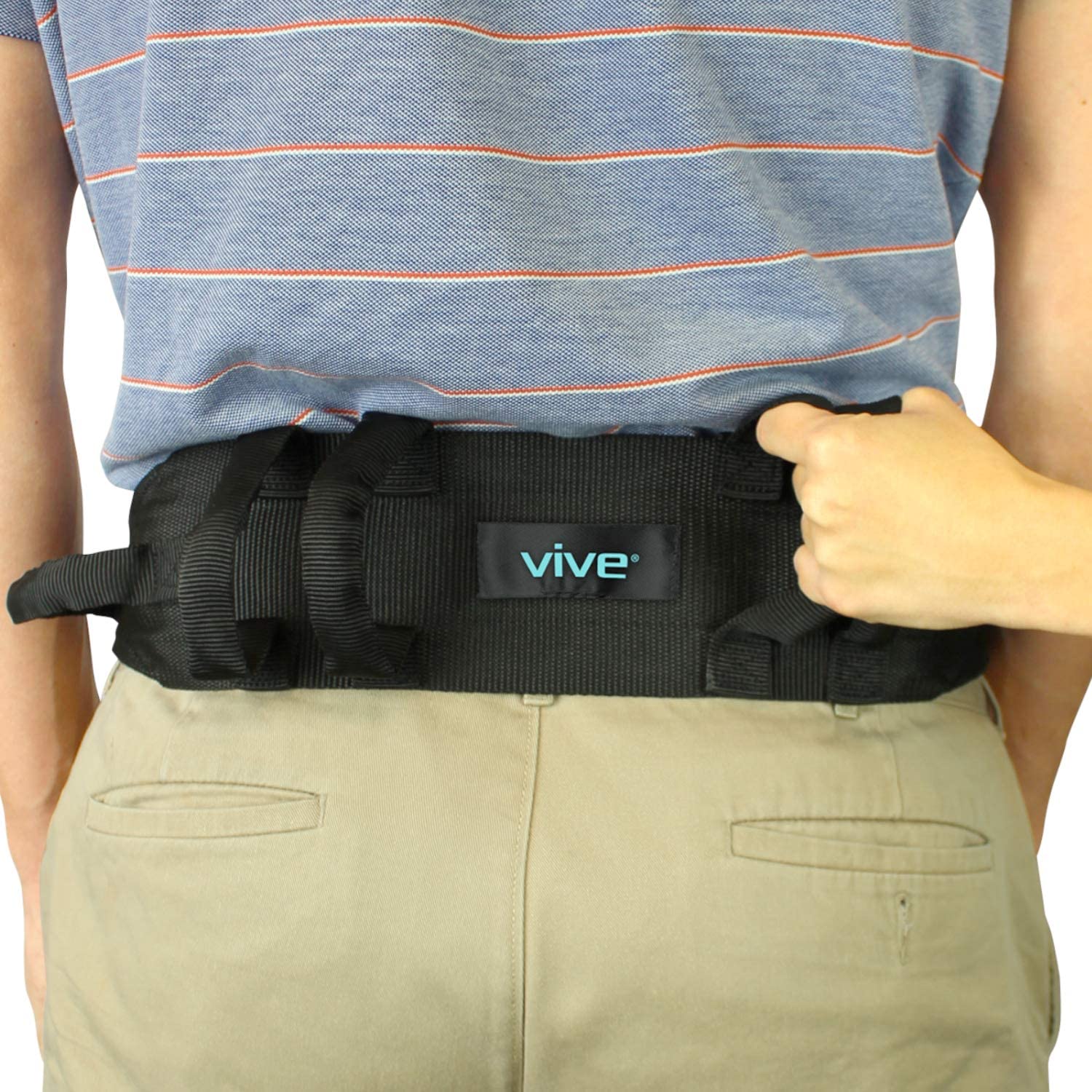 Cost: $19.99
Length: N/A
Waist Size Fit: Up to 51"
Weight Capacity: N/A
Size Options: None
The Vive Transfer Belt with Handles is a top-rated gait belt that has numerous padded handles to make it easier for caregivers to provide assistance and make transfers. This belt is adjustable and can even be used for ambulation or physical therapy.
However, it's important to note that it can be slightly long for those with more narrow midsections. Its buckle is made of metal, which keeps it sturdy when you lock it. It also has locking teeth for better security, but also a quick-release latch which makes it convenient to remove.
| | |
| --- | --- |
| Pros | Cons |
| Six comfortable padded handles (2 horizontal and 4 vertical) | May be too long for some people |
| Easy to remove | Heavy metal latch |
| Made of strong nylon webbing | Not suited for all body types |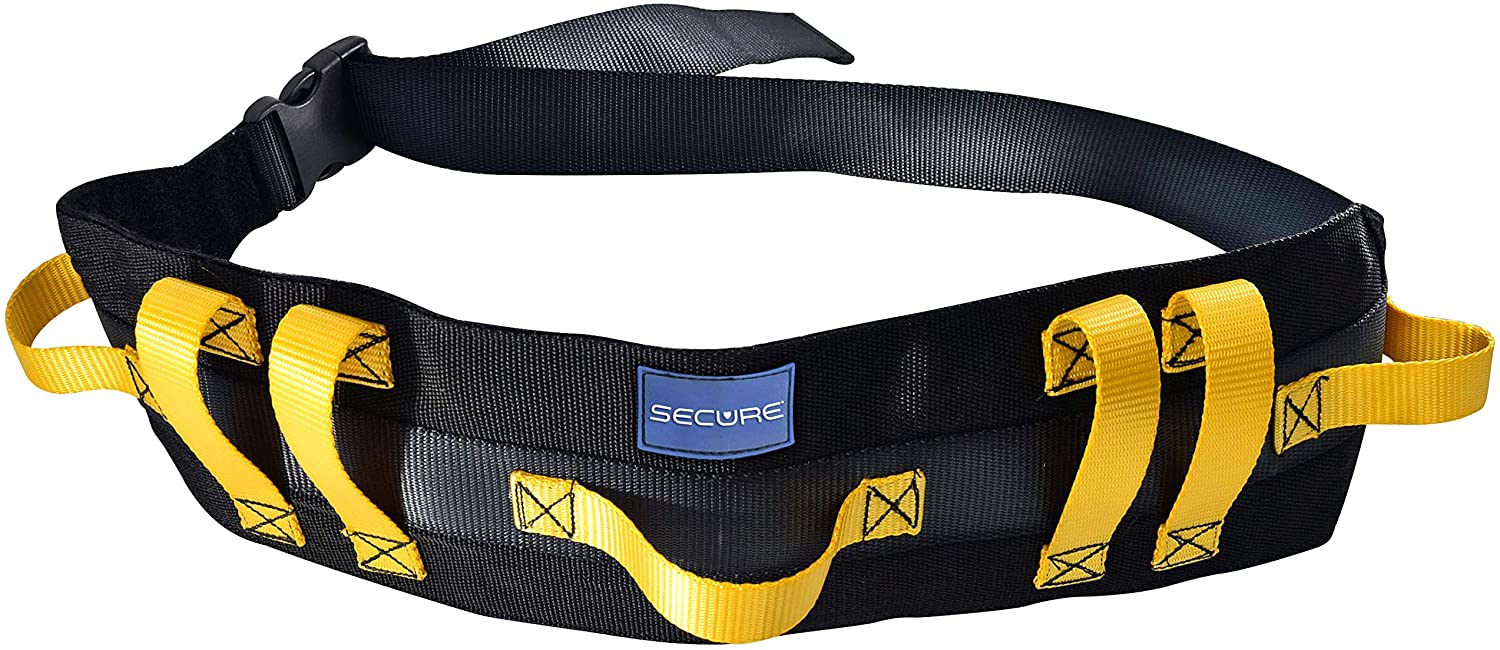 Cost: $18.99
Length: N/A
Waist Size Fit: 30" to 60"
Weight Capacity: N/A
Size Options: None
For a bariatric transfer belt, you can consider the Secure Ultra-Wide Gait Belt as it is specifically designed for those with larger bodies. It has more loops for gripping compared to the average lift belt.
Since it is on the wider side, pressure is evenly distributed for greater comfort and balance. It is extremely durable and even caregivers will find ease when assisting a patient.
| | |
| --- | --- |
| Pros | Cons |
| Seven caregiver handles | Harder to adjust when standing |
| Made for those who have larger bodies | Handles are not padded |
| One-year replacement guarantee | May have the tendency to slip with some materials |
Cost: $37.99
Length: N/A
Waist Size Fit: N/A
Weight Capacity: 150 kg maximum
Size Options: None
The Vive Transfer Sling is a different kind of lifting aid for elderly people because it does not use the traditional buckle. It comes with an optional belt if you want added security for the elderly person, but the sling itself is also made with a non-slip material so that there is no friction or skidding.
It has two wide padded handles so that a family member or caregiver can secure a tight grip on the device. Plus, the waist strap also features a quick-release buckle for easy transport.
| | |
| --- | --- |
| Pros | Cons |
| Two uniform padded handles | Bulky if carried around |
| Made with non-slip material | Extra handles or extensions may be distracting |
| Sling is 9.65" | May take some time and practice to use |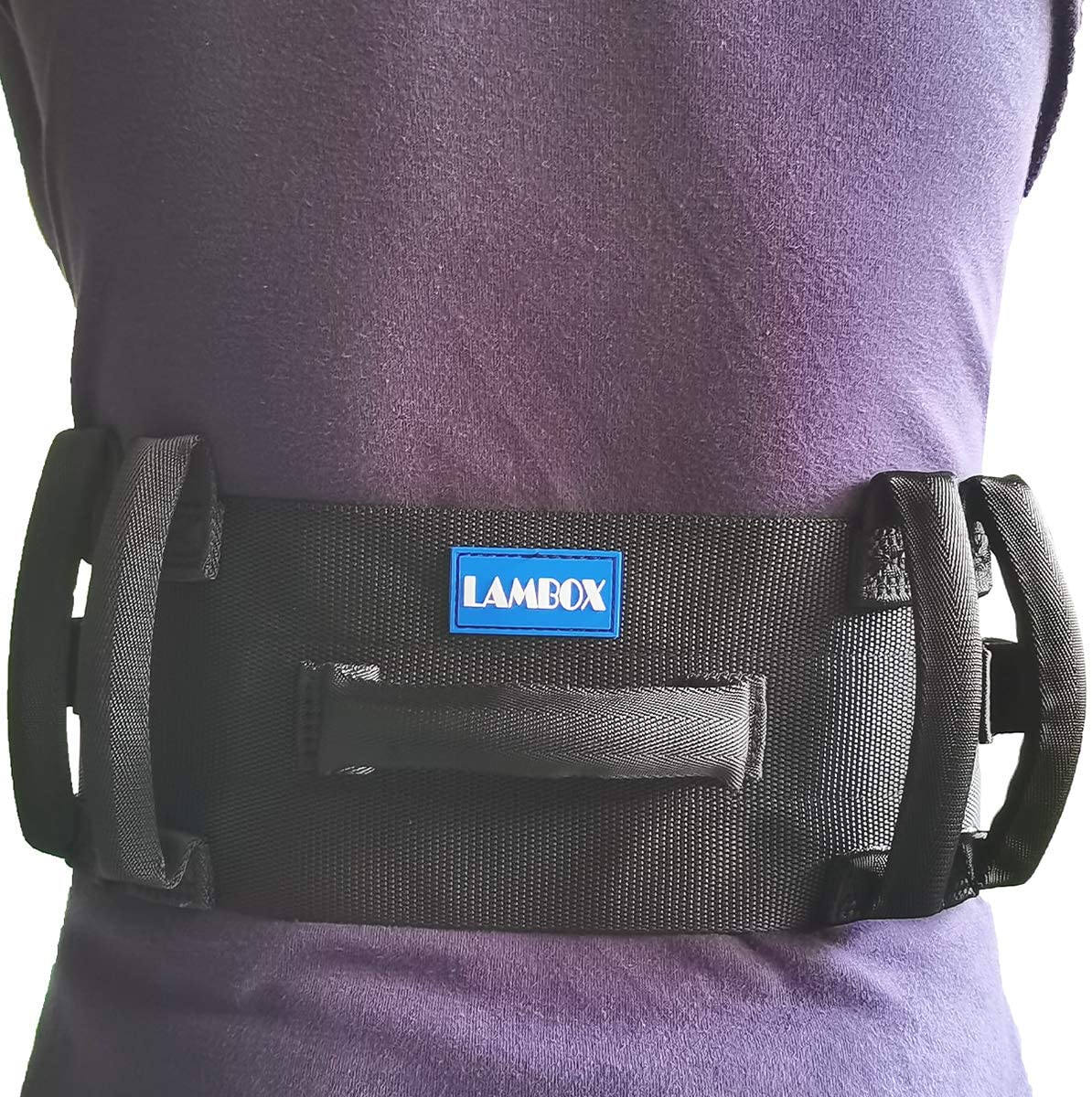 Cost: $18.99
Length: N/A
Waist Size Fit: 30" to 55"
Weight Capacity: N/A
Size Options: None
The LAMBOX Transfer Walking Gait Belt is a great patient transfer belt that also has seven foam padded handles to minimize discomfort and pain as caregivers pull upwards. This belt was made with strong webbings for maximum security and support.
The pad itself is five inches to accommodate greater back support. You can adjust the transfer belt between 30 to 55 inches. Caregivers will be able to assist you more efficiently if you need to sit or stand with handles from four different sides.
| | |
| --- | --- |
| Pros | Cons |
| Handles are all made of foam | May not securely fit smaller waists |
| 5" pad for greater support | Stiff buckle |
| Easily adjusted | Flimsy |
Pros and Cons of Lift Belts
Whether you think that a lifting or transfer belt has its benefits or is merely an unnecessary accessory, this device has its fair share of pros and cons.
| | |
| --- | --- |
| Pros | Cons |
| Minimizes the risk of falls | Users still need to have strong legs to support themselves |
| Gives users more stability | Users must also be able to carry their weight |
| Mostly affordable | May cause discomfort in users, especially if pressure is not evenly distributed |
| Reduces the possibility of back injuries among caregivers and even the care recipient | May slip depending on the material of a user's clothing |
| Easy to get used to | Some models may be too bulky to carry around and transport |
How To Choose The Best Lift Belt For Seniors
When choosing your ideal lift belt, here is a guide of some factors to consider:
Mobility Level - Users should still be able to support themselves to an extent and should only be partially dependent on caregivers.
Price - Most lift belts cost $10 to $30.
Width - Wider belts may be more comfortable and offer more support.
Adjustability - It helps when you can adjust the belt to your size and liking for greater security.
Handles - Material, spacing, number, and configuration of handles are essential in giving caregivers enough grip and support.
Frequently Asked Questions
Do you still have a few concerns you wish to address? Here are some FAQs on lift belts for seniors you should know!
How do older people use lifting belts?
You start by securing the lifting belt around your midsection. A caregiver or family member uses the handles on the belt to lift and transfer you to different positions.
When should you not use a gait belt?
You should not use a gait belt if you cannot support yourself to some extent, since caregivers cannot carry the weight alone. These are ideal for users who are partially dependent.
What is the difference between a transfer belt and a gait belt?
Transfer belts and gait belts are essentially the same. They merely come in different shapes, sizes, and designs to suit the different needs of users.
The best patient transfer belts help users get up from different positions, with the help of their caregivers. For other lift options to make seniors' lives easier, check out some of our previous articles. Contact Senior Strong for more!