Grabber tools have emerged as essential aids for disabled seniors who lack the strength or mobility to perform even relatively simple tasks. Created for those who suffer from age-related impairments, grabber tools can assist with multiple activities, such as picking up dropped objects and adjusting thermostats when bending is too difficult.
More seniors can live comfortably and independently without fear of injury or exhaustion from demanding physical tasks by making grabber tools available to those in need. Check out the best grabber tools for handicapped seniors below.
---
What To Know About Grabber Tools And Senior Care
Grabber tools are helpful devices designed to make everyday tasks easier for seniors and disabled people. These grabbers resemble grabber sticks, tongs, or claws that can grab objects. From kitchen cutlery to clothing items, grabber tools can help elderly persons who have accessibility issues perform the same tasks with ease.
Some of these grabbers come with ergonomic or adjustable handles, so seniors can access objects from heights that are otherwise hard to reach. Additionally, these grabbers reduce strain from reaching and bending, thus making it easier for seniors to manage their day-to-day life without any discomfort.
As such, grabber tools are an essential supportive tool for seniors in need of assistance performing daily tasks and activities independently.
---
7 Best Grabber Tools For Handicapped Folks
Check out the best grabber tools for handicapped seniors.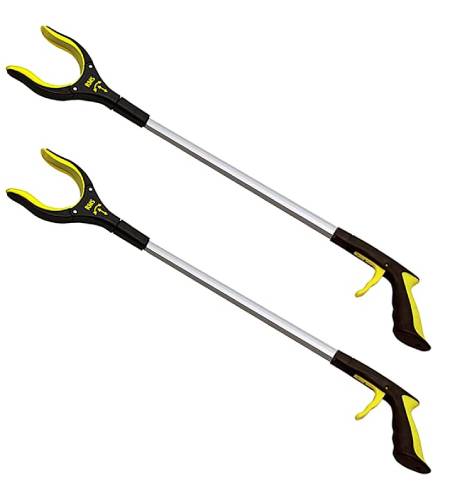 Length: 32 inches
Material: Rust-proof, lightweight aluminum
Weight: 14.39 ounces
Foldable: No
Rotating Jaw: Yes
The RMS Royal Solutions Grabber is perfect for outdoor and indoor use. It has a durable shaft and a rubberized rotating jaw that locks at 90 degrees.
The jaw is made using soft rubber, which lets you pick up even small items. It has an ergonomic handle that feels comfortable even with prolonged use.
Pros
Long shaft allows for high or low reach
Can pick up even small items
Durable material
Cons
Not waterproof
Can'tCan't pick up heavy items
Doesn'tDoesn't have a magnet
---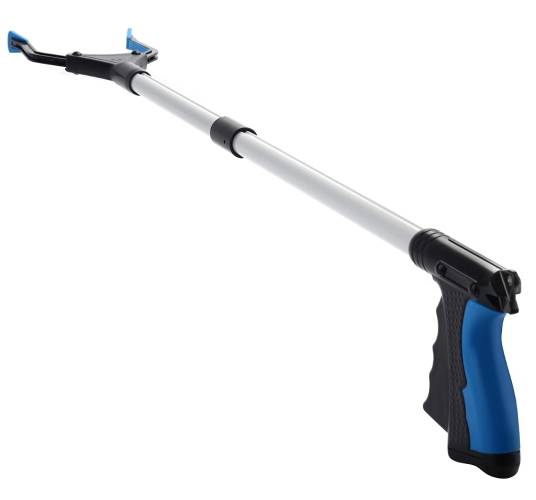 Length: 32 inches
Material: Lightweight aluminum alloy
Weight: 8.64 ounces
Foldable: Yes
Rotating Jaw: Yes
The Zayad Reacher Grabber is lightweight at 8 ounces but can carry up to 3 pounds of items. It has a comfortable handle and a rubberized rotating jaw that allows you to pick up even fragile stuff like wine glasses. It's foldable, so it's easy to carry and store.
Pros
Foldable design for easy storage
Can lift heavy objects
Sturdy and durable
Cons
It may not work properly with large glass jars or wide items.
Produces squeaky sounds
Gripping action is not as strong as other brands.
---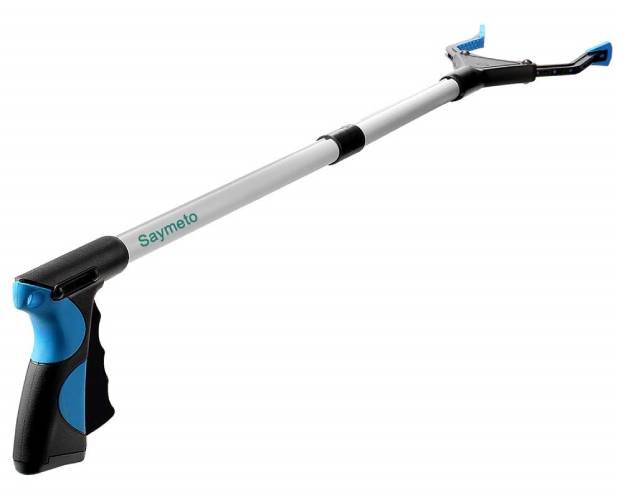 Length: 32 inches
Material: Lightweight aluminum alloy
Weight: 10.55 ounces
Foldable: Yes
Rotating Jaw: Yes
Saymento Reaching Tool has an ergonomic handle that makes it easy to use. It's lightweight at 10 ounces, allowing maximum mobility and easy operation.
Seniors can use it to pick up trash and broken glass pieces. They can also use it to reach under beds and furniture and retrieve items from high cabinets.
Pros
It can be used for hard-to-reach places
Works for small and large things
It can be stored easily.
Cons:
Not useful for heavy lifting
You still need a firm grip to use this product
You need to use the handle a certain way to get the grip to work
---
Length: 43 inches
Material: Aluminum shaft with stainless steel cable
Weight: 11 ounces
Foldable: Yes
Rotating Jaw: Yes
EZPIK is a leading manufacturer of grabber tools designed to help seniors with mobility issues. Their foldable grabber tool can securely hold large items up to 5 pounds. It also has embedded neodymium magnets that allow you to pick up metallic items like keys and batteries.
Pros
Has five sizes to choose from
Foldable to 1/2 or 1/3 of its size
It has magnets that make picking up metallic items easier.
Cons
Not as lightweight as other grabbers
It may be too long for some people and harder to manage.
The grip isn't as strong.
---
Length: 32 inches
Material: Aluminum alloy
Weight: 16.96 ounces
Foldable: Yes
Rotating Jaw: Yes
Luxet Grabber comes with an oval-shaped grabber tool that's easier to use to pick up even small items. It also has a magnet that helps secure metallic objects like coins and keys. It's strong and durable and can be used even in tight spaces.
Pros
Comfortable ergonomic handle
Useful for indoor and outdoor activities
Compact and foldable
Cons
Heavy
The tip is not strong enough to grab small items
---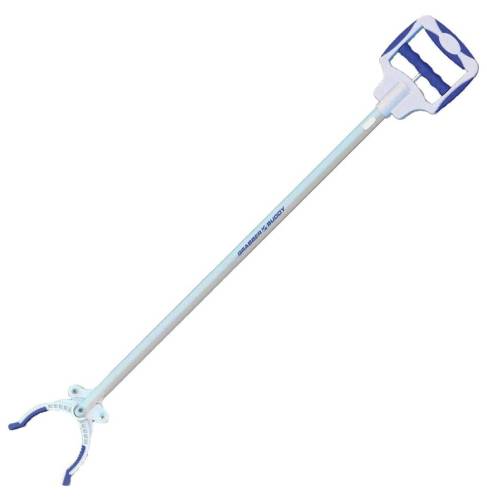 Length: 30 inches, 36 inches, 48 inches,, and 60 inches
Material: Aluminum
Weight: 16.8 ounces
Foldable: No
Rotating Jaw: Yes
Grabber Buddy is a heavy-duty pick-up tool that can lift up to 8 pounds of items. It has a 4-inch jaw opening that lets you grab various objects. It comes in different lengths to adjust to your height and reach requirements.
Pros
Comes with different jaw configurations for easier picking of items
With various lengths to choose from
Comes with magnets
Cons
Not as sturdy as other grabbers
Tends to break after a year
Not foldable
---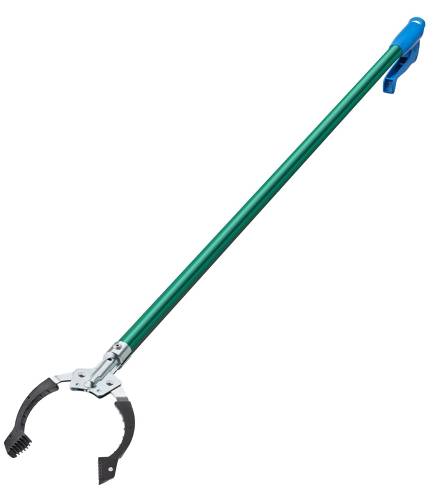 Length: 36 inches, 48 inches
Material: Anodized Aluminum
Weight: 11.2 ounces
Foldable: No
Rotating Jaw: No
This heavy-duty grabber is ideal for yardwork but also lightweight enough for general everyday use. It can pick up even odd-shaped objects and comes with an ergonomic handle.
Pros
Comes with a magnet
Choice of 36 or 48 inches
Sturdy and durable
Cons
Claws don't rotate
Not foldable
Trigger grip configuration tends to be uncomfortable
---
Frequently Asked Questions
Need to learn more about grabber tools? Check out these frequently asked questions:
1. What to do if an elderly person is a danger to themselves?
If you're concerned an elderly person is a danger to themselves, grabber tools can be a useful way to prevent accidents. Not only can grabbers help the person pick up things without bending down, but they can also help ward off any potential harm. 

Grabbers are lightweight with long arms that make it easier for elderly people to grab items or move out of the reach of any potential danger. 
2. Can social services remove an elderly person from their home?
It is an unfortunate reality that social services can remove an elderly person from their home, although it is not a situation that is taken lightly. In certain cases where a senior's well-being is at stake, legal orders and police assistance can be used to remove them from the premises and place them in a more suitable living environment. 

Of course, every effort should be made to support senior citizens or loved ones by connecting them with appropriate healthcare providers and caregivers. The best way to avoid a removal altogether is to make sure their needs are being met prior to any dangerous situations arising.
3. How do you deal with toxic elderly people?
Dealing with toxic elderly can be a tricky and emotionally draining task. That doesn't mean you have to give up, though. With the right tools, you can learn more effective ways to approach conflict situations with toxic seniors. 

Begin by validating their feelings and remaining respectful as much as possible so they don't feel attacked or unheard. Respect is key, but it also helps to recognize that sometimes the behaviors of an elderly person stem from deep despair or anger at feeling powerless. 

It's important to try and understand their perspective while gently showing that while you may not always agree on a topic, you care about them enough to engage in the conversation respectfully.
4. Can a handicapped, elderly person be left alone with a reacher grabber tool?
Handicapped elderly people can benefit from grabber tools, which are specially designed to help those with physical limitations grab difficult-to-reach items. Although grabber tools provide aid to the elderly that may not be attainable any other way, they should not be considered a substitute for human assistance. 

They cannot be left alone with grabber tools since it may lead to hazardous situations due to limited dexterity or balance issues. A caregiver or helper must always be present in order to avoid accidents and ensure safety. With the right tools and assistance, disabled seniors can live a high quality of life despite their physical limitations.
5. How often does a handicapped or elderly person need a reacher grabber tool?
While grabber tools can be incredibly helpful for those who are elderly and handicapped, the frequency at which they need to be used does depend on the individual. Some may find it beneficial to invest in grabber tools for everyday convenience, while others may require one only for certain activities or tasks. 

Ultimately, seniors should evaluate their individual needs and any challenges they may have with mobility before deciding how often grabber tools should be used. Grabber tools are useful objects for a handicapped, elderly person to enjoy his or her life. 
Check out the list above to find the right tools for your needs. Do you want to make life more comfortable? Check out our guide on the Best Folding Shopping Carts for Seniors.
Was this article helpful?