Popular crafts and fabric shop JOANN Fabric and Crafts offered senior discounts this year on May 2. With locations across the United States, you will be eligible for this discount if you are aged 55 and above.
To avail of it, you will have to present a valid, state-issued ID to prove your age when you checkout. The discount amounts to 20% off your total purchase. It is also inclusive of clearance items, products on sale, and all regular items.
They have listed some exclusions to take note of as well, from personalization services, to luxe fabrics, previous purchases, classes, magazines, gifts-with-purchase, as-seen-on-TV items, and certain brands such as LEGO, Cricut, Glowforge, and others.
JOANN's also offers numerous other types of discounts and coupons for customers to use, on regular days other than senior day. These coupons are free for use, but it is important to note that exclusions may apply on certain things. Products and the prices themselves may differ from the JOANN website and from their retail stores. 
Do you want to learn more about discounts that seniors can get? Check out Senior Strong's ultimate guide to senior discounts today!
Was this article helpful?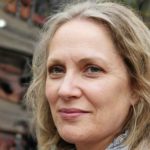 Charlotte Senger is a senior discount expert who handles all financial concerns and ensures that seniors are able to save money. She got her bachelor's degree in Accounting from the University of Texas.