As we age, our feet become more sensitive, and mobility can be challenging. While traditional laced shoes may have been a go-to option in the past, velcro shoes are becoming increasingly popular among seniors looking for comfortable and supportive footwear options.
Let's dive into the benefits of these shoes and look at the best velcro shoes for elderly ladies.
Velcro Shoes: What Are They And Who Are They For?
Velcro shoes, also known as hook-and-loop shoes, are designed with straps that use a hook-and-loop closure system instead of laces. The hook-and-loop fasteners come in various sizes and styles to suit individual needs and preferences.
They are typically made from breathable materials such as leather or synthetic leather and are highly adjustable for maximum comfort.
Benefits Of Velcro Shoes For Seniors
Velcro shoes are examples of adaptive clothing for women and have the following benefits:
Flexibility – Flexible velcro shoes can adapt to swollen feet and changes in foot size throughout the day. They can also be worn in various seasons, like in the summer months when the feet expand and in the winter months when the feet need warmth.
Easier To Put On And Remove – The most obvious benefit of velcro shoes is their ease of use; the hook-and-loop fasteners make it easy to slip into and out of them without having to tie laces or fumble with buckles.
Enhanced Support – Velcro shoes offer enhanced support due to their adjustable fit, which can help reduce foot pain associated with plantar fasciitis or bunions. Some also offer removable insoles so they can be fitted with orthopedic options.
More Comfortable – Many velcro shoe styles are designed with extra cushioning and shock absorption to provide added comfort throughout the day. They also have memory foam to provide ergonomic support.
5 Best Velcro Shoes For Elderly Ladies
Here are the best velcro shoes you can find on Amazon: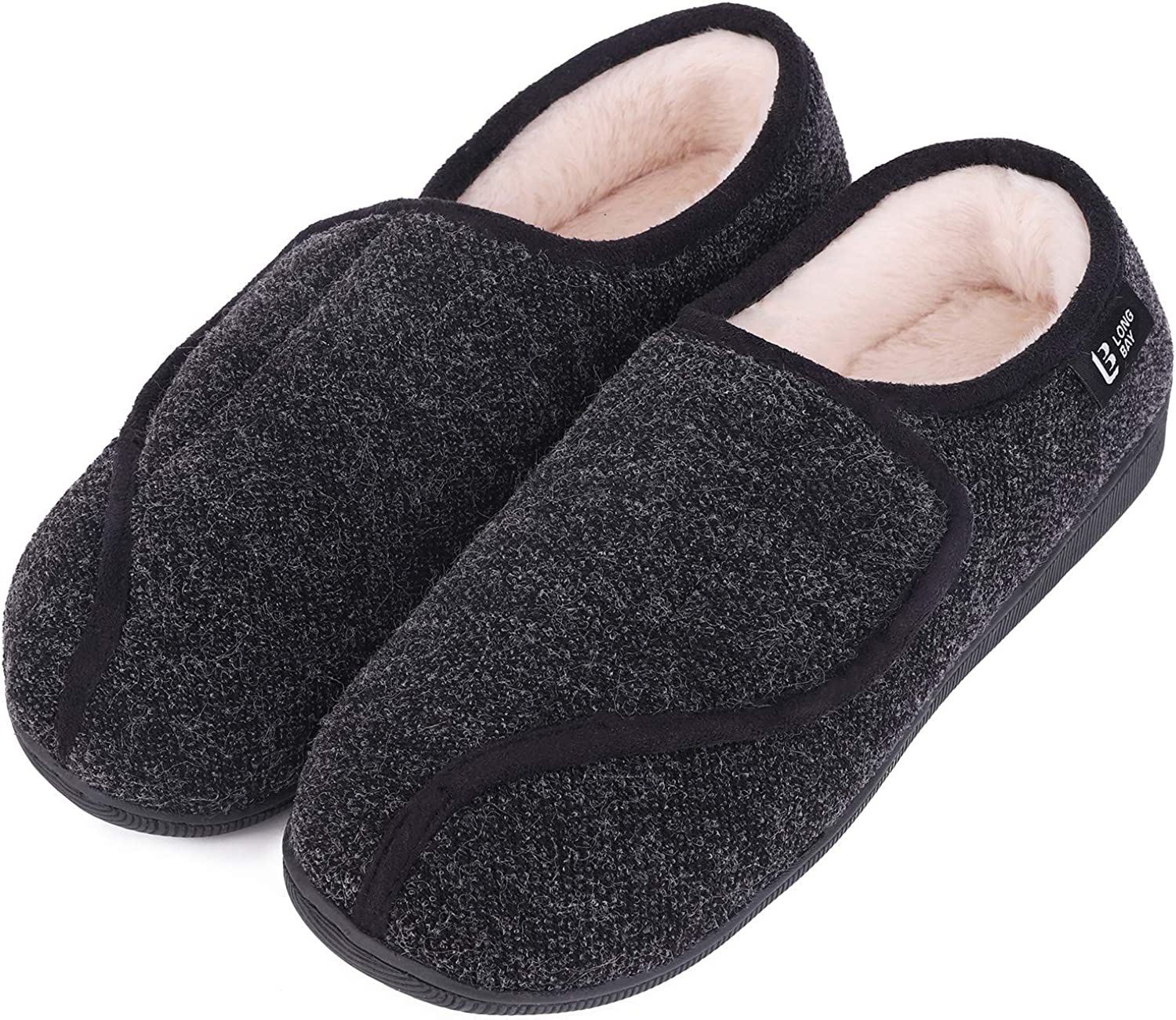 Sole: Rubber
Material: Soft wool-like knit
Cushioning: High-density 80D memory foam
Straps: Adjustable velcro
Price: $249.95 - $27.95
These slippers give ultimate comfort to elderly people suffering from common foot pains or those who simply want more comfy and durable shoes. It has high-density memory foam that makes you feel like you're stepping on ergonomic pillows that respond to your feet. With nonslip rubber soles and an adjustable strap, it makes the perfect gift for your elderly female loved one. 
Pros:
Comfortable and warm
Attractive colors
Premium craftsmanship
Cons:
Fluffy interior will flatten over time
Some users find that the feet support is minimal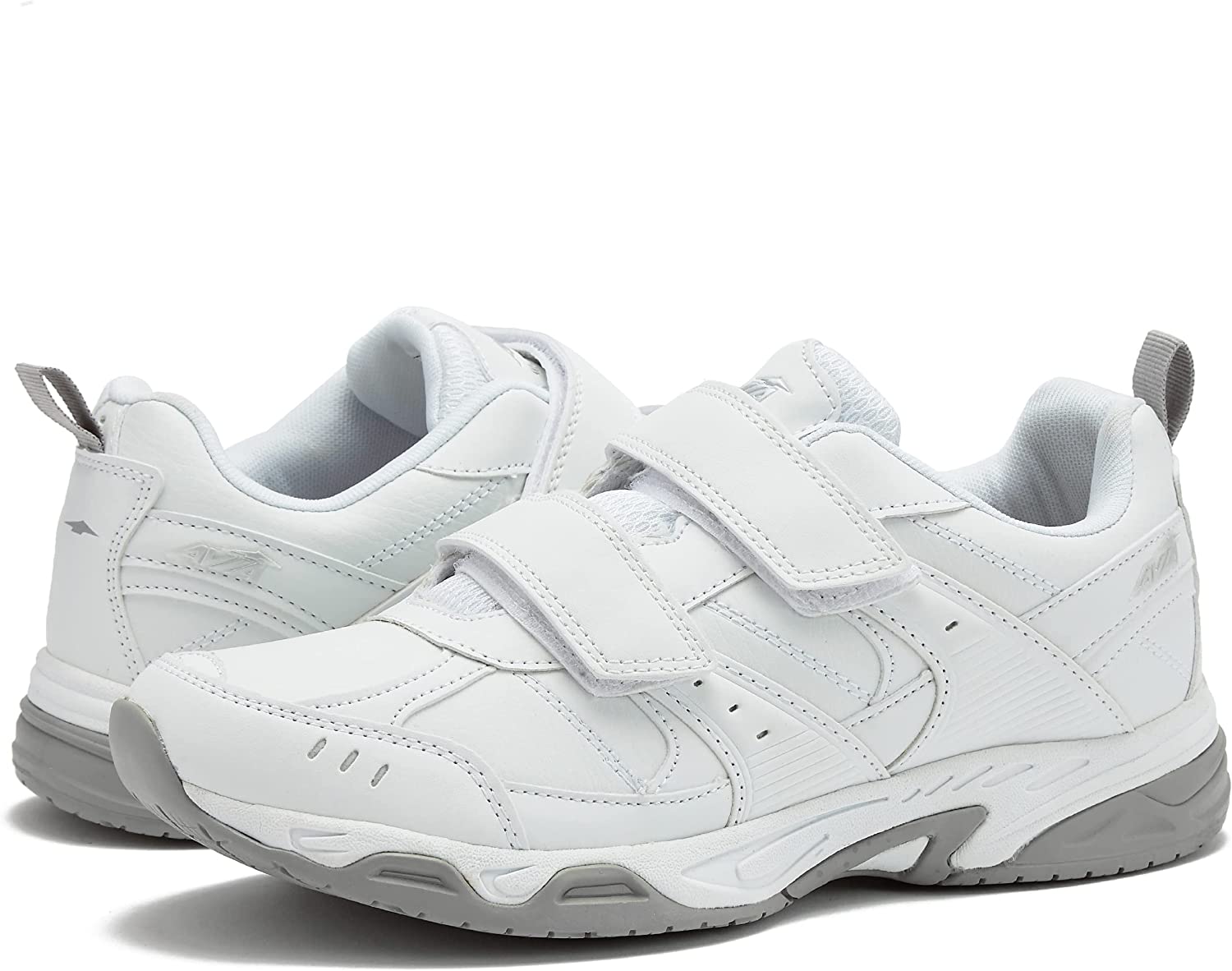 Sole: EVA (Ethylene-vinyl acetate)
Material: Rubber
Cushioning: Removable memory foam sock liner
Price: $48.99 - $85.48
Accreditation: ASTM F2913 for slip resistance
Avia shoes are made not just for the elderly but also for people who work in busy establishments like restaurants and are on their feet all day. These shoes have thick oil and slip-resistant soles that are certified using the official standard for slip-resistant footwear in the U.S. It has a concave sole that works like a trampoline cushioning the feet to soften the impact from walking.
Pros:
Water resistant and easy to clean
Doesn't trap oil and liquid to prevent slips
Responds to the curves of your feet
Cons:
Tends to be stiff at the part that surrounds the ankle
Negative reviews mention that shoes are not as durable as advertised
Sole: Rubber
Cushioning: Removable EVA footbed
Straps: Velcro adjustable straps
Price: $51.85 - $52.51
Made by the leading brand of adaptive senior clothing, these open-toed sandals are ideal for fashionable elderly ladies who want to retain comfort but don't lose their charms. It has a fluid barrier advantage that protects elderly people suffering from incontinence from spills and smells.
Pros:
Comfortable to wear all-day
Can be worn with socks
Open toe makes it ideal for those with foot issues
Cons:
Tends to be bigger than the regular size
Need to order the right size to use it properly
Difficult to clean
Sole: EVA
Material Lining: Nylex
Cushioning: Double insoles
Closure: Hook and loop strap
Price: $28.73 - $89.95
These adaptive shoes are ideal for active seniors who like to move around but need further support to feel comfortable. The shoes are fashionably athletic and provide the best balance and stability. It has double insoles and is approved for reimbursement through Medicare.
Pros:
Reimbursable through Medicare
Breathable and stylish
It comes in various sizes
Cons:
It might be too narrow if you don't choose the right size
Some customers have reported the shoes to be hot
Velcro strap won't allow you to pull tight to fasten
Sole: EVA
Material: Breathable Knit Fabric
Cushioning: Memory foam insoles
Closure: Adjustable strap
Price: $39.99
If you're looking for stylish and breathable velcro shoes for elderly ladies, then you should definitely consider the Fitville Women's Wide Walking Shoes. It's made from the lightweight material, making it easy for mobile seniors, and it has a roomy toe box for ample toe movement.
Pros:
Comfortable
Velcro-fastened
Has memory foam
Cons:
May not be useful for rainy weather
Velcro strap has limited reach
Might be tricky to find the right size in terms of shoe width
Buy The Best Velcro Shoes For Elderly Ladies
Investing in quality footwear is important as we age because it helps keep our feet healthy and supported. Using velcro shoes for elderly ladies offers several benefits versus other types of footwear, especially if you already suffer from foot problems. Whether you're looking for a casual walking shoe or an elegant dress shoe option, there's sure to be something perfect for you.
Not sure how to begin selecting adaptive clothing? Check out our beginner's guide to adaptive clothing.
Was this article helpful?